MAINCARD will commence VCT Game Changers watch parties in Singapore, marking the beginning of a series of community events that will subsequently take place in the Philippines, Thailand, and Malaysia.
SINGAPORE – Social networking platform MAINCARD has announced its partnership with FSL as the official community and media partner of the 2023 VCT Game Changers APAC. As part of its commitment to supporting the competitive circuit, MAINCARD plans to initiate several initiatives, such as regional watch party activations, content production about players, and organizing events to build a closer relationship between players and professionals in the APAC Game Changers community.
To kick off the initiatives, MAINCARD will host the first open watch party on March 19 at AFTERSHOCK PC Headquarters in Singapore during the grand finals of VCT Game Changers APAC Open 1. This event is open to community invites and general public attendees, with doors opening at 1:30 PM SGT.
The first watch party in Singapore is the beginning of a year-long celebration of VCT Game Changers APAC 2023 in the Asia-Pacific region, which includes watch parties in the Philippines, Thailand, and Malaysia.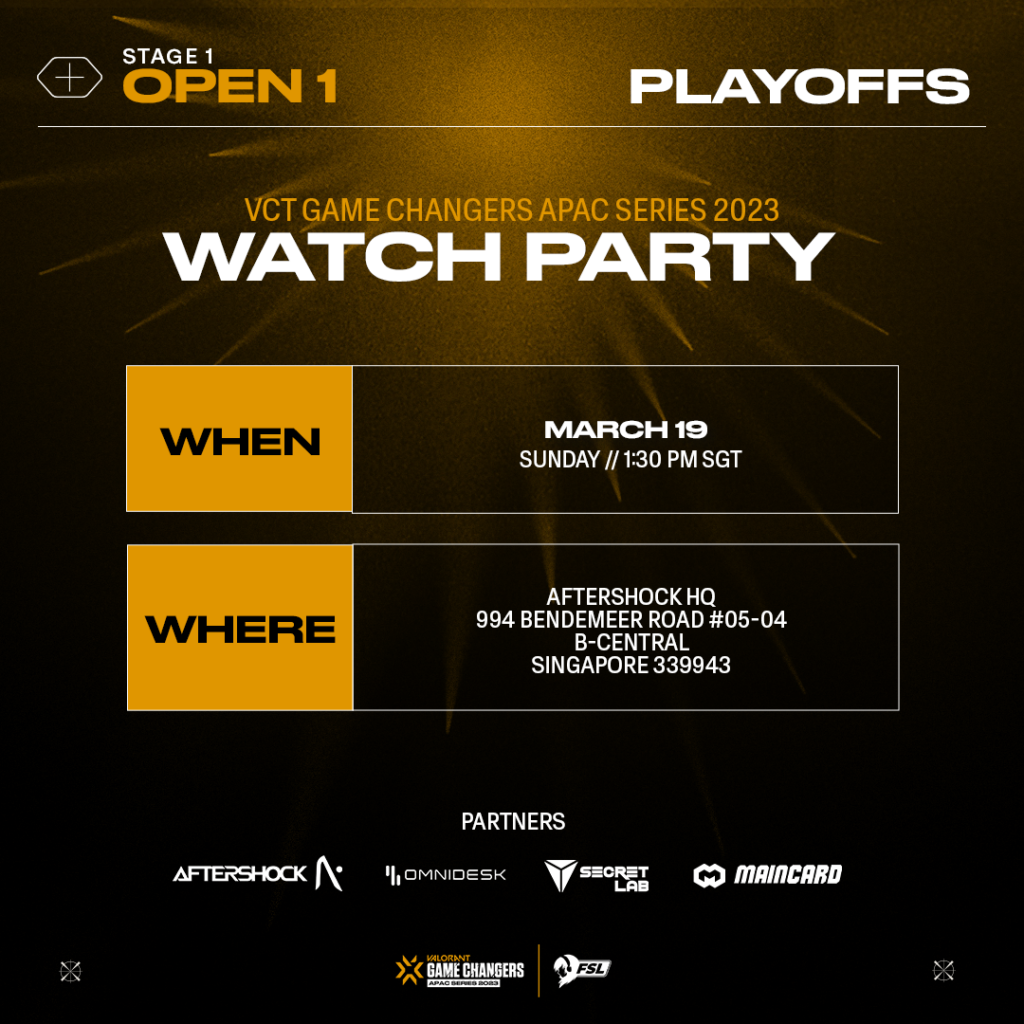 Tammy Tang, Co-Founder & CEO of FSL, is thrilled to kick off the circuit with partners who are bringing value and content to Singapore's gaming scene, stating, "After three years of running this tournament, we are finally able to have offline events and gatherings, and while it's totally possible to enjoy esports at home, there's nothing quite like the energy of fans coming together in-person."
He also hints, "We are building towards an offline finals, and we hope to see you there!"
As a supportive location partner, AFTERSHOCK PC Co-founder, Marcus Wee, expressed his belief in propping up regional events that bring local communities together. He shares his personal experience, "As someone who used to participate in such events in my younger days, where I've since met many of my lifelong friends and made fondest memories, these events are something we hope to see more of in the local scene. It's something we love to get behind to support." 
Adding on, Victoria Cheng, CEO of MAINCARD Pte Ltd, says, "The Valorant player base is one of the fastest-growing in the region, with a passionate community that partly inspired the creation of MAINCARD. Along with women-empowering initiatives like VCT Game Changers and FSL, this partnership was a natural and meaningful calling for us." 
Venue:
AFTERSHOCK PC Headquarters 
994 Bendemeer Road, #05-04 B-Central, Singapore 339943 
Doors open at 1:30 PM SGT. Live match begins at 2:00 PM SGT in a BO5 series. 
---
For more insights on the Asian VALORANT scene and upcoming content like this, be sure to like and follow VALO2ASIA on Facebook, Twitter & Instagram.
---
Cover photo courtesy of VCT Game Changers/FSL