After an extraordinary year with the 2021 VALORANT Champions Tour, with more than hundreds of teams taking part, VALO2ASIA is thrilled to present The VALO2ASIA Awards, showcasing Asia's 20 best players of 2021.
The VALO2ASIA Awards is one of our initiatives to honor those who have excelled during the year, and those who have raised the bar for Asian VALORANT to be on par with other regions.
The board of judges is comprised of twenty individuals who all showed competence, passion, and a strong dedication towards the Asian VALORANT scene in 2021. The representatives were all selected after careful consideration, with our goal being having a board of judges that represents Asias vastness and diversity. Below are the twenty judges: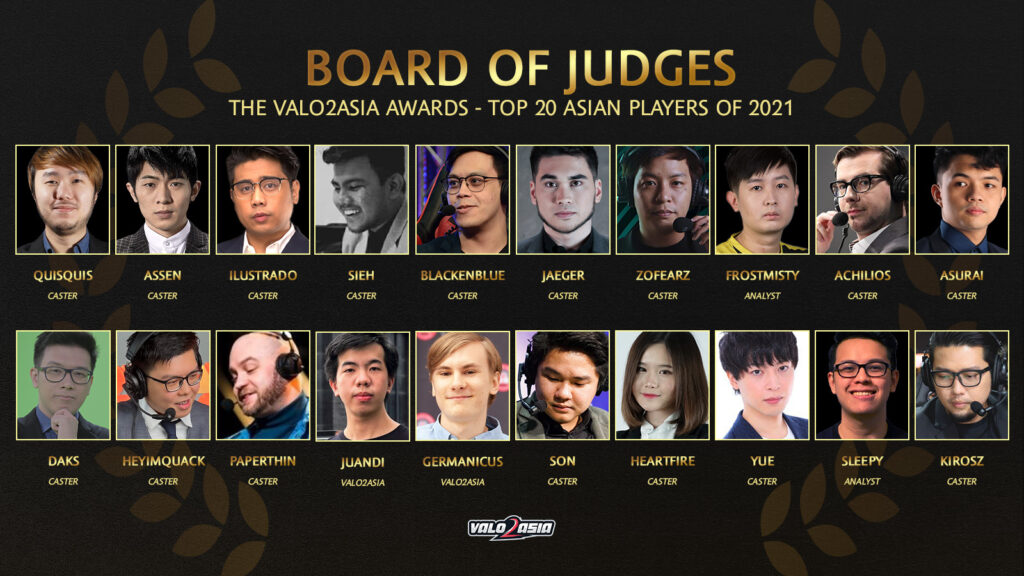 ALSO READ: The VALO2ASIA Awards Introduction – Judges & How the voting works
You can check back in on this article every day to see how the list is progressing, as we will update it five entries each time, all the way until January 22nd, when the final five players will be revealed.
---
Honorable Mentions (not in order, according to points):
🇸🇬 Benedict "Benkai" Tan
🇯🇵 Koji "Laz" Ushida
🇹🇭 Thanamethk "Crws" Mahatthananuyut
#20 – 🇰🇷 Byeon "Munchkin" Sang-beom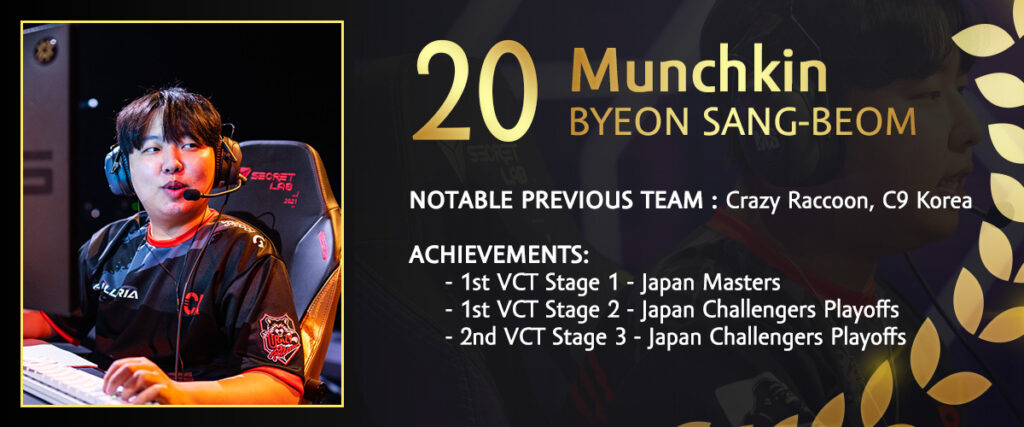 It is a match made in heaven. After Cloud9 Korea disbanded at the end of 2020 due to a Riot Games' ruling about organizations owning multiple rosters, Byeon "Munchkin" Sang-beom took the opportunity overseas to join Japan's Crazy Raccoon in January 2021. His resume ticked all the boxes to be on one of Japan's top teams straightaway. On paper, the squad seemed to be stacked with all the heavy hitters needed for success. And domestically, success came. Munchkin was able to make a significant contribution to the squad despite not being a native Japanese speaker.
Another aspect that was key in Munchkin standing out from the pack was his high skill floor, consistently delivering high-level performances in the majority of the key matches he played. While he was very solid throughout the year, Crazy Raccoon lacked higher placements that would push Munchkin toward a higher spot on the list. The 23-year-old has yet to announce his next home yet.
EDITORIAL: Munchkin and Benedict "Benkai" Tan both scored 70 points, however, the latter player loses the tiebreaker based on the total number of individual votes cast.
#19 – 🇸🇬 Wang Jing "Jinggg" Jie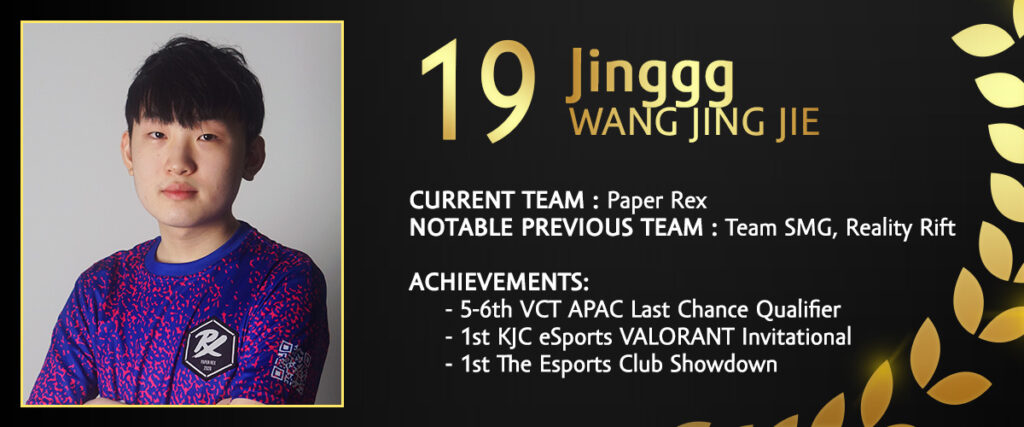 Be excited, be very excited. Being one of the youngest VALORANT players on the top 20 list, Wang Jing "Jinggg" Jie only turned 18 during the VCT MY/SG Stage 3 last year – but already has an impressive resume heading into the next season. Nonetheless, domestically, Jinggg put up respectable individual numbers during his time with Team SMG, even though the team was struggling. Now on MY/SG's current #1 team, Paper Rex, he has led the fragging department in about 60% of his outings since signing with them in September 2021.
While those numbers showcased his quality and were enough to secure him a place this high inside the top 20 list, he did not have enough appearances in the biggest events and the biggest matches to warrant a higher entry on the list. However, with the new VCT season starting soon, the young Paper Rex player has a chance to prove to everybody what he's capable of.
#18 – 🇰🇷 Kim "Lakia" Jong-min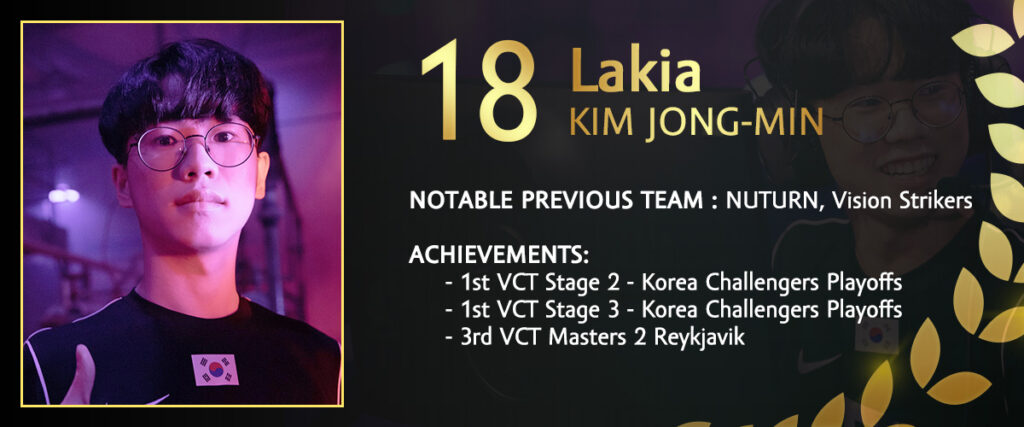 Kim "Lakia" Jong-min is one of the first names that comes to mind when we take a trip down memory lane to the first half of 2021. Lakia was formerly regarded as one of Asia's most mechanically gifted players. His most notable performance came at Masters 2 Reykjavik when he helped NUTURN Gaming finish third, while also being named the event's Day 4 MVP. The Sova player had the winning quality that every team strives for.
However, it is difficult to overlook the fact that he has only played in seven series in the previous eight months with Vision Strikers (now DRX). It is obvious that Lakia's tenure at NUTURN Gaming had a major influence on his nomination, while his time with Vision Strikers (or lack of playing time if you will), prevents him from reaching a higher entry on the list.
Lakia currently remains on the bench after spending eight months with little contribution to Korea's current #1 team. Should Lakia play with a competent five-man squad for the 2022 VCT campaign, he might finish next year with a higher placing.
#17 – 🇵🇭 Kevin "Dispenser" Te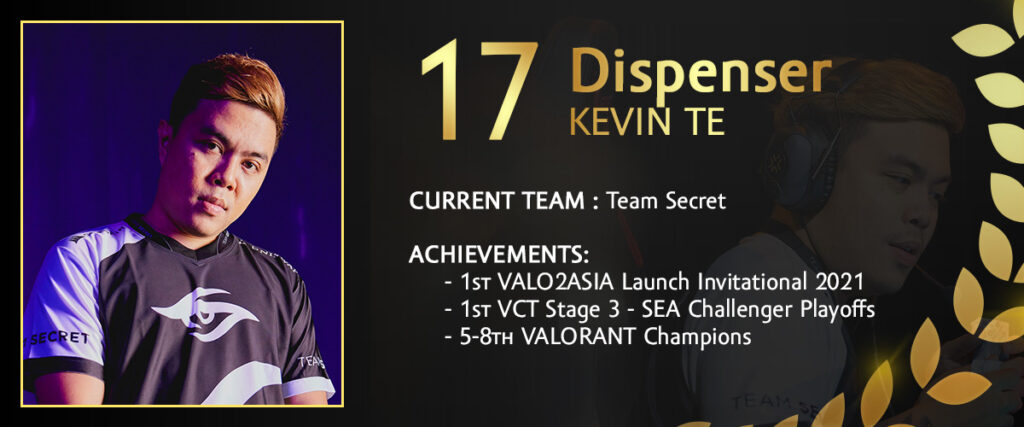 When it comes to Team Secret, people often think of DubsteP's Jett action or Witz's otso-otso, but VALORANT is a team game after all. Team Secret were fairly successful, especially towards the end of the year, cementing themselves as one of the upper-echelon teams that competitors from other regions take seriously.
Kevin "Dispenser" Te's consistency is unquestionably one of his best assets. He is not only putting up kills but also consistently dealing significant damage to his opponents and contributing to round wins in clever ways with his utility. He might not be the most explosive player out there, but he is a reliable team player that plays his role to perfection.
#16 – 🇵🇭 Jim "BORKUM" Timbreza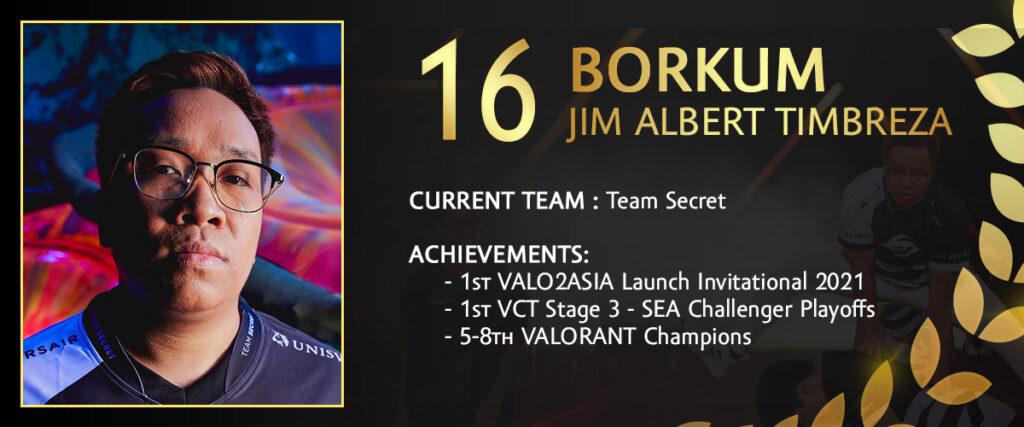 It's BORKUM time!
Jim "BORKUM" Timbreza was also a big part of Team Secret's winning formula in 2021 next to his teammate, #17 Dispenser. Bren Esports (now Team Secret) ended 2020 as a team on the rise in Southeast Asia, but in 2021, they took it to the next level. BORKUM himself had a strong year individually with many standout performances.
His transition from CS:GO to VALORANT in mid-2020 meant that he came to VALORANT with a solid FPS background. While his stats do not fully reflect how impactful he was in the game, BORKUM was instrumental to the team, especially when it mattered the most in high-pressure moments such as clutches and split-second decisions making. Is clutch BORKUM's middle name?
#15 – 🇰🇷 Kim "MaKo" Myeong-kwan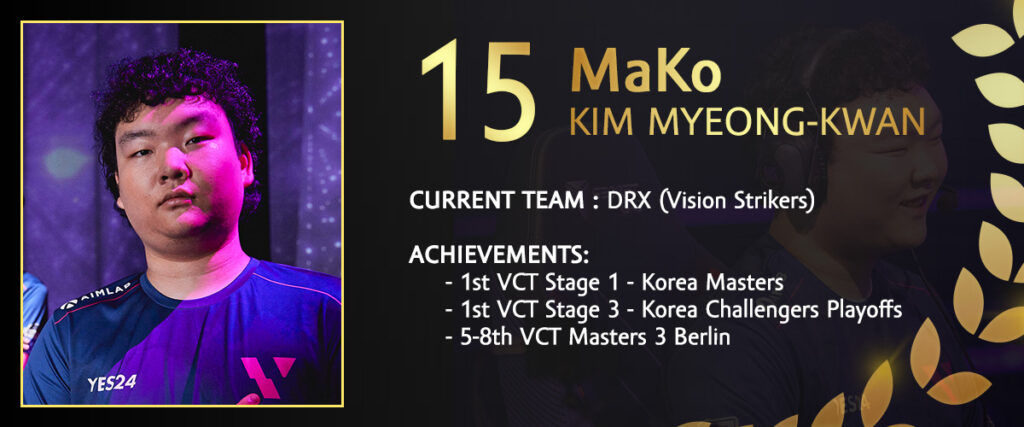 Kim "MaKo" Myeong-kwan is unquestionably Korea's most underrated player. Following a standout performance with Jett in his five-month tenure with TUBEPLE Gaming, he was acquired by Vision Strikers (now DRX VS), where he has been till today. However, to join Korea's top squad, he made a significant sacrifice: his primary agent. MaKo transitioned as a controller player for a squad that possesses next-level tactics in their repertoire. One does not simply switch to a new role and maintain the high output against upper-echelon opponents. With a role that often struggles to put up huge numbers to the board, he has shown his ability to adapt and flourish. What's even more intriguing is, we've yet to see what peak MaKo looks like.
#14 – 🇮🇳 Ganesh "SkRossi" Gangadhar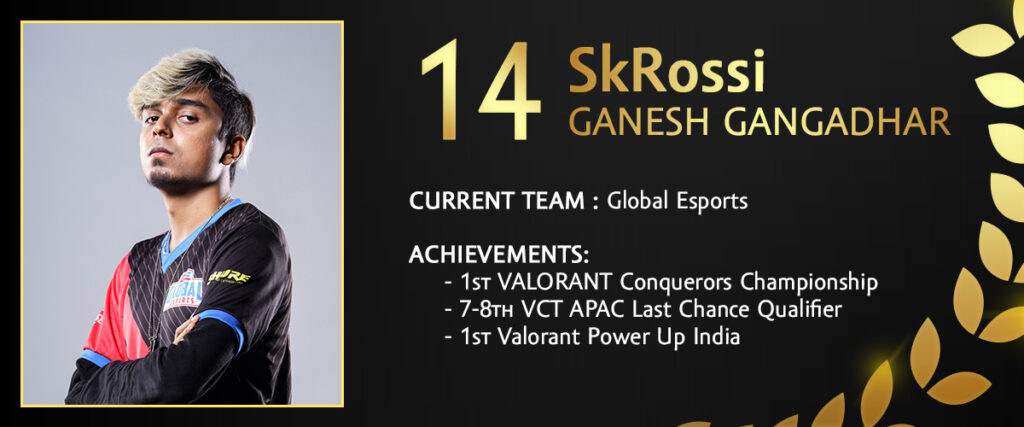 The 23-year-old needs no introduction. Hailing from India, Ganesh "SkRossi" Gangadhar is one of Asia's hottest prospects since the start of 2021, well known for his aggressive Jett-Operator combo. With Global Esports, SkRossi has collected countless domestic trophies and MVPs to his name. The Indian's Operator plays in VCC grand finals against Velocity Gaming may have got him a few highlights throughout the year, but there was a consistency to back the flashy plays as well.
His stats speak for itself – SkRossi selected Jett for 92 percent of his over 230 series with Global Esports, averaging 283 ACS. Although those performances on paper are better than even some players who will be ranked above him, he could not go higher as he mostly met those teams hailing from the domestic South Asian region. There's still so much to prove. This year, nonetheless, has opened up a lot more opportunities for him to compete against the rest of Asia's teams with a more defined path to VCT Masters via the APAC Challengers Playoffs.
#13 – 🇵🇭 Riley "witz" Go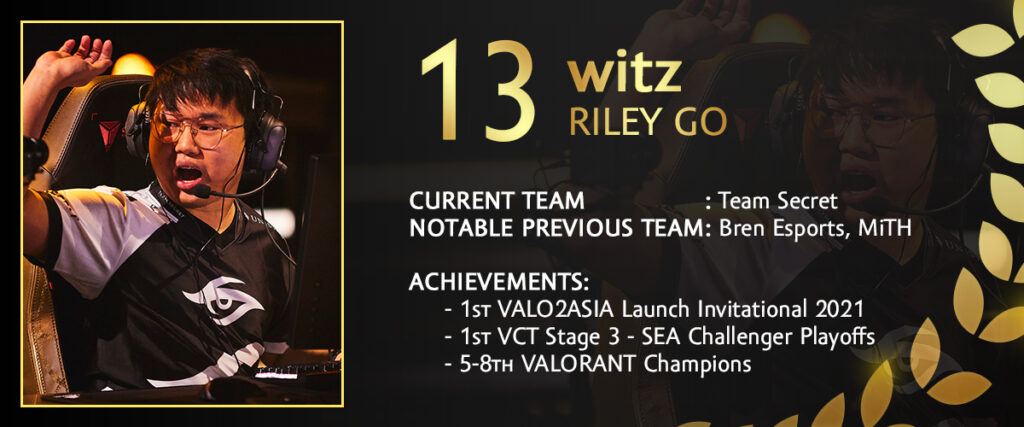 Another Team Secret player on the list. Riley "witz" Go was brought up by Bren Esports in April last year. And since then, he has been a solid glue and final piece of the puzzle to the Filipino powerhouse team. We had an interview with witz at the end of July 2021, just after the team won VALO2ASIA Launch Invitational 2021. He said that by the end of the year, he hopes to be one of Asia's top two or three teams. He has subsequently exceeded even his own expectations. Not only has Team Secret been constantly ranked first since April, but they made it to the playoffs of VALORANT Champions — the most prestigious VALORANT competition to date.
His transition from CS:GO to VALORANT was helped by PTC, with whom he played throughout his early days with MiTH VALORANT before joining Bren Esports. His "leap of faith" led to a more solid career overall and a better chance to establish himself as one of Asia's finest players.
#12 – 🇲🇾 Khalish "d4v41" Rusyaidee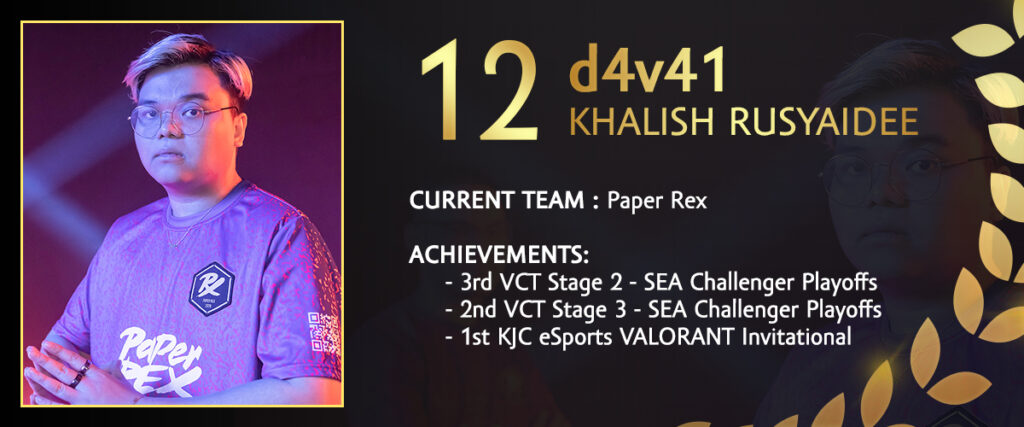 Khalish "d4v41" Rusyaidee is the team's go-to person when it comes to stability and the one to back up star players like Jason "f0rsakeN" Susanto. He is the only player to have hoisted Malaysia's flag on the world stage of VALORANT. Hailing from the Kelantan state, he previously had a similar career to witz in CS:GO.
He doesn't have the flash of f0rsakeN or the explosiveness of Jinggg, but his mechanics are almost unparalleled. What sets him apart from the players junior to him were the peak performances when it mattered most, primarily the first three quarters of 2021. Unfortunately, a wrist injury in the last quarter of 2021 has held him back from performing at his very best, and probably a reason he has caught less attention from stats junkies.
#11 – 🇵🇭 Jessie "JessieVash" Cristy Cuyco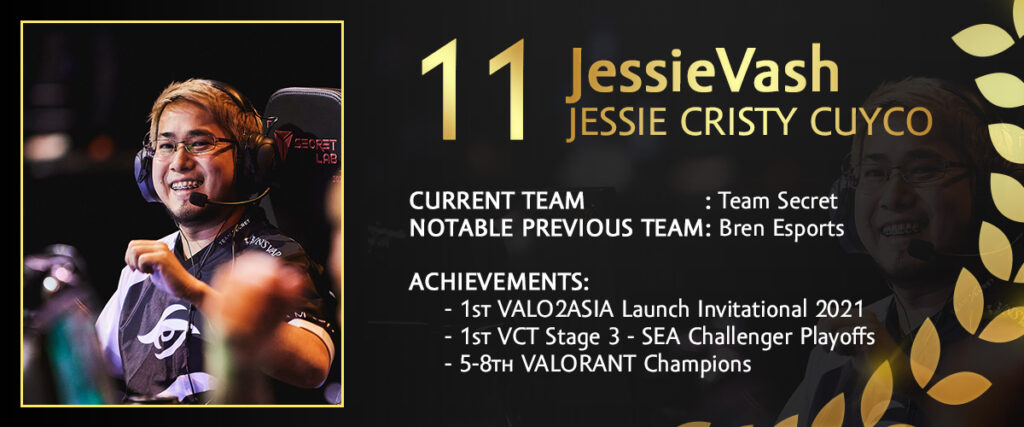 There are professional esports Athletes, and then there is JessieVash, the master of all trades. In what is one of the most unique storylines in esports, JessieVash began his career as a professional Dota 2 player with Mineski in 2010 and participated in some of the most prestigious Dota 2 competitions back in the day. Following his time in Dota2, he proceeded to leap into the FPS genre with Overwatch. For him, a completely new genre was the way to go, as he spent almost a year playing for the Mineski Overwatch division before transferring to another title as a coach for Geek Fam Philippines in the Mobile Legends: Bang Bang Professional League (MPL) Philippines Season 5.
The 31-year-old player continues to be able to compete at the highest level of esports after more than a decade in three different titles. Another factor that was key in JessieVash standing out from the pack was his high skill floor with 'Sova', consistently delivering a high level of play in a majority of the matches he played by assisting his teammates with the recon dart and other essential utility that most teams sometimes neglect. And as the team's oldest member, JessieVash instilled in the squad a winning mentality capable of pushing the squad forward against the unknown.
#10 – 🇰🇷 Goo "Rb" Sang-min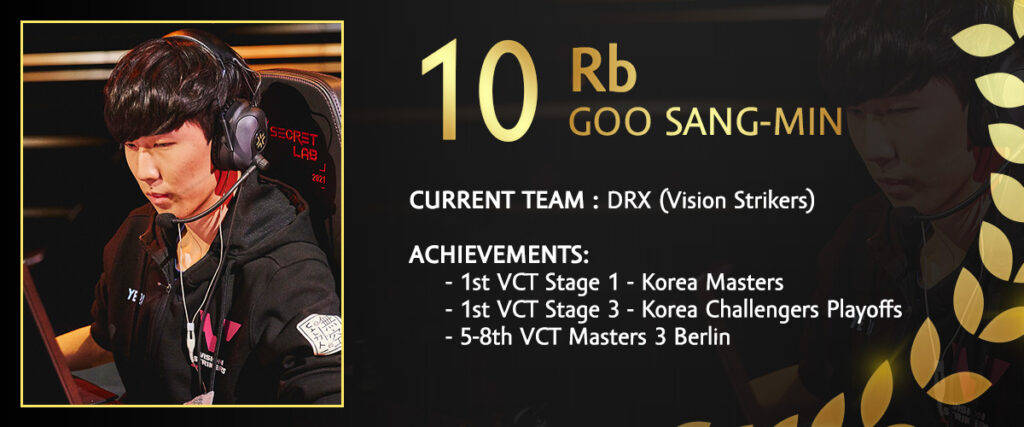 Alongside stax and k1Ng, Goo "Rb" Sang-min was a member of Vision Strikers all year long. Like them, he was a key part of the undefeated streak, domestic success, and international play. However, Rb also went through a big mid-year role swap, making his high quality of play even more impressive.
Switching from Jett to Sova/Skye after VS' roster overhaul, Rb picked up right where he left off. He helped VS reach the international stage, and had solid performances once there. With the move to DRX, we'll now see what 2022 has in store for him.
#9 – 🇹🇭 Panyawat "Sushiboys" Subsiriroj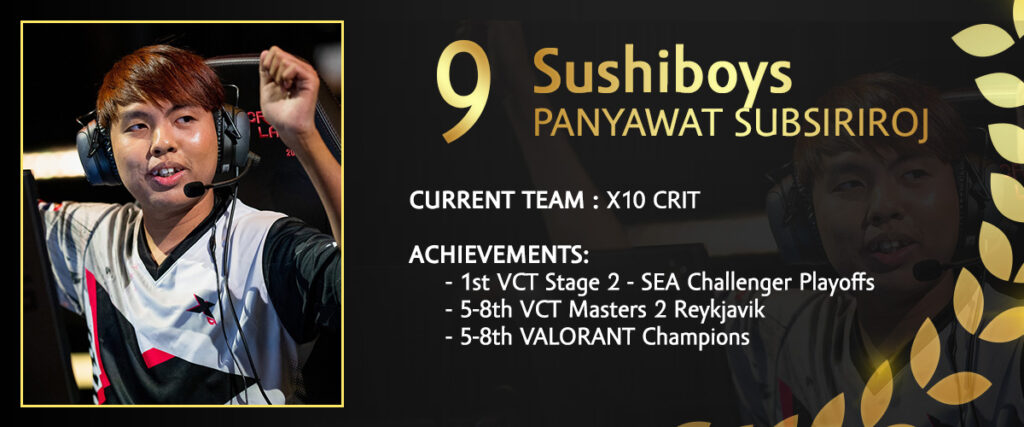 Panyawat "Sushiboys" Subsiriroj and his main agent, Killjoy, are inseparable. The 21-year-old is currently plying his trade for XERXIA Esports.
Sushiboy had to step up big-time as Jett in Patiphan's absence due to a wrist injury in mid-2021, but the heartbreaking loss in VCT Stage 3 – SEA Challengers Group Stage by ONE round was a nightmare. Given their recent results of defeats to domestic opponents before flying to Berlin, many thought X10 CRIT to be the least favored. They, however, proved their doubters wrong. X10 CRIT played out of their mind against Envy and Keyd Stars, especially Sushiboys who topped the scoreboard in both of the series. Alongside Patiphan, he was another gear in the wheel that keeps X10 CRIT running on the dark horse run at VALORANT Champions.
The aforementioned two matches at VALORANT Champions, along with all the important matches he had played throughout the year, easily reflect his capability to contend against the best of the best in 2022. Without a doubt, ranking him ninth for what he has accomplished during the year is a sound decision.
#8 – 🇰🇷 Park "Seoldam" Sang-min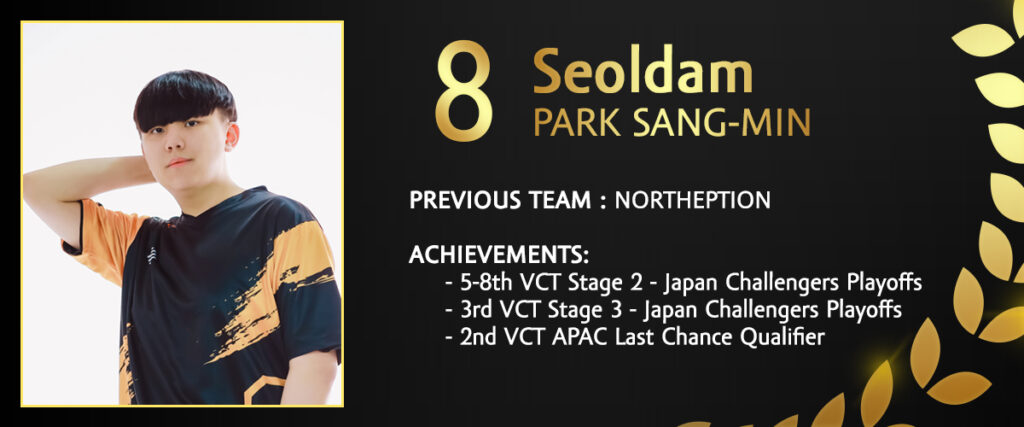 At the start of 2021, people only knew Park "Seoldam" Sang-min as the Korean Jett of YouTube fame. He could put up highlights in ranked but had little competitive success to show. That all changed throughout the year. NORTHEPTION's results slowly improved over the year, culminating at the APAC Last Chance Qualifier.
There, Japan's NORTHEPTION looked incredible, beating out strong Korean and Southeast Asian opponents to reach the grand finals. They ultimately lost to FULL SENSE, but it was still a huge success and proved that Seoldam is here to stay.
#7 – 🇰🇷 Yu "BuZz" Byung-chul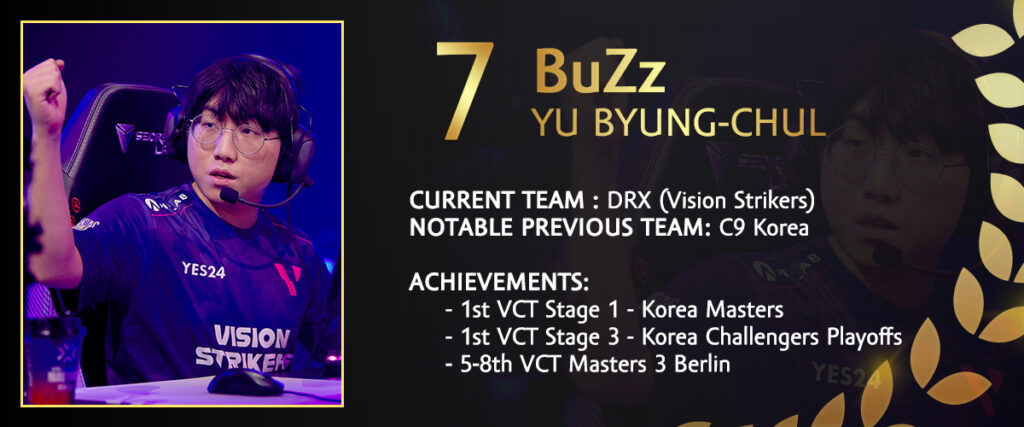 Yu "BuZz" Byung-chul had a busy 2021. He began the year on BearClaw Gaming, a team that soon disbanded due to funding issues. After playing with the core of that roster for a while, he joined Vision Strikers for Stage 3 and became the breakout star everyone knew he could be.
While Vision Strikers had a few disappointing international performances to close out their year, BuZz was in the conversation for the best player in Korea by the end. Playing under the DRX banner for next year, BuZz's future is bright.
#6 – 🇹🇭 Chanawin "JohnOlsen" Nakchain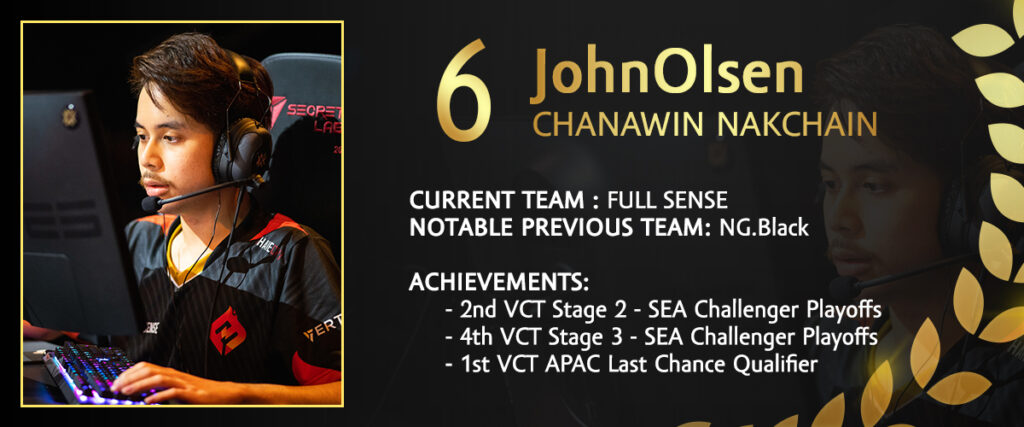 With his eye-watering headshot percentage, Chanawin "JohnOlsen" Nakchain has cemented his place in the history books as the headshot machine of SEA. He has the highest percentage of headshots among his SEA counterparts on this top 20 list. Therefore, it is not shocking anymore to discover that Adil "ScreaM" Benrlitom is JohnOlsen's idol.
PTC's sidekick has been putting up an incredible rating all year, making the combination one of the most difficult opponents for Asia's heavy hitters.
#5 – 🇰🇷 Kim "stax" Gu-taek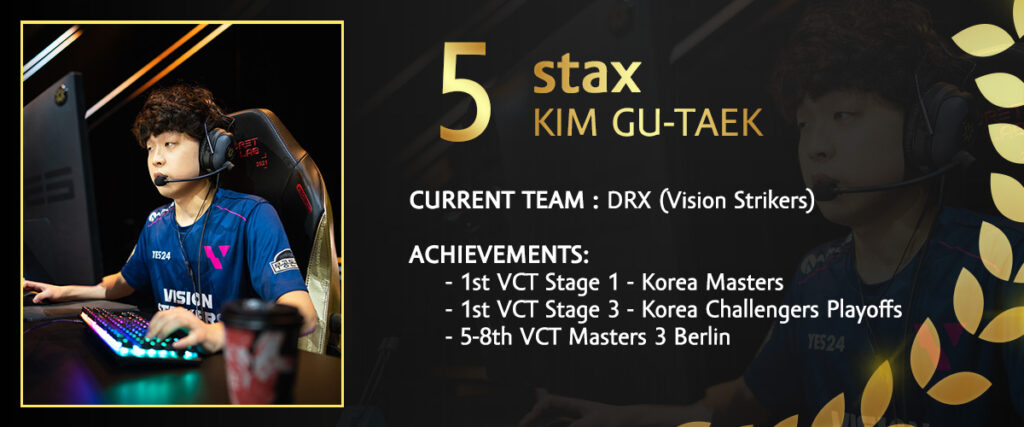 Kim "stax" Gu-taek was one of the best players in Asia all year, as a key figure behind all of Vision Strikers' success. At the beginning of the year, VS were still on their massive win streak, something that would continue until Stage 2. stax continued to play a critical part of VS' rebuild, en route to international performances at Masters Berlin and Champions. stax has been a leader for Vision Strikers for a long time, and as the storied team enters a new chapter as DRX, he's still a force within the team.
"An innovator, a team player, and a leader: stax is the total package. From being a part of the legendary win streak to leading the team as captain to global competition, he has put Vision Strikers at the top of the Korean scene with his initiatives. Selfless on the setup, he embodies Breach himself and standardizes flawless execution on a per-round basis. To top it all off, his flexibility is only matched by his precise prowess: expect him to clean up consistently and even top the leaderboards."

– Dathan "Daks" Rosales.
#4 – 🇹🇭 Kititkawin "PTC" Rattanasukol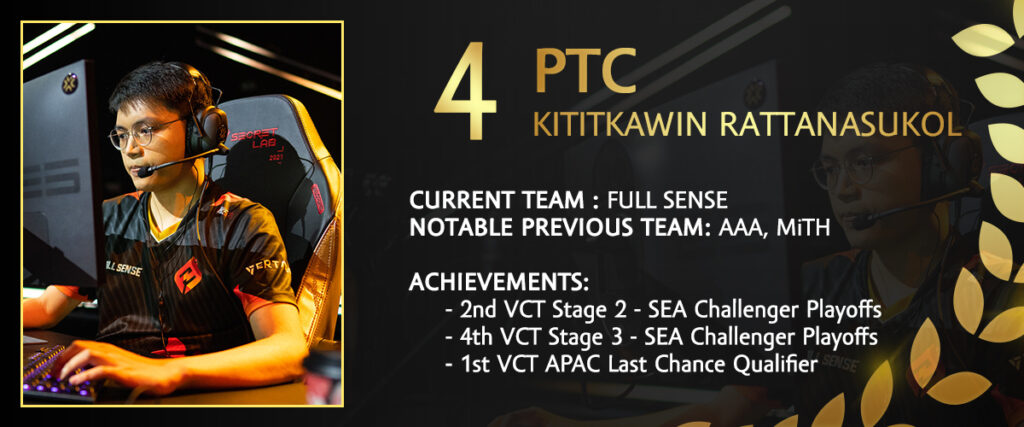 Kititkawin "PTC" Rattanasukol's individual stats are top-notch. The 23-year-old is most renowned for his ability to play a diverse selection of agents while maintaining a high level of performance. The combination of star-power and in-game leading abilities made him stand out from the rest. He was also consistent on a round-to-round basis, delivering a meaningful course of action to the rest of the players on FULL SENSE.
"PTC out of the others from his team and region has been the most impactful, flexible, and invaluable player He has played almost every other agent during FULL SENSE matches in the VCT APAC Last Chance Qualifier while still getting incredible scores. Given his upward trajectory, PTC has a definite top tier stock as a player in the Southeast Asian VALORANT scene."

– Darwell "Asurai" Llerena.
#3 – 🇹🇭 Patiphan "Patiphan" Chaiwong (Retired)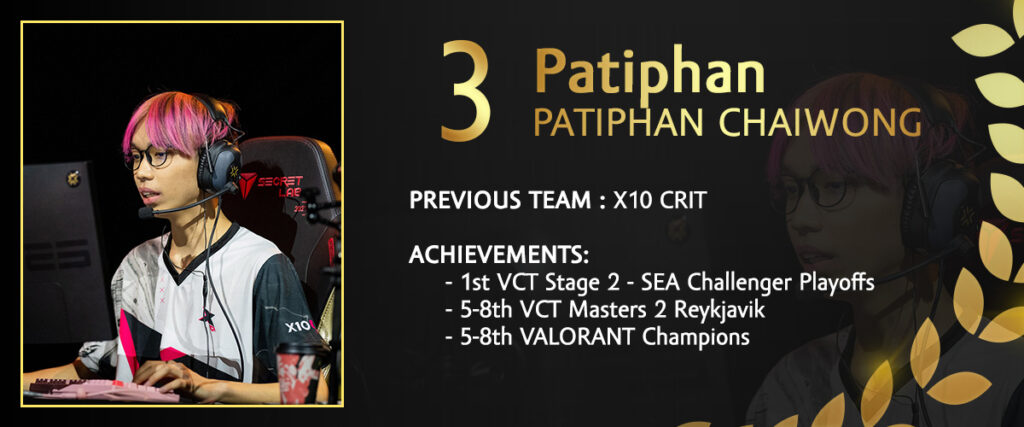 Excellent consistency and big performances against the best opposition secure Patiphan "Patiphan" Chaiwong third place on the list. The former Overwatch player first stepped into VALORANT by joining Thailand's famed X10 CRIT roster (formerly X10 Esports). In 2021, X10 CRIT garnered an international reputation and ranked among the best Asian teams this year after placing high at both Masters 2 Reykjavik and VALORANT Champions. Despite his youth, he now has extensive experience on the world's biggest stages in both Overwatch and VALORANT
Individually, the 18-year-old player was a crucial key of X10 CRIT's dark horse run on their international campaigns, placing both Masters 2 Reykjavik and VALORANT Champions at the 5th-8th place. Given his success in the VALORANT scene, seeing him return to his roots in Overwatch is a surprising decision. It was a pleasure having Patiphan on the Asian VALORANT scene.
"I placed Patiphan 4th (Ilustrado's nomination) because even if he is arguably one of the best in Asia, I wanted to factor in recency and consistency. While he did have a fantastic showing in Reykjavik, Champions was not necessarily the best showing. He had a lot of high impact moments and is a highlight player only limited by his tendency to play over aggressive."

– Franco "Ilustrado" Bernardino.
#2 – 🇮🇩 Jason "f0rsakeN" Susanto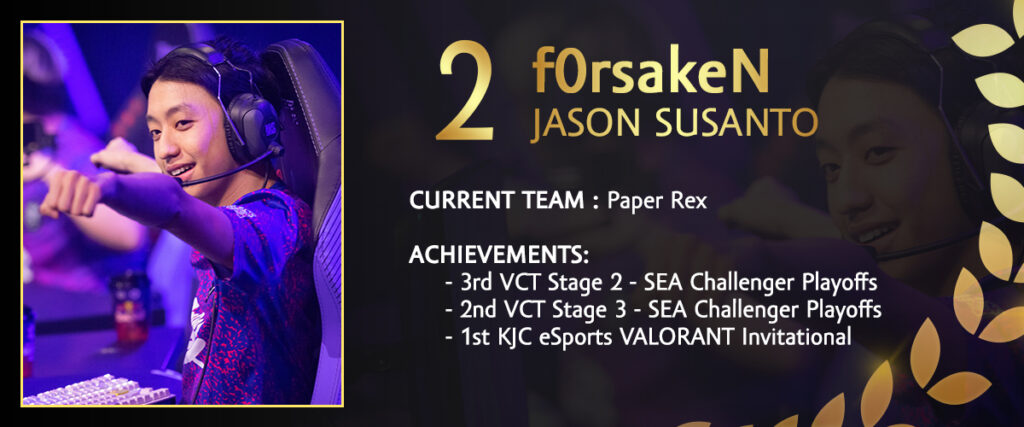 He has repeatedly proved himself more than just a shadow of his shared blood. Jason "f0rsakeN" Susanto was born in 2004 and began his career over in CS:GO in 2017 when he was first signed to his first official team. Fast forward four years later, he has become one of the most mechanically-gifted VALORANT players in the Asia-Pacific region.
The Indonesian prodigy is the youngest player on the top 20 list, and seeing his potential in the coming years is as fascinating as it has always been. Most eyes should be turned towards f0rsakeN, who has proven to be the wunderkind of Asian VALORANT.
"I placed f0rsakeN 2nd based on his raw talent and versatility in a team. He proved that he was a world-class talent who held his ground on the international stage just fine, even though there was no precedent on Southeast Asian talents putting up a fair fight against Asian teams, much less international teams.

He is consistently performing with a wide agent pool, while also managing to go deep into each agent and displayed a sophisticated understanding of the game in terms of mechanical skill and team play. Frankly, there is no other talent like him in the Asian scene, but it was a tough call to put him on the 2nd spot behind PTC (Sleepy's nomination), who is another phenomenal player with even more experience and playmaking capability."

– Andi "Sleepy" Bangsawan
#1 – 🇵🇭 Jayvee "DubsteP" Paguirigan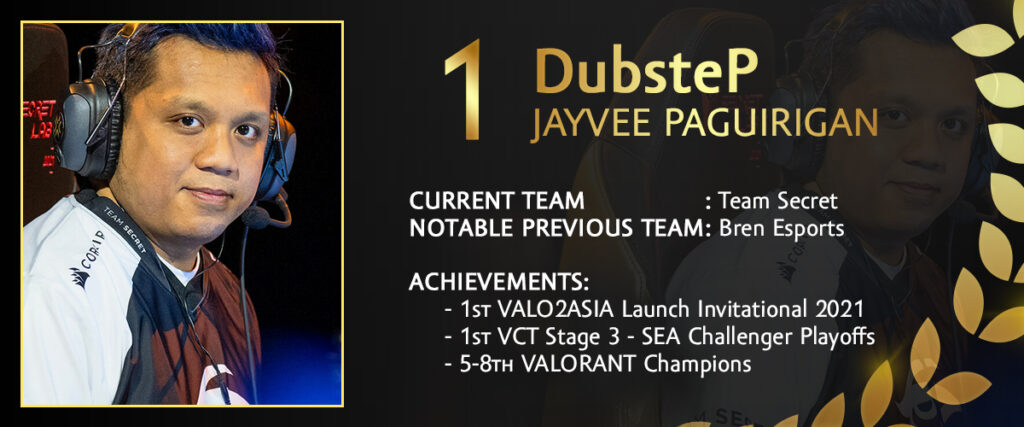 Jayvee "DubsteP" Paguirigan sits in a class of his own. During the early days of VALORANT, we had the chance to talk to him, and knowing that his goal is to "reach a global competition and show the world that SEA can also be a contender in a world-class tournament" shows his compassion not only in raising the Philippine flag on the world stage but also in redefining SEA's identity as a region to be reckoned with. DubsteP is one of the reasons to believe that everything is possible and that everyone has their own timeframe for success. To see him as the only player nominated by all 20 members of the board of judges cemented himself as one of Asia's best players and most-loved personalities in 2021.
"DubsteP has been a household name in the Southeast Asian FPS scene for a while now, and during the first-ever VALORANT Champions, he proved exactly why. He had the 8th highest ACS during Champions, the highest of any Asian player at the event, and was a huge part of the roster dropping only a single one of the 18 maps they played during the entirety of the VCT Stage 3 SEA Challengers Group Stage and Playoffs.

There are few players that have their team ask so much of them, yet deliver to the highest degree the same way he has. The amount of responsibility put on his shoulders, and how he has stepped up to take all of it head-on at the top level of competitive VALORANT, while also having a great mix of explosiveness yet discipline in his playstyle, puts DubsteP as the definite #1 player in Asia in my book, and I know in many others' as well."

– Nico "BlackenBlue" Gayoso
ALSO READ: The VALO2ASIA Awards Introduction – Judges & How the voting works
---
For more insights on the Asian VALORANT scene and upcoming content like this, be sure to like and follow VALO2ASIA on Facebook, Twitter & Instagram.
---
Photos courtesy of VALORANT Esports/Riot Games