Orangutan X's new trio has been officially unveiled ahead of VCT Game Changers APAC Open 2.
INDIA – Orangutan X have announced the additions of Anrionel "Twirly" Cajanding, Elmarian "Erumaa" Haessel, and Emily "Emi" Lauw, finalizing the team's active roster heading into the second half of the year. These changes also mark the departure of Mary "capriciouS" Sabado and Nikaela "zini" Cruz, with the former finding a new home in RRQ Kaguya.
The trio now links up with the remaining three Orangutan X players after the team had a promising start to the season, where they secured the runners-up position to Team SMG in VCT Game Changers APAC Open 1. Orangutan X will be hoping that the triple signings will help them overcome that hurdle and begin clinching titles. 
ALSO READ: Team SMG unveil enerii signing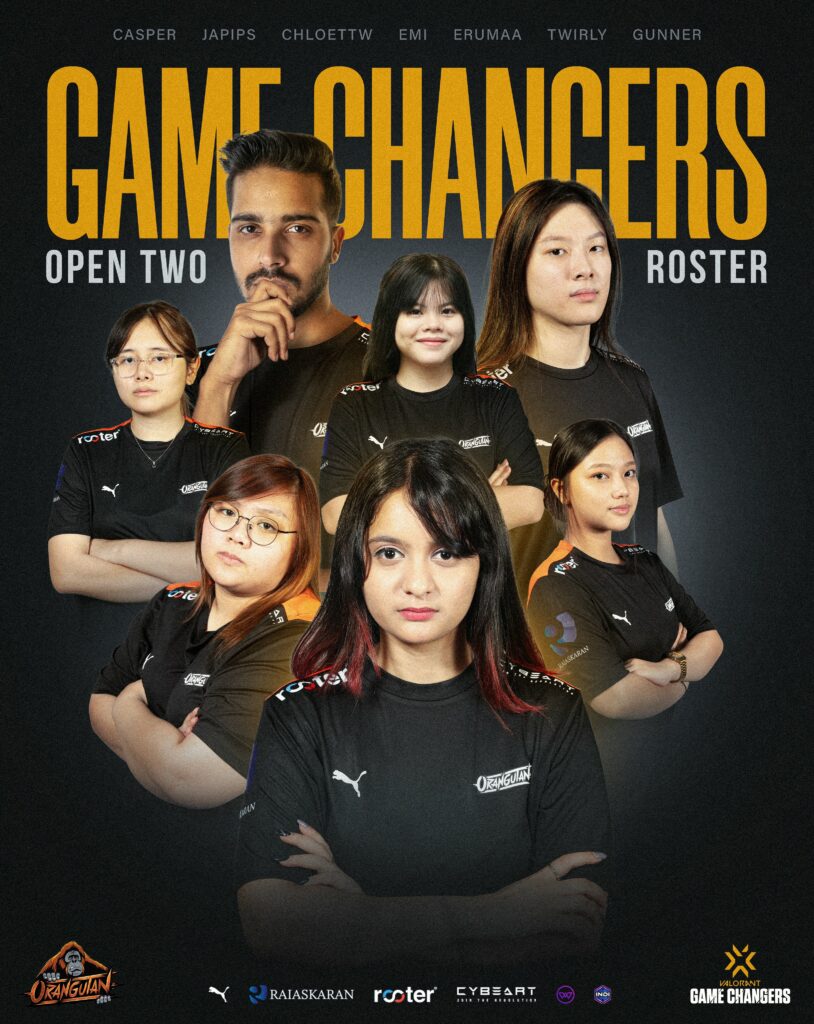 Among the new recruits, Twirly holds the most impressive résumé, having been part of the Bren Esports Victress team that achieved at least a quarter-finalist position in all Open tournaments and the Elite stage throughout the 2022 season. In the recent Open 1 tournament, her presence in the server was key in GO Cyrene qualifying for the playoffs and finishing 7th-8th place. Twirly will be joined by fellow Filipino Jefferlynne "Japips" Hernandez in this new adventure.
Erumaa is well known for her time with BIGG SCYTHE, where she plied her trade since early last year, helping them reach the playoffs of the 2022 VCT Game Changers APAC Open 3, Overtime, and Last Chance Qualifier and most recently the 2023 VCT Game Changers APAC Open 1. She held the second-highest rating from her last campaign with the Indonesian team.
Finding their new fifth, Orangutan had to expand their search to the land down under. Emi first appeared on the radar in 2020 when she emerged victorious in the GIRLGAMER Challenge Oceania tournament. She further showcased her skills in the Dreamhack Showdown VALORANT Oceania, competing alongside The Who. The co-ed team secured third place, succumbing to the eventual finalists BOBO in the lower final.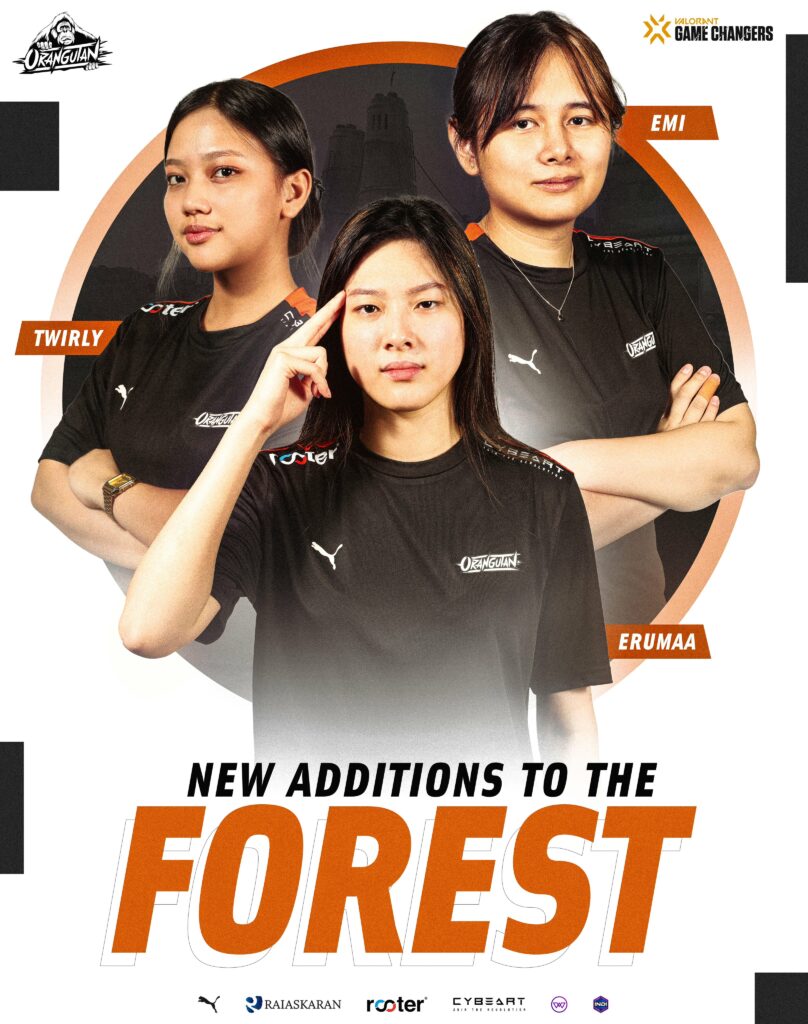 Additionally, Orangutan X have signed Jaden "Saber" Bryant as an assistant coach. The American coach previously worked with teams such as Into The Breach Protocol, Trident Esports, and Game Changers team SOVEREIGN last year.
Orangutan X are currently scheduled to play the upcoming VCT Game Changers APAC Open 2 starting today. They are set to play against Deviant Topaz in the first round.
Orangutan X head into VCT Game Changers APAC Open 2 with:
🇮🇳 Neha "CaspeR" Sottany
🇵🇭 Jefferlynne "Japips" Hernandez
🇵🇭 Anrionel "Twirly" Cajanding
🇦🇺 Emily "Emi" Lauw
🇮🇩 Elmarian "Erumaa" Haessel
🇸🇬 Chloe "Chloettw" Wong Ting Ting
🇵🇰 Asad "GuNNeR" Azam (Coach)
🇺🇸 Jaden "Saber" Bryant (Assistant coach)
---
For more insights on the Asian VALORANT scene and upcoming content like this, be sure to like and follow VALO2ASIA on Facebook, Twitter & Instagram.
---
Cover photo courtesy of Orangutan X