VALORANT's new competitive mode, Premier, will officially serve as a path to enter the VCT circuit from within the game, starting next year. 
UNITED STATES – VALORANT is set to officially release its new competitive mode, Premier, on August 29, beginning Episode Seven of Act Two.
Stage 1 of the Premier game mode will wrap up on October 22. Here's a breakdown of the timeline:
Enrollment Period: Aug 29 – Sep 7
Weekly Matches: Sep 7 – Oct 21
Playoff Tournament: Oct 22
The mode offers a new avenue for aspiring professional players across the globe, set to replace the existing open qualifying system in the 2024 season. Following each Challengers League stage, a promotional event will be held to bring up the top Premier teams. Yet, players already part of Challengers or International League rosters will not be eligible to become part of a Premier squad.
ALSO READ: VCT China unveiled as VALORANT's fourth International League
To start their journey on the new path-to-pro system, players must reach the Contender rank. "You'll see the first changes in early 2024, when all players competing in Open Qualifiers for VALORANT Challengers will need to have played in Contender in Premier, replacing the old requirement of being ranked Immortal and above," Leo Faria, Global Head of VALORANT Esports, explained in the announcement video.
"In Q2 of 2024, the top Contender-level teams will compete against Challengers teams in a promo/relegation event, fighting for a spot in the League. This means that for the first time, Premier will feed straight into Challengers. By the end of 2024, all new teams entering Challengers will have to climb through Premier in order to be promoted upwards."
Upon complete rollout, the divisional structure is transitioning from 20 numbered divisions for down to five main categories, ranked from the most basic to the most advanced as Open, Intermediate, Advanced, Elite, and Contender:
Open 1-5
Intermediate 1-5
Advanced 1-5
Elite 1-5
Contender
Team details, match records, and Premier MMR from the Ignition phase will be transferred to the new stage. However, Premier Score, Division, Zone, and Enrollment will not carry over between stages.
Players can find Premier in VALORANT's main menu by clicking on the Play button. To participate, players need to authenticate their accounts using SMS verification, have an account that is in good standing with Riot Games, and have completed rank placements at least once since the creation of their account.
The feature does not have rank restrictions for team members; whether a team has players of similar ranks or varying ones, their placement in a skill division will be determined by the average MMR of its top five players.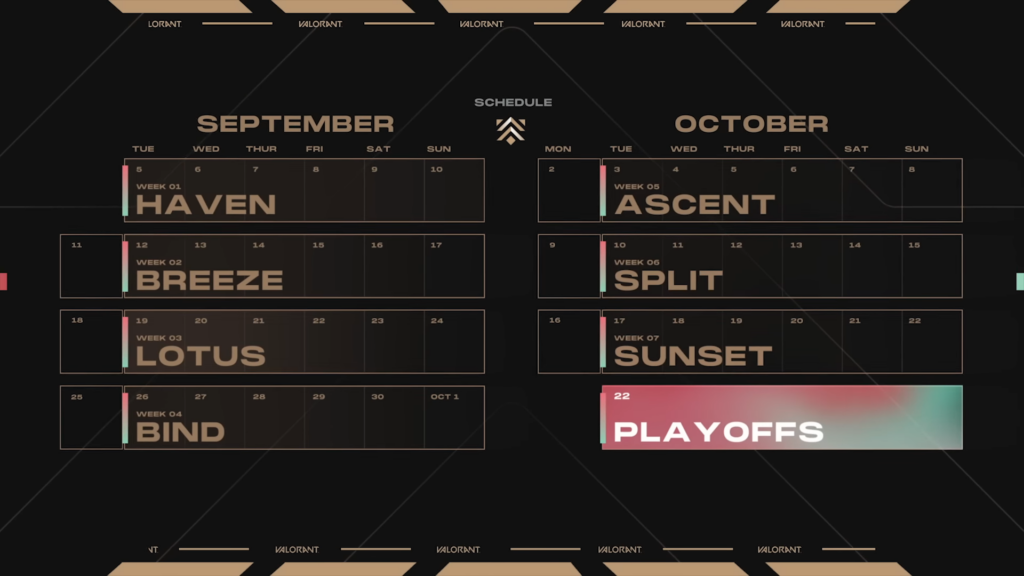 All regular weekly matches use a best-of-one format, and Premier matches in Valorant adhere to a distinct rule set compared to the standard Competitive matches:
A team that first secures 12 rounds is awarded Overtime Priority.
The team with this priority gets to decide the Starting Side for Overtime, determined by a majority vote among its 5 players.
Victory requires a two-round lead, with teams switching sides after every round.
Should three sets of Overtime have been played, a final Sudden Death round is played.
The side for Sudden Death is chosen based on the decision made during the Overtime Starting Side Choice Phase by the team with Overtime Priority.
To secure a spot in the Playoff Tournament, teams need to collect 675 points. All eligible teams in a Division are grouped into brackets, each comprising up to eight teams. Every bracket yields one victorious team, though a bracket might start with as few as five teams.
---
For more insights on the Asian VALORANT scene and upcoming content like this, be sure to like and follow VALO2ASIA on Facebook, Twitter & Instagram.
---
Cover photo courtesy of VALORANT