AfreecaTV has revealed how the eight teams have been distributed into two groups and the full schedule for the first-round matchups of the OFF//SEASON event.
SOUTH KOREA – AfreecaTV has revealed the group distribution and opening matches for the AfreecaTV VALORANT League, which is set to play host to eight teams in Seoul on December 5-10 for a US$80,000 prize pool. The eight teams have been split into two double-elimination groups, from which two teams advance to the playoffs.
Group A features a slightly more stacked level of competition, featuring the likes of Sentinels, Paper Rex, DRX, and FULL SENSE. Meanwhile, Group B boasts a wider variety of teams when it comes to their firepower and history, with T1 and EDward Gaming being joined by Team Liquid and Fancy United Esports.
Broadcasts
KR: https://bj.afreecatv.com/valorant
EN: https://bj.afreecatv.com/valoranten
TH: https://bj.afreecatv.com/valorantth, https://bj.afreecatv.com/fpsthailand
CN: https://douyu.com/4585645
VN: Available via co-streams
ALSO READ: VCT Game Changers Global Championship opening matchups revealed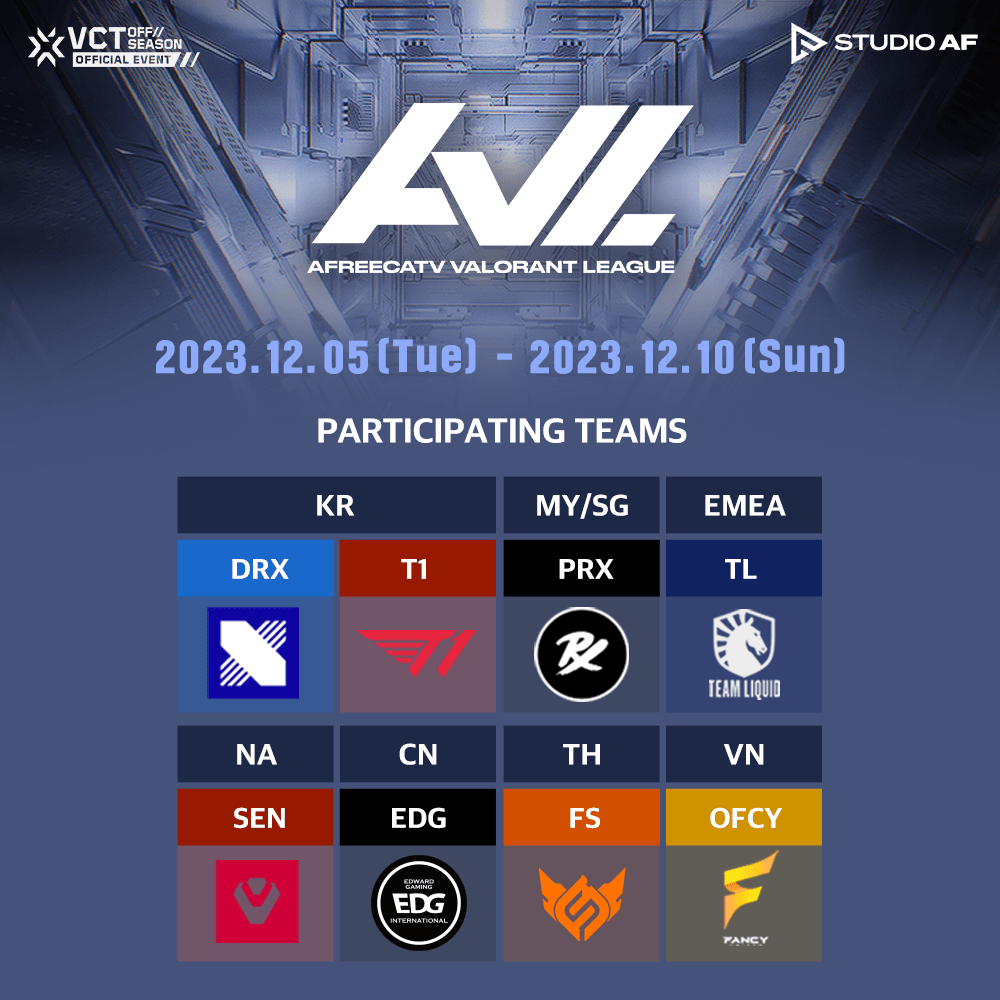 The highlight bout of Group A's opening round will see Sentinels and Paper Rex face off against one another for the first time as well as the debuts of Mouhamed "johnqt" Ouarid and Cahya "Monyet" Nugraha with their respective teams. While the two aforementioned fan favorites have had a chance to test their might with new players in showmatches happening throughout the OFF//SEASON, the AfreecaTV VALORANT League will see them make their proper debuts.
The last time that DRX and FULL SENSE encountered each other was at the 2021 VALORANT Champions in Berlin, with both games ending in 13-5 scorelines in favor of the Korean team. However, things have changed so much since then, where the then-Vision Strikers roster still fielded Lee "k1Ng" Seung-won, whereas FULL SENSE have since bolstered their lineup with the addition of the former Talon Esports duo, Panyawat "sushiboys" Subsiriroj and Itthirit "foxz" Ngamsaard, as well as the infusion of young blood in Thanyathon "Leviathan" Nakmee.
Team Liquid will be looking to get back on their feet following an underwhelming VCT season showing, despite winning the VCT EMEA League, with an overhaul that saw the arrival of former Apeks trio Enzo "Enzo" Mestari, Georgio "Keiko" Sanassy, James "Mistic" Orfila. With Apeks, the three players most recently finished second at VCT Ascension EMEA after dominating Northern Europe (Polaris region), dropping only a series throughout the entire season.
TL will begin their AVL campaign with an opening bout against Fancy United Esports, who are the lowest-rated side coming off of the Vietnam Qualifier. This matchup holds special significance for FCY as it marks their first international opponent after their participation at VCT Ascension Pacific, where they advanced to the playoffs and ultimately secured a 5th-6th place finish after a defeat to the eventual finalists, SCARZ.
The first round of the group stage will end with T1's matchup against EDward Gaming, and everyone's eyes will be focused on the debut of Kevin "xccurate" Susanto and Daniel "Rossy" Abedrabbo, as well as a potential Susanto derby should T1 and Paper Rex cross paths in the playoffs.
Below is a full schedule of the AfreecaTV VALORANT League: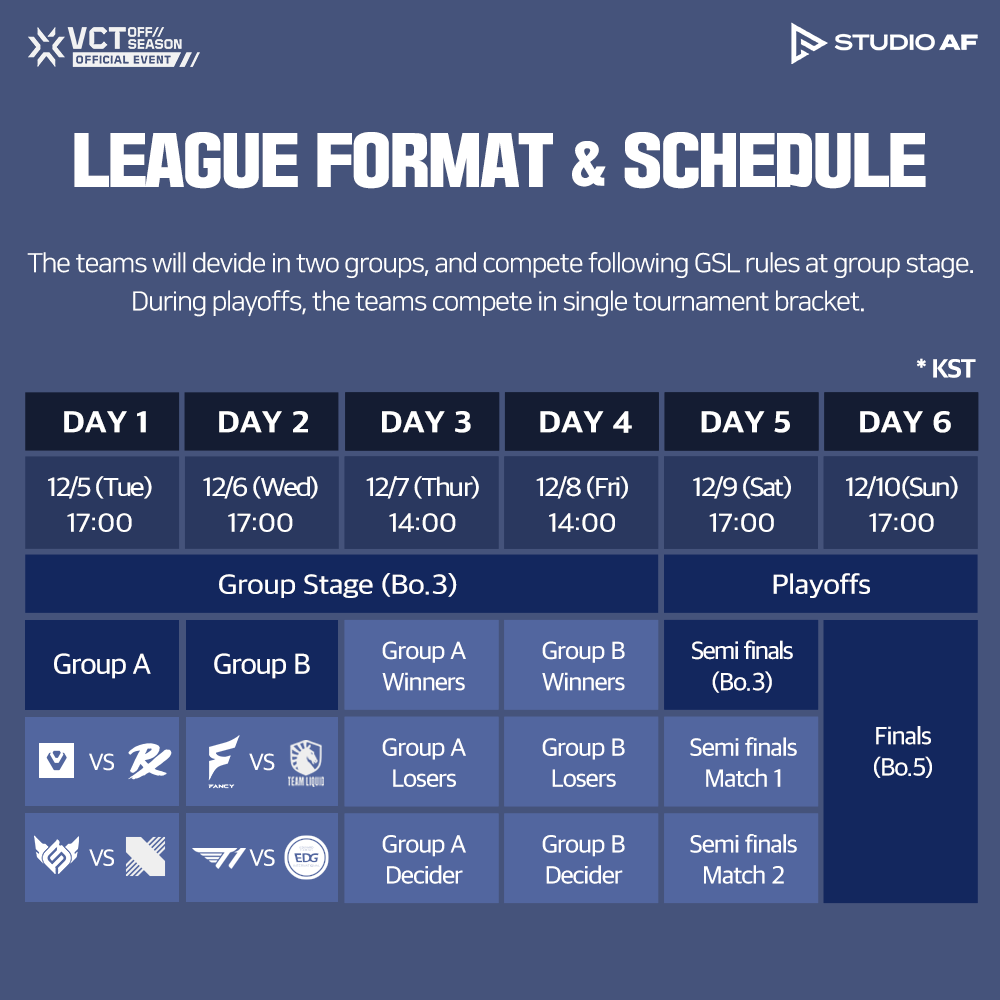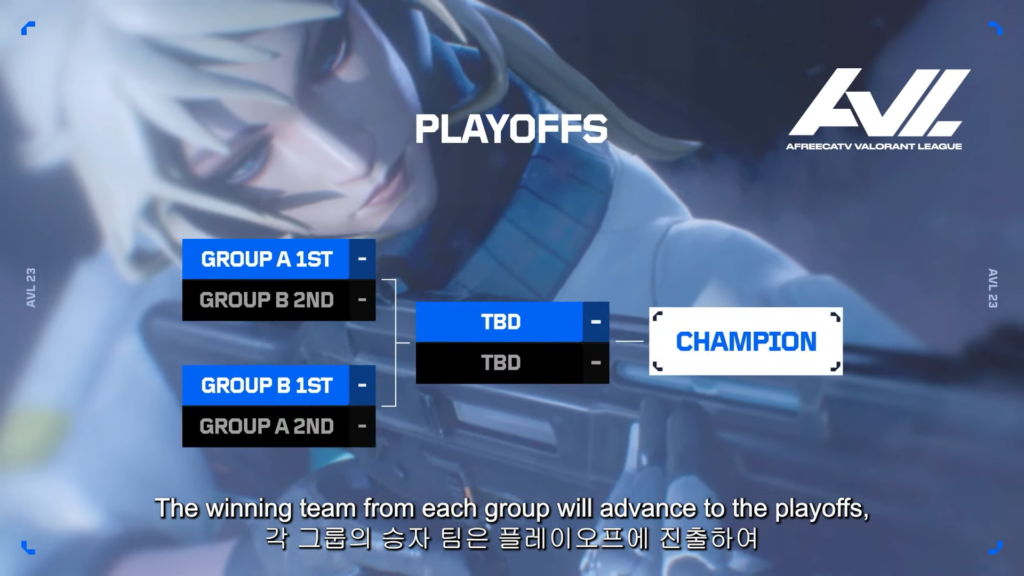 ---
For more insights on the Asian VALORANT scene and upcoming content like this, be sure to like and follow VALO2ASIA on Facebook, Twitter & Instagram.
---
Cover photo courtesy of Colin Young-Wolff/Riot Games