T1 VALORANT make their return to the east after two years, with the organization having locked down an all-Korean roster for their re-entry into the Pacific region.
SOUTH KOREA – T1 has unveiled its new roster for the VCT Pacific league next year, sporting a full-Korean roster studded with familiar names. Providing the bulk of the new T1 roster are Son "xeta" Seon-ho, Byeon "Munchkin" Sang-beom, and Joseph "ban" Seungmin Oh, all of whom were part of the team's previous iteration in North America. 
xeta has fared quite well internationally, with him competing for Cloud9 in both its Korean and North American lineups for almost two years before requesting a transfer to T1 alongside Yoon "Autumn" Eu-teum, who will remain as the team's head coach going forward. Munchkin, on the other hand, was also a former teammate of xeta in Cloud9. Following his short stint with Cloud9's Korean branch, he opted to compete in the VCT Japan circuit with Crazy Raccoon, which saw him attend all three VALORANT international events in 2021. Munchkin will assume an in-game leader role for the team.
ban was a member of the Pittsburgh Knights roster that took down Akrew in the NSG Summer Champs Online Open 12 Grand Finals and will take up the import slot on the roster as he hold an American passport.
ALSO READ: Paper Rex unveil cgrs as sixth member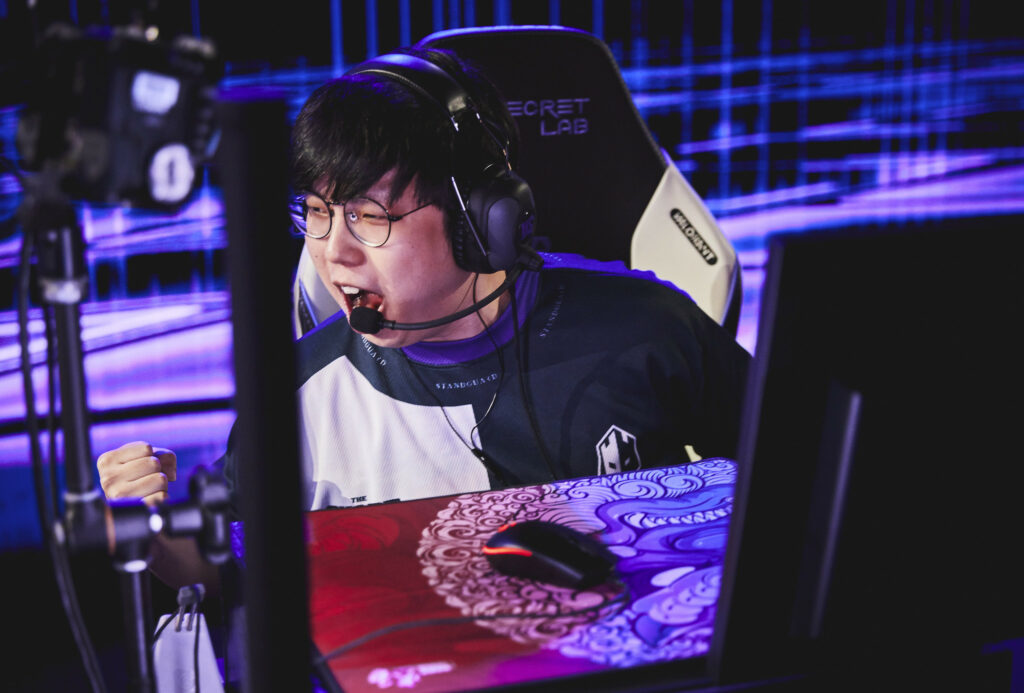 Joining the trio will be Ha "Sayaplayer" Jung-woo, whose most recent venture saw him on The Guard's books for VCT 2022 with the side enjoying success during which he qualified for the VALORANT Masters tournament in Reykjavik. The move also saw the 24-year-old's return after playing under the banner during the first year of his career, with young up-and-coming talent Kim "BeomJun" Beom-jun taking the sixth spot on the team.
BeonJum is still relatively unknown in the competitive landscape, with the 19-year-old having no track record in any official. The final piece of the puzzle has yet to be revealed by the organization.
Despite being a household name, T1 experienced some moderate success with the North American lineup, the pinnacle being a 5-8th place finish at First Strike NA during the first year of VALORANT before an uninspired period for large portions of 2021. This season was also a lackluster one for T1, which saw, among other poor results, the team miss out on qualification for both stages of VCT NA Challengers. Now with T1's revamped roster, they will look to become one of the region's powerhouses and make a deep run in the VCT Pacific league next year.
The team will play their first VCT match under T1's banner in the kickoff tournament, in São Paulo, Brazil, early next year.
T1 mount their return to Korean VALORANT with the following roster:
🇰🇷 Son "xeta" Seon-ho
🇰🇷 Byeon "Munchkin" Sang-beom
🇺🇸 Joseph "ban" Seungmin Oh
🇰🇷 Ha "Sayaplayer" Jung-woo
🇰🇷 Kim "BeomJun" Beom-jun
🇰🇷 Yoon "Autumn" Eu-teum (Head coach)
🇨🇦 Dakota "Stunner" MacLeod (Assistant coach)
---
For more insights on the Asian VALORANT scene and upcoming content like this, be sure to like and follow VALO2ASIA on Facebook, Twitter & Instagram.
---
Cover photo courtesy of LCK/Riot Games