The VALO2ASIA Awards is entering its third year, and we are ready to recognize some of the standouts in Asian VALORANT this year across three categories.
The VALO2ASIA Awards are returning for 2023, where we will crown some of the best APAC players in the game who made their mark over the season.
The ranking, as in previous years, will draw from statistics across all events endorsed by Riot Games throughout the season with details for each category provided later. Furthermore, a player's role in their team's victories and their performance in significant matches will also be factored in when determining the final standings.
The rankings are shaped by the collective input of a 20-member judging panel, with their individual votes combined to produce a consolidated list. Our panelists are a diverse mix of talents, bringing insights from the Challengers League, Game Changers, Ascension, and the VCT Pacific League. With their varied perspectives and our broad sample size, we believe the results will be a true representation of the season.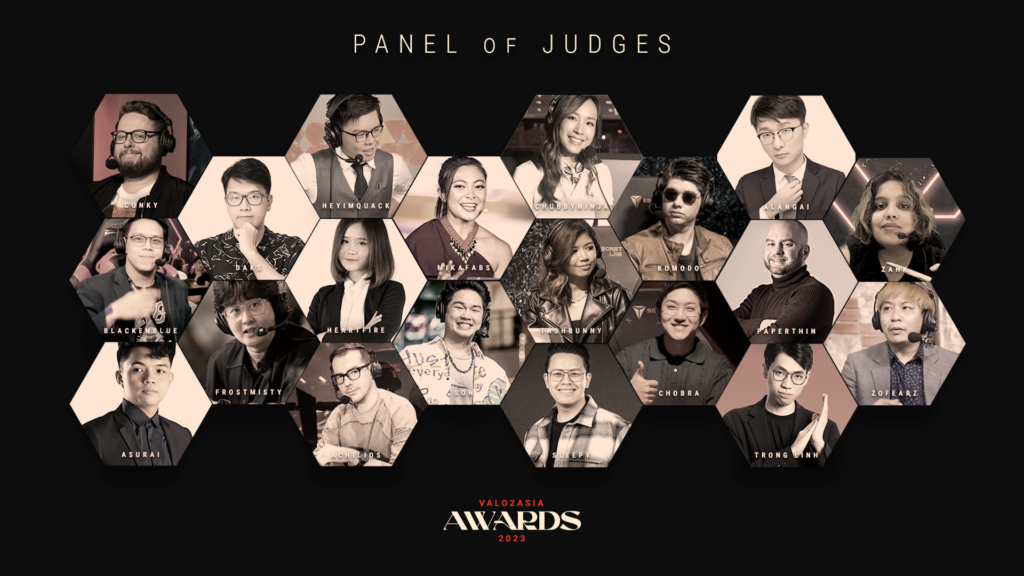 Meet your 2023 judges:
| | |
| --- | --- |
| 🇺🇸 Seth "Achilios" King | 🇺🇸 Clinton "Paperthin" Bader |
| 🇸🇬 Victoria "ChubbyNinja" Cheng | 🇺🇸 William "Chobra" Cho |
| 🇵🇭 Darwell "Asurai" Llerena | 🇵🇭 Nico "BlackenBlue" Gayoso |
| 🇵🇭 Dathan "Daks" Rosales | 🇵🇭 Mika "Mikafabs" Fabella |
| 🇦🇺 Mitchell "Conky" Concanen | 🇦🇺 Dion "Komodo" Pirotta |
| 🇮🇩 Albert "Frostmisty" Giovanni | 🇮🇩 Bella "Heartfire" Victoria |
| 🇮🇩 Andi "Sleepy" Bangsawan | 🇮🇩 Antonius "Son" Wilson |
| 🇸🇬 Kentrell "heyimquack" Kwek | 🇲🇾 Natasha "Tashbunny" Hashim |
| 🇨🇳 Gai "Alan" Yandahan | 🇻🇳 Nguyễn "TLing" Trọng Linh |
| 🇮🇳 Kaavya "Zahk" Karthikeyan | 🇹🇭 Atthasid "ZoFeaRz" Intravichai |
Juandi, Editorial at VALO2ASIA, commented: "The VALO2ASIA Awards is an initiative that aims to not only grow the scene (future) but also to build a legacy for the players, giving them something to look back on five to ten years from now (past) and see how far they have come. During my time covering Counter-Strike in Asia, I even found it difficult just to obtain basic information on even the ten best players in my region; this frustrating yet simple problem was one of the motivating factors for starting this annual celebration and continuing it for years to come."
---
Top 20 APAC Players of the Year
These are the top players from the Pacific region who made waves throughout the 2023 VCT season. In light of the recent overhaul of the VALORANT Champions Tour for this season and after a long internal discussion, this category is now reserved exclusively for players at the highest level of VALORANT in the region. Nominations will feature players from the Pacific League who competed in São Paulo, Seoul, Tokyo, and Los Angeles.
Those from the tier-two circuit will still be recognized in another category, the specifics of which we'll delve into later in our new Top 5 APAC Challengers Players of the Year.
Top 5 APAC Game Changers of the Year
In championing this category, we seek to shine a spotlight on the contributions of women in the scene, celebrating their achievements and supporting them in their professional development. Last year, we debuted the Game Changers category and witnessed its impact, and it's something that we want to continue to do as part of our mission at VALO2ASIA. This year, we have chosen to keep the category and increase the list to the top five, up from the previous year's three.
Judges are not obligated to cast their votes in the Game Changers category. We understand that some judges might not be deeply engaged with the GC scene. Our primary goal is to ensure that votes for this category come from those with an understanding of the Game Changers scene in APAC (SEA).
Nonetheless, we have opted to limit the category to the APAC (SEA) region, excluding East Asia for the time being due to the limited player sample size especially given that China was only introduced to the official circuit this year. We believe that this is the best course of action, and we prioritize the inclusion of the East Asian circuit in the upcoming year.
Top 5 APAC Challengers Players of the Year
The newly introduced category, Top 5 APAC Challengers Players, will spotlight players outside of the Pacific League but who have shown outstanding performances in the 2023 Challenger Leagues—whether in their sub-regional leagues or in Ascension.
The candidates for this category are those whom the judges believe are deserving of advancing to the VCT Pacific League or are expected to excel in the upcoming season of the Challenger Leagues. This category is not exclusive to newcomers but encompasses all players from the tier-two ecosystem.
The VALO2ASIA Awards 2023 – Medals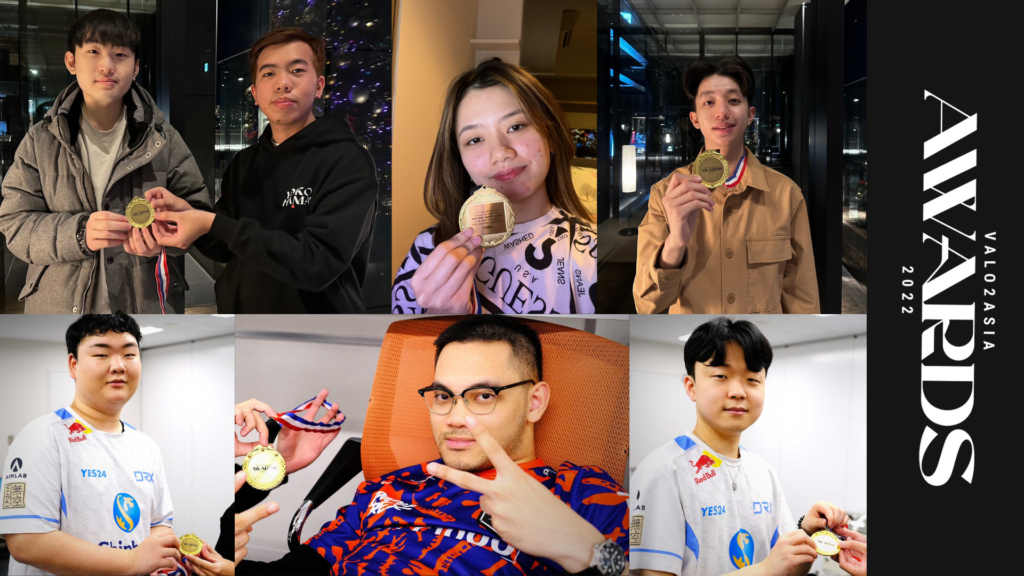 Medals will be given to the following:
Top 5 APAC Players
Top 5 APAC Game Changers Players
Top 5 APAC Challengers Players
Wrapping up the VALO2ASIA Awards, we're adding a personal touch. To honor the best of the best, the top five players in each category will receive medals. And to make it even more special: each medal will be engraved with the player's name.
The VALO2ASIA Awards – In Retrospect
2021
2022
#1 – 🇵🇭 Jayvee "DubsteP" Paguirigan
#2 – 🇮🇩 Jason "f0rsakeN" Susanto
#3 – 🇹🇭 Patiphan "Patiphan" Chaiwong
#4 – 🇹🇭 Kititkawin "PTC" Rattanasukol
#5 – 🇰🇷 Kim "stax" Gu-taek
#1 – 🇸🇬 Wang "Jinggg" Jing Jie
#2 – 🇮🇩 Jason "f0rsakeN" Susanto
#3 – 🇰🇷 Kim "MaKo" Myeong-kwan
#4 – 🇰🇷 Byung-chul "BuZz" Yu
#5 – 🇰🇷 Kim "stax" Gu-taek

#1 Game Changers – 🇮🇩 Odella "enerii" Abraham
#1 Personality – 🇸🇬 Benedict "Benkai" Tan
#1 IGL – 🇰🇷 Kim "stax" Gu-taek
The VALO2ASIA Awards 2023 – Timeline
November 1 – Event announcement
November 4 – Revealing 20-18
November 5 – Revealing 17-15
November 6 – Revealing 14-13
November 7 – Revealing 12-11
November 9 – Revealing #5 and #4 Game Changers Players
November 10 – Revealing #3, #2, #1 Game Changers Players
November 12 – Revealing #5 and #4 Challengers Players
November 13 – Revealing #3, #2, #1 Challengers Players
November 15 – Revealing 10-9
November 16 – Revealing 8-7
November 17 – Revealing 6-5
November 18 – Revealing 4
November 19 – Revealing 3-2-1
We'll be starting the countdown, revealing entries from Saturday, November 4 until Sunday, November 19, when we announce our APAC Player of the Year
---
VALO2ASIA is not affiliated with or sponsored by Riot Games, Inc. or VALORANT Esports.