The regular season of VCL HK/TW Split 1 is now behind us, and the field of competitors has been cut down to six.
HONG KONG/TAIWAN – VCL HK/TW Split 1, which has US$23,000 on the line, will now enter a week-long break before resuming on March 7 with the first round of the double-elimination playoffs, featuring a clash between ONE Team Esports and LP33, as well as AxX and Griffin E-Sports on the other side of the bracket. After securing the top positions in the regular season, Oblivion Force and Anti Eco Eco Club will start their road in the upper bracket semi-finals.
Yung "Kiuuuu" Kiu's Oblivion Force have gone unbeaten through four weeks of regular season play, with their only setback coming in a tight match on Ascent versus SendTreePay, which they lost 11-13. OF have maintained their impressive run despite just three players returning from their winning campaign in last year's VCT HK/TW Stage 1 Challengers. 
Griffin E-Sports, the VCT HK/TW Stage 2 Challengers champions, will be hoping to rebound after an underwhelming regular season, ending 3-4 in the record. They were on the verge of elimination with LP33 and Ghetto Artist, but the former two secured their spots in the playoffs with better standings in the final matches.
The bottom four teams from the regular season will be immediately relegated to the Relegation/Promotion stage, where four open qualifier teams will join them for a chance to secure four coveted spots in VCL HK/TW Split 2. Currently, SendTreePay and Ghetto Artist have been confirmed as the two bottom-placed teams from HK/TW Split 1 so far, while the other two will be determined on March 9 following the conclusion of the lower bracket quarter-finals. 
ALSO READ: VCT LOCK//IN reaches semi-finals
Below you can find the complete schedule for the playoffs:
📅 Tuesday, March 7
6 PM – ONE Team Esports vs. LP33
8 PM – AxX vs. Griffin Esports
📅 Wednesday, March 8
6 PM – Anti Eco Eco Club vs. ONE/LP33
8 PM – Oblivion Force vs. AxX/GFN
📅 Thursday, March 9
6 PM – Lower Round 1
8 PM – Lower Round 1
📅 Friday, March 10
6 PM – Upper Final
8 PM – Lower Round 2
📅 Saturday, March 11
📅 Sunday, March 12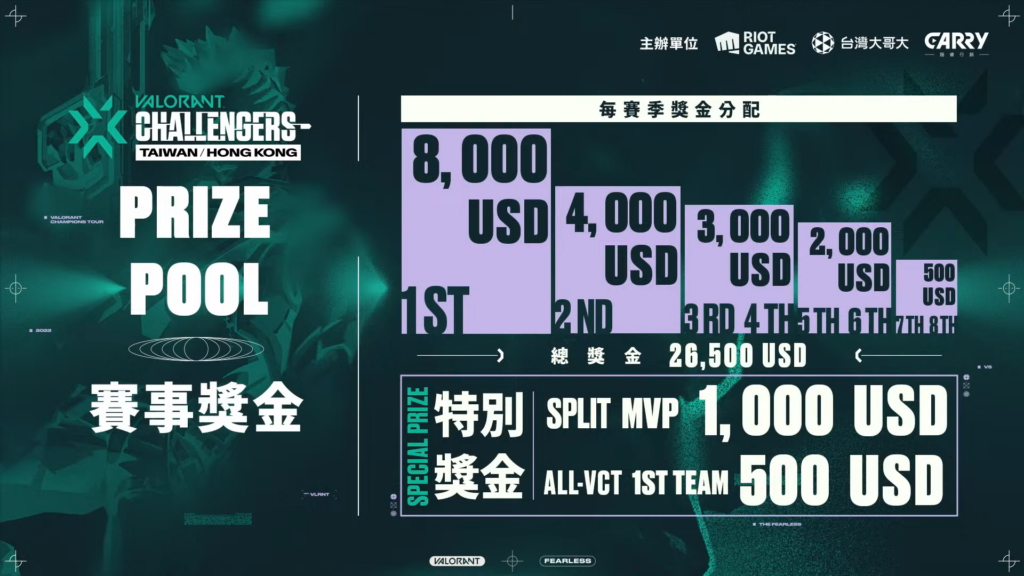 ---
For more insights on the Asian VALORANT scene and upcoming content like this, be sure to like and follow VALO2ASIA on Facebook, Twitter & Instagram.
---
Cover photo courtesy of VALORANT Esports Taiwan