VCL Philippines Split 1 Playoffs begins tomorrow, with six teams set to duke it out for the PH₱600,000 (~US$10,941) first-place prize. 
PHILIPPINES – The playoff stage of VCL Philippines Split 1 is due to begin on March 7, featuring six teams from the regular season going head to head in a series of intense battles for the coveted PH₱600,000 (~US$10,941) first-place prize, as well as the chance to advance to Stage 2.
The regular season of VCL Philippines Split 1 began on January 27th and concluded on February 26th. After a gruelling round-robin group stage that spanned over five weeks, six teams emerged victorious to earn their places in the playoffs. Each team played against their opponents once in a best-of-three setting, with the top two teams now advancing directly to the semi-finals.
ALSO READ: FNATIC Boaster – "if you work hard and surround yourself with people who also work hard, then you're on the right track" 
The Philippine branch saw two sides rise above the rest, with Oasis Gaming and NAOS Esports concluding the group stage with a near-flawless run. The former topped the regular season, finishing it with six wins from seven games, and are heading into the playoffs as one of the favorites. The latter also managed to secure the same 6-1 record. Despite their equally impressive form, Oasis Gaming, who will also represent the Philippines in the upcoming 32nd SEA Games, clinched the top spot by winning the tie-breaker.
NAOS Esports fell short of securing the top place after losing to rivals Oasis Gaming in what might have been a complete domination as NAOS remained unbeaten and did not lose a single match in their remaining five encounters after. On the other side, Oasis Gaming were caught off guard by Gamelab Alpha in the fourth week, halting their 4-0 victory run there before winning their last two matches.
As the top two teams in the regular season, Oasis Gaming and NAOS Esports have secured direct entry into the semi-finals of the playoffs. This means that they will skip the quarter-finals and have a chance to compete for a spot in the upper-bracket final directly. On the second day, Johnty "JA" Arone and his team will face the winner of the match between SR Nacague and Gamelab Alpha. Brheyanne "Wild0reoo" Christ Reyes and co., on the other hand, will face either Action PH or Abaddon Esports.
Tuesday, March 7
3 PM – SR Nacague vs. Gamelab Alpha
6 PM – Action PH vs. Abaddon Abyss
Wednesday, March 8
3 PM – NAOS Esports vs. NCG/GLAB
6 PM – Oasis Gaming vs. APH/ABA
Thursday, March 9
3 PM – Lower Round 1
6 PM – Lower Round 1
Friday, March 10
3 PM – Upper Final
6 PM – Lower Round 2
Saturday, March 11
Sunday, March 12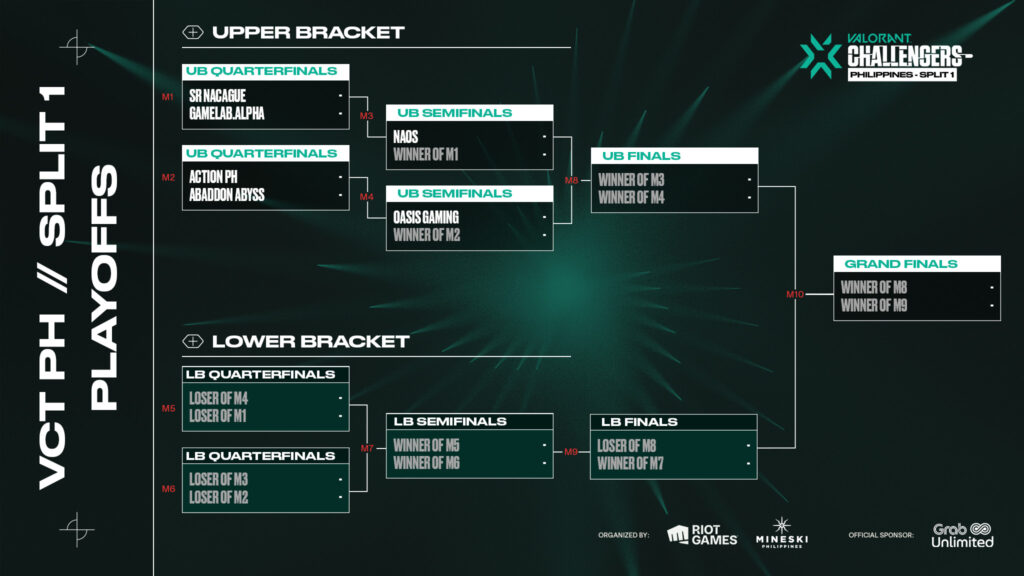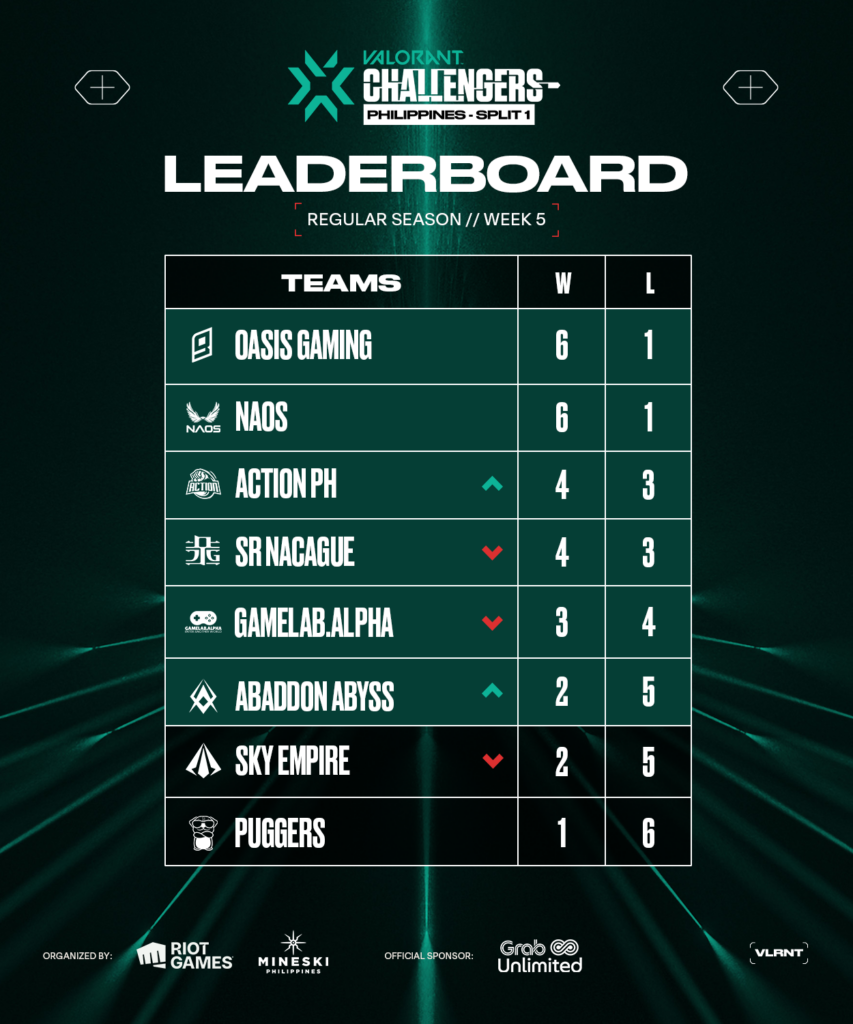 ---
For more insights on the Asian VALORANT scene and upcoming content like this, be sure to like and follow VALO2ASIA on Facebook, Twitter & Instagram.
---
Cover photo courtesy of VALORANT Esports Philippines