Riot Games and The Gaming Company have invited four teams for the MY/SG Split 1 event that will be held on February 2. Among them are Enigma Gaming and Bleed Esports.
MALAYSIA/SINGAPORE – Riot Games has partnered with The Gaming Company (TGC) to host the 2023 VCT MY/SG Split 1, featuring an MYR100,000 prize pool. It will span two months, beginning with two qualifier phases, followed by a group stage that will culminate with the six-team playoff stage on March 8-12. 
The tournament is open to players from Malaysia, Singapore, and Brunei Darussalam. Teams must have a minimum of three residents from any of the aforementioned countries to be eligible to compete. 
ALSO READ: DetonatioN Gaming rebrands to DetonatioN FocusMe following acquisition by GameWith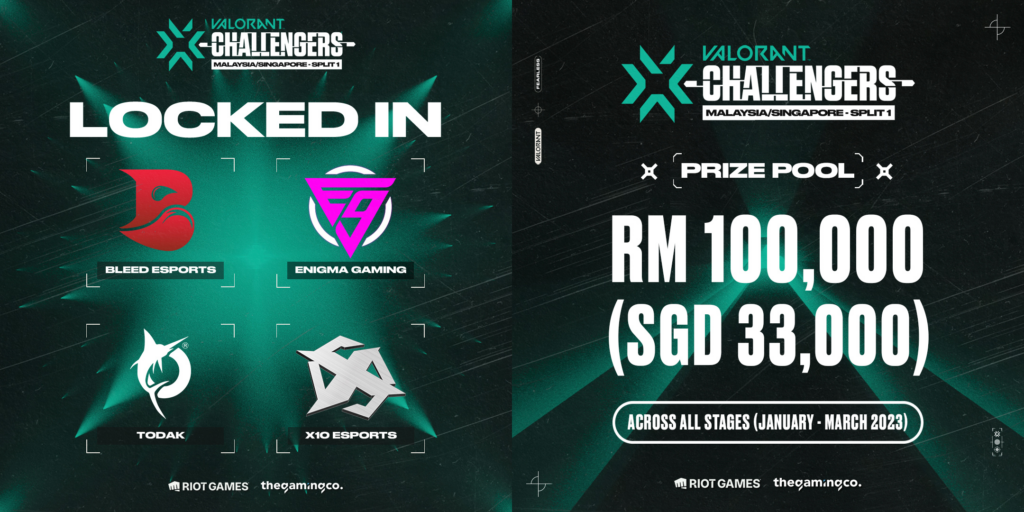 The qualifying stage for VCT MY/SG Split 1 will be split into two phases. Phase 1 will run in eight GSL groups from January 5-6, with the top two teams from each group moving on to the second phase on the following two days (January 7-8). The matches in Phase 1 will be played in a best-of-one format all the way until the Upper and Lower Bracket Finals, which will be utilizing a best-of-three format. The top two teams from each group will progress to the double-elimination, best-of-three Phase 2 bracket. There, the top four teams will proceed to the group stage (Challengers League), which runs from February 2-26 and features eight teams, half of whom are directly invited. 
The group stage will use a round-robin best-of-three system, in which six teams will advance to the double-elimination best-of-three playoff bracket, with the exception of Lower Bracket Finals and Grand Finals which will be best-of-fives.
Below you can find the complete schedule and summary for the MY/SG event: 
Challengers Qualifiers
Phase 1 (January 5-6, 6:00 PM SGT onwards)

GSL Format Bracket
32 / 64 / 128 Teams
Best of 1 Series;
Best of 3 Series for Upper & Lower Bracket Finals Only
Teams will be split into groups of 8
Top 2 from each group will proceed to Phase 2

Phase 2 (January 7-8, 11:30 AM onwards)

Double Elimination Bracket
8 / 16 / 32 Teams (Based on Registration Numbers)
Best of 3 Series
Teams will be split into Groups of 8
Top 4 teams will proceed to group stage (Challengers League)
Challengers Main Event
Group Stage (Challengers League) (February 2-26)

Round Robin
8 Teams, 4 from direct invite, 4 from open qualifiers
Best of 3 Series
Teams will face each other once

Playoffs (Challengers Playoffs) (March 8-12)

Double Elimination Bracket
6 Teams
Best of 3 Series;
Best of 5 for Lower Bracket Finals & Grand Finals Only
Among the invitees are three-time OFF//SEASON winners Bleed Esports, X10 Esports, Todak, and the now-MY/SG-based Enigma Gaming which has yet to officially announce its lineup at the time of writing. Joining the competition via the qualifier are teams such as NEXGA, Danial "RedKoh" Hakim's Louvre, Blitz Esports, Henri "Flaring" Forichon's Kizuna Esports, and the MY/PH roster Circus.
Registration for the qualifier is now open, and the tournament will require all players to be at least 16 years old and ranked Ascendant 1 as the minimum ranking to be able to participate. As for the MYR100,000 prize pool, the tournament organizer has yet to announce how it will be distributed between the top-eight teams. 
---
For more insights on the Asian VALORANT scene and upcoming content like this, be sure to like and follow VALO2ASIA on Facebook, Twitter & Instagram.
---
Cover photo courtesy of VALORANT Esports