The Indonesian squad went through the seven stages of VCT Game Changers SEA: FSL Circuit undefeated with a grand final victory over MAD Army.
Alter Ego Celeste needed only a little over two hours to defeat MAD Army and get their hands on their VCT Game Changers SEA: FSL Elite crown, capping up a successful 2021 campaign by dominating the Southeast Asian female VALORANT scene. It was another reminiscent performance of the previous six FSL Opens as Ryona "Tarathiel" Tan's troops were one step ahead of their opponents at all times and barely had to sweat or make crazy individual plays to come out on top.
Alter Ego Celeste are now indisputably the region's best all-female team after completing a tremendous playoff run, becoming the Queens of SEA, and obtaining the highest-ranked VCT Game Changers teams over NGX Female, Cloud9, and Shopify Rebellion — according to VLR.gg.
VCT Game Changers SEA: FSL Elite gathered eight of Southeast Asia's greatest all-female teams to compete in the most prestigious all-female VALORANT competition of the year, with a prize pool of US$25,000 on the line. Alter Ego Celeste, Nigma Galaxy Female, Renatus White, Aricat Aresta, TC Arise, BIG SCYTHE, MAD Army, and VLT Asteria are among the competing teams. The teams' preview linked below contains further information on their road to the FSL Elite.
ALSO READ: VCT Game Changers SEA: FSL Elite – teams, schedule, where to watch, prize pool
With victories against TC Arise, Renatus White, and MAD Army, Alter Ego Celeste advanced to the final with no maps being dropped along the way. MAD Army was turned down in the upper bracket final by the Indonesian side, but they were able to claw their way back to demand payback from the team that had knocked them out earlier.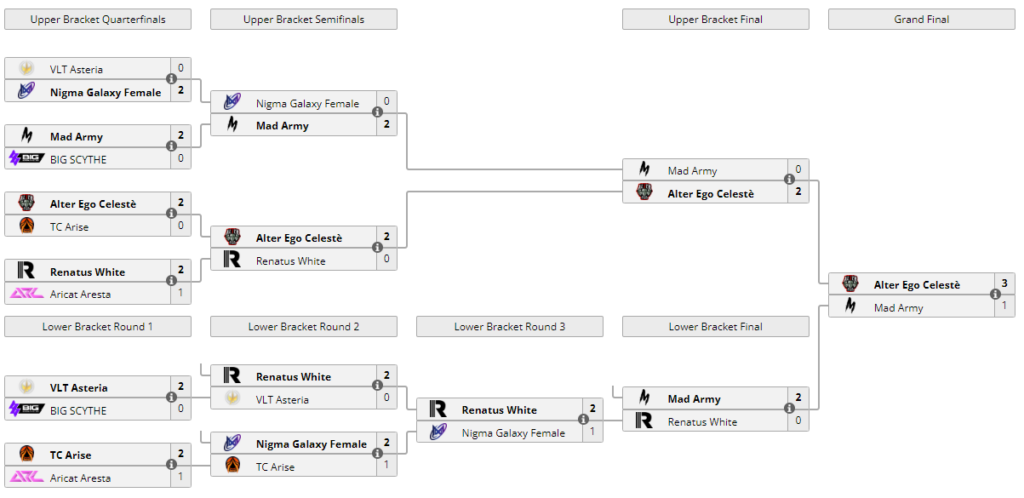 ---
The Grand Final – Alter Ego Celeste vs. MAD Army – VCT Game Changers SEA: FSL Elite
The grand final was set between Alter Ego Celeste against Thailand's MAD Army over five maps: Icebox, Split, Ascent, Bind, and Haven. The Indonesian team got off to a flying start in the series, jumping out to a 5-1 lead on the defensive side of Icebox, MAD Army's map of choice.
MAD Army, who just fielded former Foxy Araikordai player Sarindhorn "JinNy" Wanothayarnchai, attempted to rally from a 5-9 disadvantage on the defensive side but ultimately fell short as AE Celeste stormed away with a four-round victory run at the end to finish the map 13-8
The momentum followed from Alter Ego Celeste on the second map, Split. While MAD Army were able to get through the early rounds, Alter Ego Celeste got their momentum back in a back-and-forth battle between the two teams in the following team switch. July "Eisberg" Kusuma's side cruised to another commanding victory, this time by a score of 13-9. The complete replay of the game can be watched below:
On the following map, Ascent, MAD Army stormed to a 6-0 lead on the offensive side. Alter Ego Celeste then began chipping away at the deficit, tying the game at 6-6 before another back-and-forth, this time in a three-round set. Despite this, the Thai side held on in the last round to tie the series at 1-2 with the 13-11 victory over AE Celeste – the first map win over the Indonesian side ever recorded throughout this tournament.
The fourth map, Bind, was more of a straightforward one this time. Chalita "Muffyn" Buathong and co. got off to a winning start on the map, but Alter Ego Celeste were handed no respite as the team hit back immediately. The Indonesian team ran away with the game after that and cruised to an 8-4 lead. The Thai had multiple opportunities to tie the series. Still, Alter Ego Celeste maintained their foot on the gas and swiftly put the game to bed, winning the map 13-6 and claiming their eighth tournament title under the Alter Ego banner this year.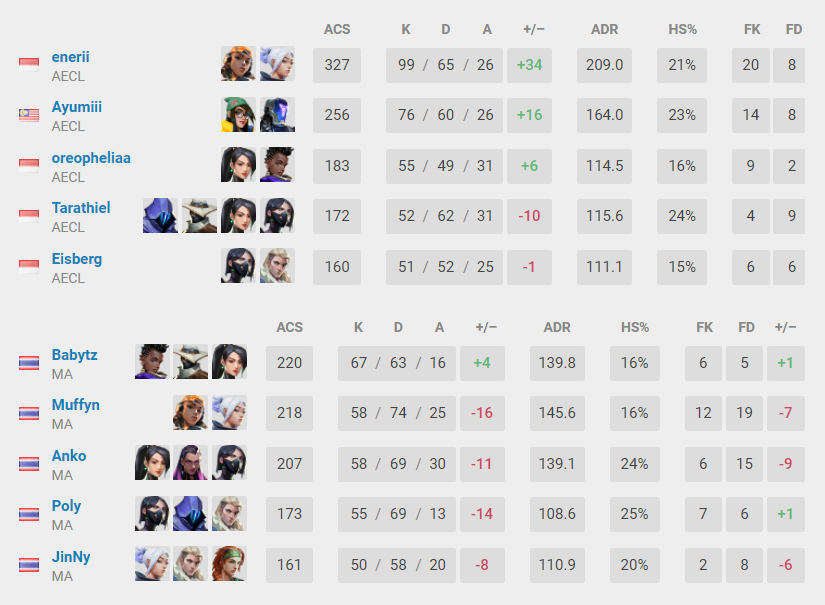 ---
---
VCT Game Changers SEA: FSL Elite final standings:
| | | |
| --- | --- | --- |
| Place | Team | Prize |
| 🥇 1st | 🇮🇩 Alter Ego Celeste | US$10,000 |
| 🥈 2nd | 🇹🇭 MAD Army | US$5,000 |
| 🥉 3rd | 🇸🇬 Renatus White | US$3,000 |
| 🏅 4th | 🇵🇭 Nigma Galaxy Female | US$2,000 |
| 5th-6th | 🇮🇳 VLT Asteria | US$1,500 |
| 5th-6th | 🇵🇭 The Capitol Arise | US$1,500 |
| 7th-8th | 🇮🇩 BIG SCYTHE | US$1,000 |
| 7th-8th | 🇹🇭 Aricat Aresta | US$1,000 |
US$1,500
---
For more insights on the Asian VALORANT scene and upcoming content like this, be sure to like and follow VALO2ASIA on Facebook, Twitter & Instagram.
---