Alter Ego have parted ways with five of their members, the Indonesian organization has announced. 
INDONESIA – Alter Ego announced on Friday that they have separated from four of their players and a coach. Jonathan "naTz" Adiputra, Kevin "Eeyore" Gunawan, Nanda "asteriskk" Rizana, Delbert "deLb" Tanoto, and coach Baskoro "roseau" Putra have all departed the team, leaving the roster with only three remaining players.
The news was revealed following the conclusion of Alter Ego's VCT 2023 season. The team managed to secure a 5-6th place finish in VCL Indonesia Split 1 and improved their performance in Split 2, where they achieved a second runners-up position.
ALSO READ: DetonatioN FocusMe to overhaul roster for 2024; seek new members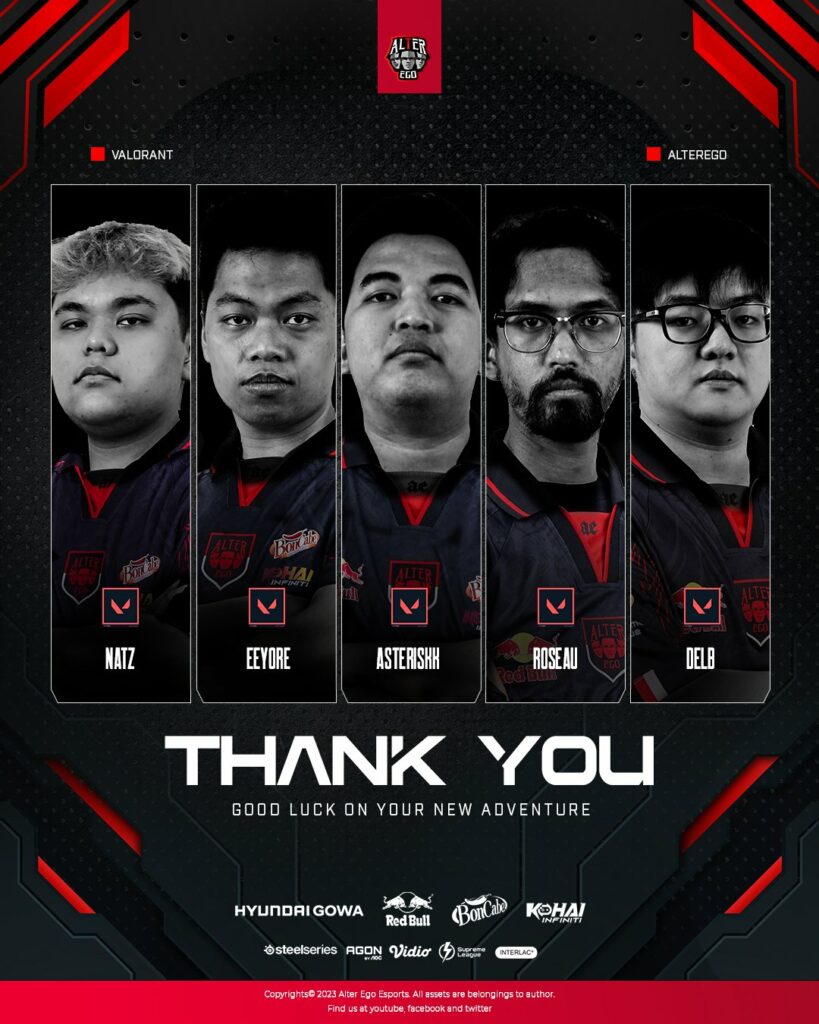 Eeyore, asteriskk, and roseau joined Alter Ego midway through the 2023 season, having been on the sidelines for the first Split following the disbandment of Persija Esports VALORANT. Furthermore, these three players, along with two others from AE, represented Indonesia at the 32nd Southeast Asian Games in the VALORANT competition. In a strategic move, the team decided to bring some experienced players on board to prepare for the Ascension Bangkok qualifying event.
At the same time, the arrival of these three members also saw naTz being transferred on loan to Hike Digital Esports. This change led to the team having a six-man roster set-up.
Alter Ego's team made their final appearance at Taman Anggrek Mall, where they claimed victories over Le Crapaud, ARF Team, and Bigetron Arctic, each by a score of 2-0. However, they were unable to overcome BOOM Esports, the eventual winners, in both the upper semi-final and lower final.
Per an announcement from the organization, Alter Ego plans to keep its VALORANT division. It is anticipated that the remaining players, Adrian "adrnking" Setiawan, Bryan "Gemma" Setiawan, and Alehandro "Nakya" Simanjorang, will be key components in the team's rebuilding process. This development leaves Alter Ego without a coach once more, with no word yet on who will be charged with the responsibility of reassembling the team.
Alter Ego currently have:
🇮🇩 Adrian "adrnking" Setiawan
🇮🇩 Bryan "Gemma" Setiawan
🇮🇩 Alehandro "Nakya" Simanjorang
---
For more insights on the Asian VALORANT scene and upcoming content like this, be sure to like and follow VALO2ASIA on Facebook, Twitter & Instagram.
---
Cover photo courtesy of VALORANT Esports Indonesia