The Singaporean duo has extended their time with Bleed Esports and will be a part of the team's plans next year.
SINGAPORE – Derrick "Deryeon" Yee and Jorell "Retla" Teo have extended their stay in Bleed Esports, the Singaporean organization has announced. All BLEED need now is to sign three more members going into next year's VCT Challengers Ascension. Deryeon has been with Bleed Esports since late 2021, joining from domestic rivals Louvre who had just made a runner-up finish in The Esports Club Showdown.
The 22-year-old Duelist has helped the Singaporean side to climb up the ladder and secure numerous finals throughout the VCT 2021 circuit, including two second runner-up placements in the VCT APAC Stage 1 Challengers and Last Chance Qualifier. Parallel to BLEED's run, Deryeon has been putting up impressive ratings and making impacts in important rounds throughout his VCT 2021 run, averaging 248 ACS in the last three months, according to RIB.gg.
ALSO READ: Oasis Gaming part ways with Ripper and kurtesy; appoint Evo as head coach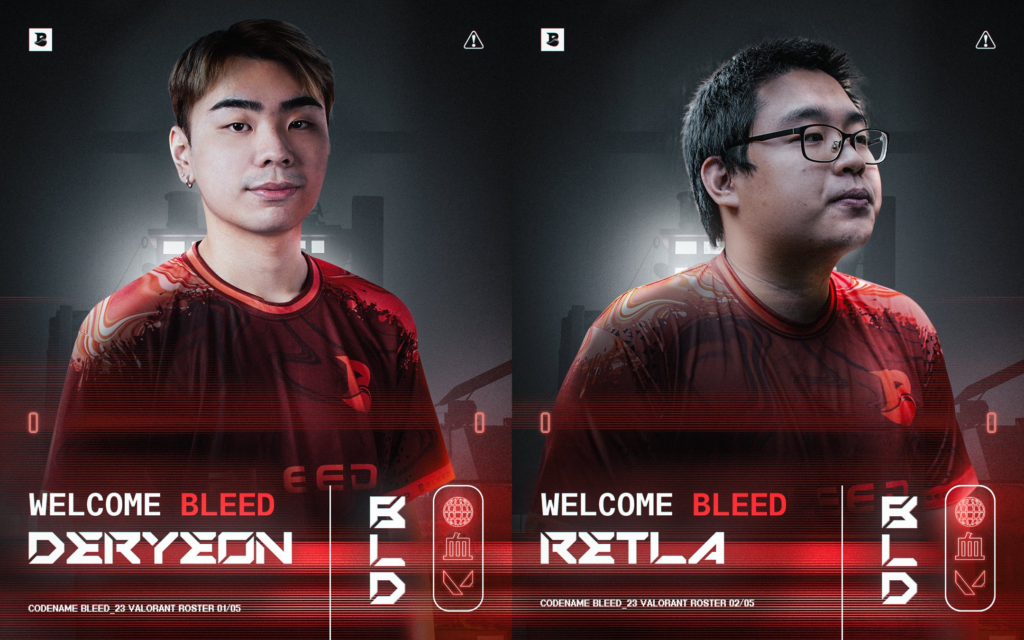 21-year-old Retla was first brought into the team as a substitute in May, less than a week prior to the start of the 2022 VCT MY/SG Stage 2 Challengers Playoffs. He would be eventually replacing Xavier "LEXY" Lee.
In addition to Deryeon's and Retla's re-signings, CS veteran Anthony "ImpressioN" Lim has been named the Bleed Esports' Head of Esports moving forward, the organization unveiled late last month. Regarded as one of the region's top in-game leaders in CS, he will assume a managerial role for the first time in his career to continue BLEED's "expansion of building championship rosters across numerous titles".
The team will have to go through VCT Challengers Ascension to secure their spot in the Pacific league – the game's highest level of competition, as they are not a part of the inaugural slate of Pacific partnered teams. It remains unclear how Bleed Esports plan to finalize their roster, be it by assembling developmental lineup or signing more high-profile talents for immediate results, although the latter appears more likely.
The news came in the middle of their campaign in the TEC Challengers Series 9 Playoffs, where Bleed Esports, with their temporary roster that includes Ngô "crazyguy" Công Anh, are about to face Fancy United Esports in the best-of-five grand finals tomorrow at 4:30 PM SGT (UTC+8).
Bleed Esports' roster is currently as follows:
🇸🇬 Derrick "Deryeon" Yee
🇸🇬 Jorell "Retla" Teo
🇩🇪 Nikola "LEGIJA" Ninić (Head coach)
🇸🇬 Sushant "Ominous" Jha (Analyst)
---
For more insights on the Asian VALORANT scene and upcoming content like this, be sure to like and follow VALO2ASIA on Facebook, Twitter & Instagram.
---
Cover photo courtesy of Bleed Esports