Juri "juri" Tamai is the latest addition to DRX's Game Changers roster, the organization announced on Friday, unveiling the Initiator player as the team's seventh member.
JAPAN – DRX have expanded their Game Changers roster with the inclusion of former NORTHEPTION Female player Juri "juri" Tamai, which will increase the roster to seven players. The Japanese player links up with DRX's Game Changers division after spending time with TZGaming and NORTHEPTION Female.
Juri had a decent showing in the VCT Game Changers Japan Open Qualifier, ending the tournament averaging 242.0 ACS (1.41 VLR rating) in NORTHEPTION Female's 5-8th place finish. Following his time with NTH, the Initiator player was seen competing with TZGaming's Game Changers roster, playing in community tournaments held in the region. 
ALSO READ: FULL SENSE announce Sapphire roster signing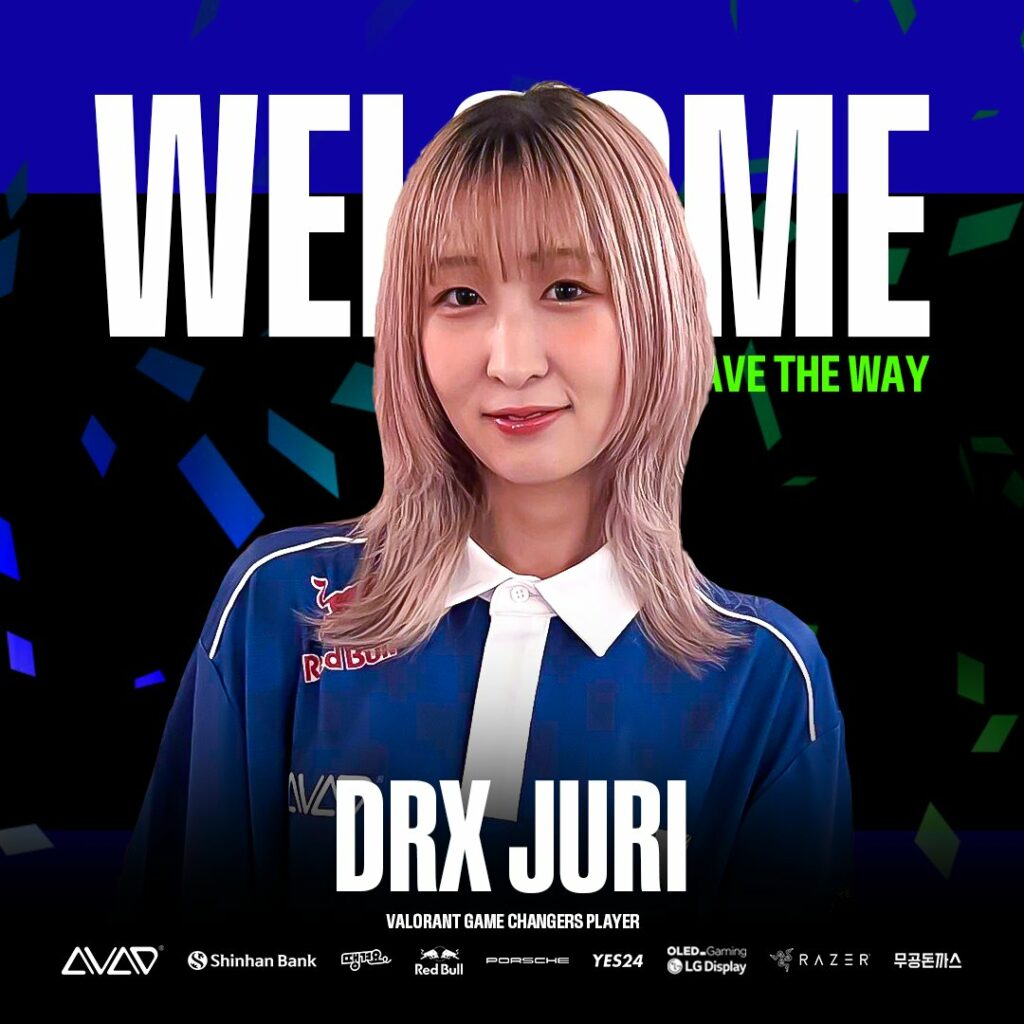 On the occasion of her signing, she tweeted, "I will do my best. Thank you for your support!"
DRX's expansion to the Game Changers scene through the Japanese region was revealed in October last year during the RAGE Autumn event in Tokyo, Japan. The signing of juri aligns with the organization's plan and the recently announced VCT Game Changers Japan circuit, which requires teams to have at least three residents of Japan.
The press release further clarifies that "residents of Japan" refers to individuals who are legal permanent residents of Japan for at least six months or have citizenship or nationality.
DRX Changers' team currently features Yume "Dori" Suzuki, who was first introduced in October of last year, former Spear Gaming Female player Jeong "SeoeuN" Seo-eun, Won "Healing" yoo-jin from South Korea, former FENNEL Female player Ayami "Aika" Matsui, and Ye "Yue" Ling-juan, who won the Summer Gauntlet VALORANT Invitational with Oxyg3niOus, a Chinese qualifier for VCT Game Changers last year.
Kang "YuRiHaNa" Jin-joo, with over 195,000 YouTube subscribers, was the sixth member of the DRX Changers team introduced earlier this year, prior to juri's signing.
DRX Changers are gearing up to begin their campaign in the upcoming VCT Game Changers Japan Split 1, with the open qualifier stage scheduled to take place on July 14-16, followed by the main event later that month.
With the addition of juri, DRX Changers are currently:
🇯🇵 Yume "Dori" Suzuki
🇯🇵 Ayami "Aika" Matsui
🇯🇵 Juri "juri" Tamai
🇰🇷 Jeong "SeoeuN" Seo-eun
🇰🇷 Won "Healing" yoo-jin
🇰🇷 Kang "YuRiHaNa" Jin-joo 
🇹🇼 Ye "Yue" Ling-juan
---
For more insights on the Asian VALORANT scene and upcoming content like this, be sure to like and follow VALO2ASIA on Facebook, Twitter & Instagram.
---
Cover photo courtesy of DRX