It took six sets of overtime to decide the victor of Ascent, with DRX edging it out in the end.
TURKEY – DRX have started their playoff run at VALORANT Champions with a victory over Masters Copenhagen winners FunPlus Phoenix on one of the longest maps in VCT history. In fact, it is the longest map ever played in an international VALORANT tournament, according to Liquipedia
"We did not treat them like the Masters champions," Kim "stax" Gu-taek said in a post-match interview. "We saw them just like any other European team."
After six overtimes and 36 rounds onto Ascent that lasted more than an hour and a half, DRX finally prevailed over their European rivals 19-17, with Duelist Byung-chul "BuZz" Yu topping the fragging department with 292 ACS (KDA: 36/30/10). In addition, the match has seen what may be the clutch of the year in Ardis "ardiis" Svarenieks' massive 1v3 clutch in the first round of overtime.
DRX and FPX will now play LOUD and Leviatan in the playoff upper and lower bracket, respectively, the former for an upper bracket final spot and the latter for tournament survival. Before that, however, Saturday will see the remaining upper quarter-finals take place between OpTic and Team Liquid, as well as XSET and Fnatic.
Ascent was picked by FunPlus Phoenix to kick off the series, but it was DRX who took the opportunity to build a significant lead early on, clinching a 6-0 lead before letting the Europeans on board. FPX would continue picking up rounds to cut distances and only letting their opponent snag one more, closing the half with a slight disadvantage entering halftime, 5-7.
The second half began with DRX taking the pistol round to solidify their lead. With all players taking turns with their individual plays to reach match point at 12-8, it seemed like DRX had the game under control, but Kyrylo "ANGE1" Karasov and company's stellar defense prevented DRX from taking home the win in regulation, forcing overtime with a crucial four-round streak.
The first OT round went the way of FPX after an absurd 1v3 clutch by Ardis "ardiis" Svarenieks in what may be the season's highlight. Despite multiple key clutches from ardiis and stax (1) (2) past the regulation, neither side was able to gain a significant edge over the other following some messy rounds that could have easily gone either way.
ALSO READ: VALORANT Champions hits playoffs
It took 36 rounds for the Koreans to emerge victorious, 19-17, and claim bragging rights over the Copenhagen winners. The map, which lasted one hour and 36 minutes to close, is going down in the books as one of the longest maps in VALORANT Champions Tour history.
The battle continued on DRX's map pick of Breeze, in which FunPlus Phoenix looked out of sorts as they struggled for momentum in the first half, only getting three rounds before halftime on the defending side. The EMEA's #1 seed continued to struggle after the switch, with another two rounds all they could take before DRX closed the series at a confident 13-5, maintaining a clean 6-0 map record at Champions.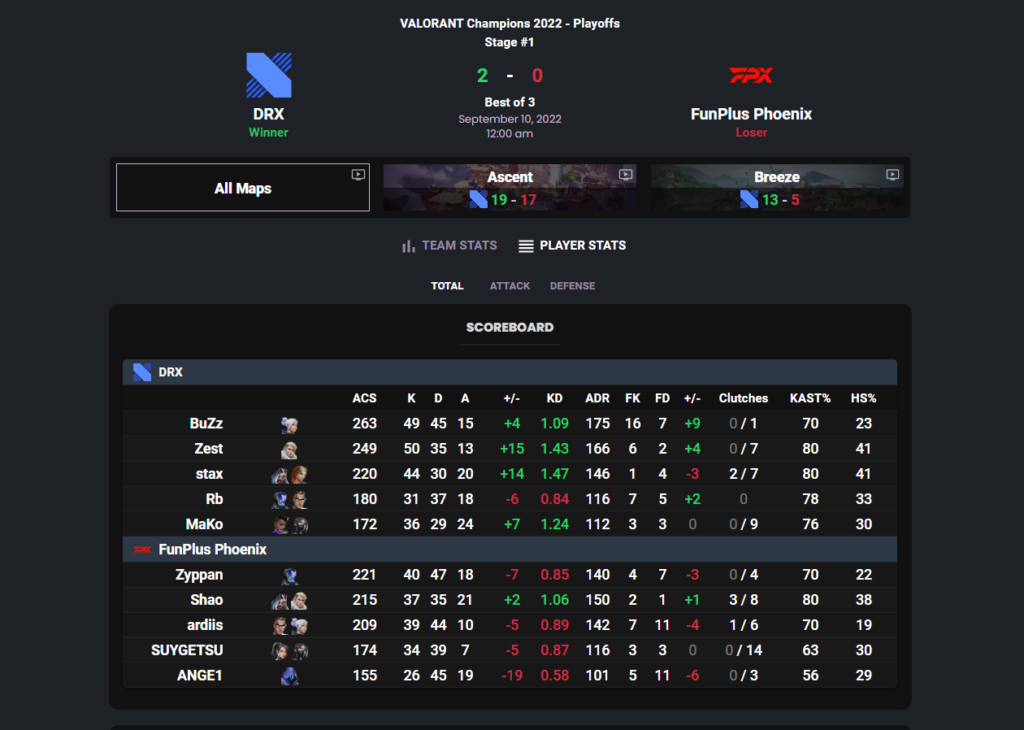 ---
For more insights on the Asian VALORANT scene and upcoming content like this, be sure to like and follow VALO2ASIA on Facebook, Twitter & Instagram.
---
Cover photo courtesy of Colin Young-Wolff/Riot Games