Lee "Hate" Ye-hun has returned to DWG KIA's starting lineup ahead of VCT Korea Stage 2 Challengers, the South Korean organization announced on Monday.
SOUTH KOREA – DWG KIA have announced that they have secured the signing of Lee "Hate" Ye-hun. As the new fifth, the 20-year-old Sentinel presumably completes the rebuilding of the DWG KIA roster that kicked off following the conclusion of their VCT Korea Stage 1 Challengers campaign. The organization has yet to reveal whether they will utilize an extended lineup or just a standard five-man configuration.
Mostly known for representing a different team at each VCT Stage, Hate formerly departed DWG KIA in February 2021, three days after winning VCT Korea Stage 1 Challengers. However, this roster iteration of DWG KIA bears no resemblance to the one Hate previously played with. Kim "t3xture" Na-ra is the only remaining player on DWG KIA from Hate's first tenure.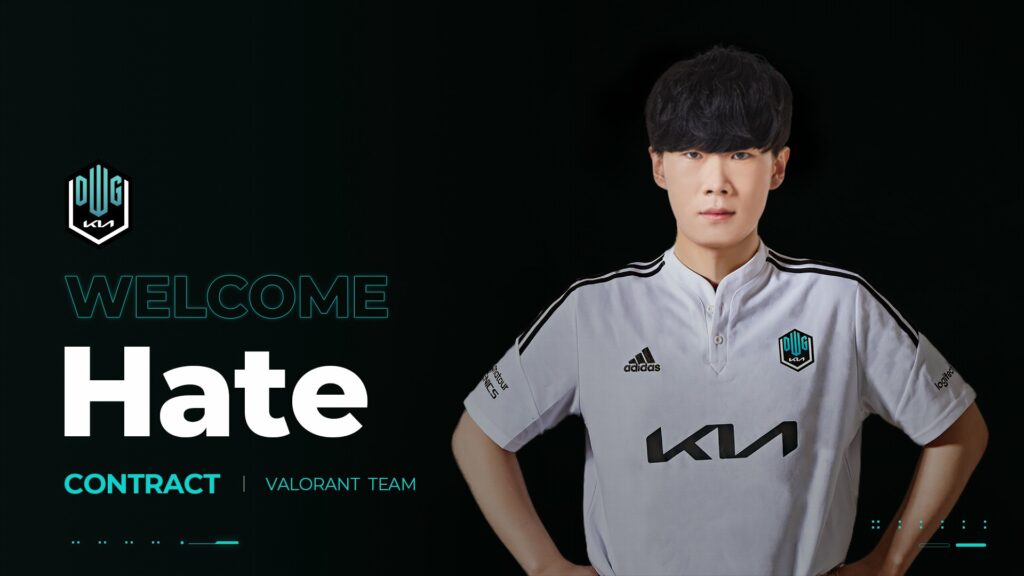 ALSO READ: DWG KIA announce Bangnan signing
Hate will be back to a full Korean lineup after a three-month spell with Japan's Team Jadeite. He parted ways with Jadeite in March after the team failed to qualify for the main event of VCT Japan Stage 1 Challengers in both Week 1 and 2, leaving Park "allow" Sang-wook as the only Korean player there. 
His first official outing with DWG KIA this year should come in the upcoming VCT Korea Stage 2 Challengers, where the team retained only three of the seven players from the previous Stage. 
DWG KIA now boast the following lineup:
🇰🇷 Kim "t3xture" Na-ra
🇰🇷 Jeong "Esperanza" Jin-cheol
🇰🇷 Park "exy" Geun-cheol
🇰🇷 Jung "Bangnan" Min-u
🇰🇷 Lee "Hate" Ye-hun
🇰🇷 Kang "solo" Keun-chul (Head coach)
---
For more insights on the Asian VALORANT scene and upcoming content like this, be sure to like and follow VALO2ASIA on Facebook, Twitter & Instagram.
---
Cover photo courtesy of VALORANT Esports Korea