The Mongolian CS:GO star has decided to test his mettle in the Riot Games first-person shooter.
Erdenetsogt "erkaSt" Gantulga is making a transition to VALORANT, the Mongolian in-game leader has announced on Facebook. The 26-year-old, and a former Grayhound player, is currently staying in Los Angeles, California in order to try his luck in the North American region with the hope of getting signed.
erkaSt first appeared on the Counter-Strike: Global Offensive professional radar after he crossed borders to Australia for his study and stepped in for Australia-based Athletico Esports. During that period, he most notably lifted the ESL Australia & NZ Championship Season 2 Finals trophy with the squad. He then joined Team Immunity in the month after his victory, where he remained for more than six months until being picked up by Grayhound Gaming, where he quickly progressed through the ranks and established a reputation for himself.
Grayhound Gaming's accomplishments with erkaSt include first place in the IEM Sydney Oceania Qualifier, ESL Pro League Season 9 Oceania, Asia Minor Championship Berlin 2019, and two appearances at two majors: StarLadder Berlin Major 2019 and IEM Katowice Major 2019.
After differing degrees of success with many AUNZ teams, erkaSt returned to Mongolia after his student visa expired to assist grow the scene and nurture some upcoming players. After that return, he joined the AUGUST/TIGER roster together with some of Mongolia's star players, where he held Mongolia's #1 team title with the team for quite some time.
ALSO READ: erkaSt on leaving TIGER: "I have done my part in the Mongolian scene"
After a year with the team, erkaSt started a new chapter in his career by joining NG Esports (now Team NKT) with other renowned Asian names such as Kevin "xccurate" Susanto, Hyun-pyo "XigN" Lee, and others, with a goal of "playing in the highest level of CS". He has had tremendous success in Counter-Strike: Global Offensive's elite tier with Team NKT, routinely placing in the top three of their appearances since the early second half of this year.
erkaSt follows in a long line of Counter-Strike players who have been trying to make the switch to the Riot Games FPS with hopes to start anew. While the rest of the Team NKT boys have headed to Thailand for a bootcamp, erkaSt has been staying at the Cloud9 facility in Los Angeles, California while C9 Blue are in Berlin for VALORANT Champions 2021.
ALSO READ: TEC Challenger Series South Asia and Southeast Asia qualifiers announced
According to the official statement, he has weighed the pros and cons prior to moving to VALORANT. The Asian scene's state during the last two years, along with the pandemic, has exacerbated the situation, with him highlighting a drop in the number of teams competing as a major factor in his decision.
Despite the announcement, erkaSt's future remains an open question as what he has stated: "hasn't fully switched to VALORANT yet". Nonetheless, the comment hinted that the chance of his returning to Counter-Strike: Global Offensive is still very much alive.
"Well, this is a big step I made in my life. Please respect my choice"

– erkaSt said, through a machine translation.
More story to come…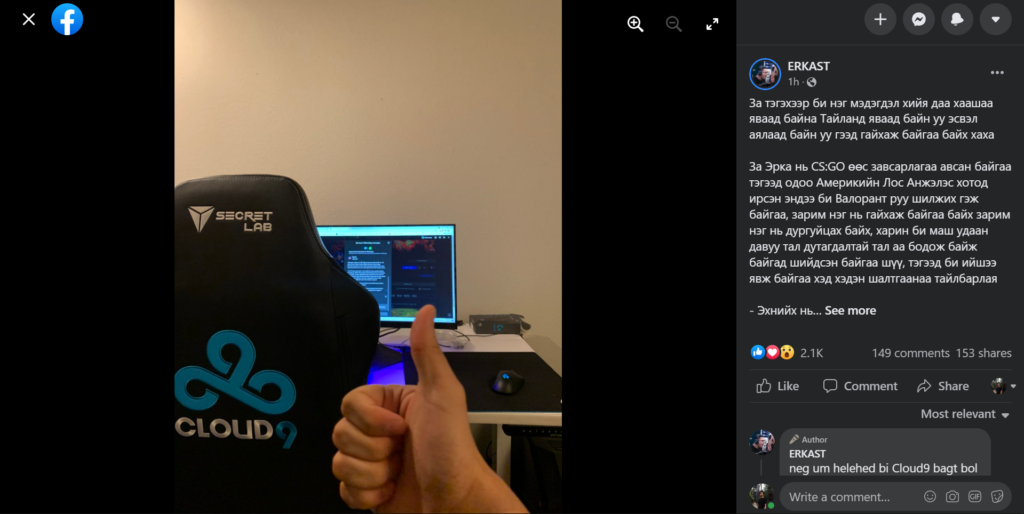 ---
For more insights on the Asian VALORANT scene and upcoming content like this, be sure to like and follow VALO2ASIA on Facebook, Twitter & Instagram.
---
Cover photo courtesy of HLTV