World-class quality and exceptional fragging throughout 2022 made Jason "f0rsakeN" Susanto and Wang "Jinggg" Jing Jie the second and fifth most-visited Liquipedia VALORANT player pages in 2022, respectively.
SINGAPORE — Esports wiki Liquipedia released a list of the most-visited VALORANT player pages in 2022 on Thursday. Paper Rex's Jason "f0rsakeN" Susanto became the second-most viewed VALORANT player in 2022, while Wang "Jinggg" Jing Jie's Liquipedia page was the fifth most visited over the same time period.
The data reveals that no single lineup in 2022 has all five players in the top 20, showing a diverse list of players from 11 teams around the world. Tyson "TenZ" Ngo from Sentinels leads the list for the game, while NA compatriot Jaccob "yay" Whiteaker comes in third after leading OpTic Gaming to a victory at Masters 1 Reykjavik. Rounding out the top five list is former Team Liquid player Adil "ScreaM" Benrlitom, who takes fourth place and now plays for Karmine Corp alongside younger brother Nabil "Nivera" Benrlitom and former Envy CS teammate Alexandre "xms" Forté.
ALSO READ: VALORANT releases new original track for Episode 6 "VISIONS" featuring eaJ
Interestingly, Ayaz "nAts" Akhmetshin finds himself in the top seven despite the fact that the former Masters Berlin champion did not qualify for a single international tournament throughout 2022.
The APAC duo in f0rsakeN and Jinggg became some of the most searched players for the year thanks in part to their ever-stable performances for Paper Rex in tier-one VALORANT. Another factor that was key in the duo standing out from the pack was Jinggg's playstyle with Raze and Reyna, accompanied by f0rsakeN's unique Yoru approach that he has made his trademark ever since.
They stood out in their ability to perform and win in some of the most important series throughout the year, especially at the Masters 2 Copenhagen where the team came second.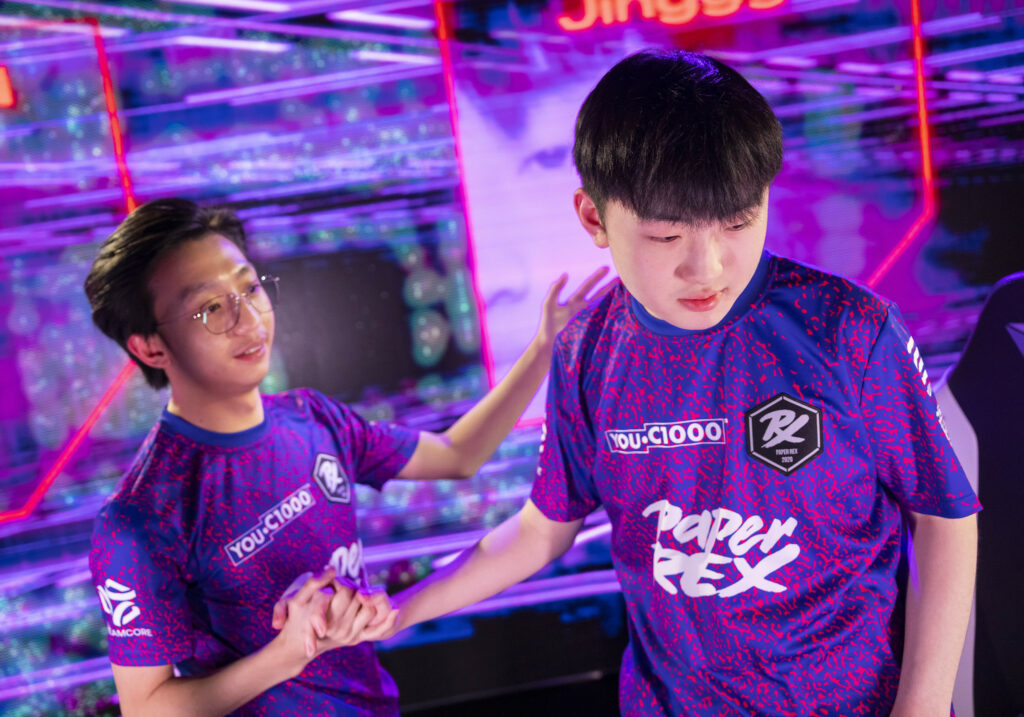 f0rsakeN was a steady presence at the top of the scoreboard for Paper Rex, averaging 265 ACS over the course of 310 series played. The 18-year-old was also one of the region's best fraggers, boasting the second-highest ACS in VCT APAC Stage 1 Challengers with 269.4 and subsequently the highest in VCT APAC Stage 2 Challengers with 284.7.
Meanwhile, Jinggg was also a reliable performer at the most significant events, peaking at Masters 2 Copenhagen with the highest ACS of the tournament, 262.1 ACS. His Raze and Reyna often provided Paper Rex with a steady stream of advantageous situations. A spectacular year from the Singaporean earned him first place at the VALO2ASIA Awards 2022 where he was named the best APAC player for 2022 by the Panel of Judges, followed by f0rsakeN in the second position.
#
Player
Team(s) in 2022
1
Tyson "TenZ" Ngo
Sentinels
2
Jason "f0rsakeN" Susanto
Paper Rex
3
Jaccob "yay" Whiteaker
OpTic Gaming
Now – Cloud9
4
Adil "ScreaM" Benrlitom
Team Liquid
Now – Karmine Corp
5
Wang "Jinggg" Jing Jie
Paper Rex
6
Pujan "FNS" Mehta
OpTic Gaming
Now – NRG Esports
7
Ayaz "nAts" Akhmetshin
M3C
Now – Team Liquid
8
Jimmy "Marved" Nguyen
OpTic Gaming
9
Michael "shroud" Grzesiek
Sentinels
10
Jordan "Zellsis" Montemurro
Version1
Sentinels
Now – Cloud9
11
Shahzeb "ShahZaM" Khan
Sentinels
Now – G2 Esports
12
Jay "sinatraa" Won
–
13
Matthew "Cryocells" Panganiban
XSET
Now – 100 Thieves
14
Ha "Sayaplayer" Jung-woo
The Guard
Now – T1
15
Gustavo "Sacy" Rossi
LOUD
Now – Sentinels
16
Peter "Asuna" Mazuryk
100 Thieves
17
Matthew "Wardell" Yu
TSM
18
Kyrylo "ANGE1" Karasov
FunPlus Phoenix
Now – Natus Vincere
19
Dmitry "SUYGETSU" Ilyushin
FunPlus Phoenix
Now – Natus Vincere
20
Ardis "ardiis" Svarenieks
FunPlus Phoenix
Now – NRG Esports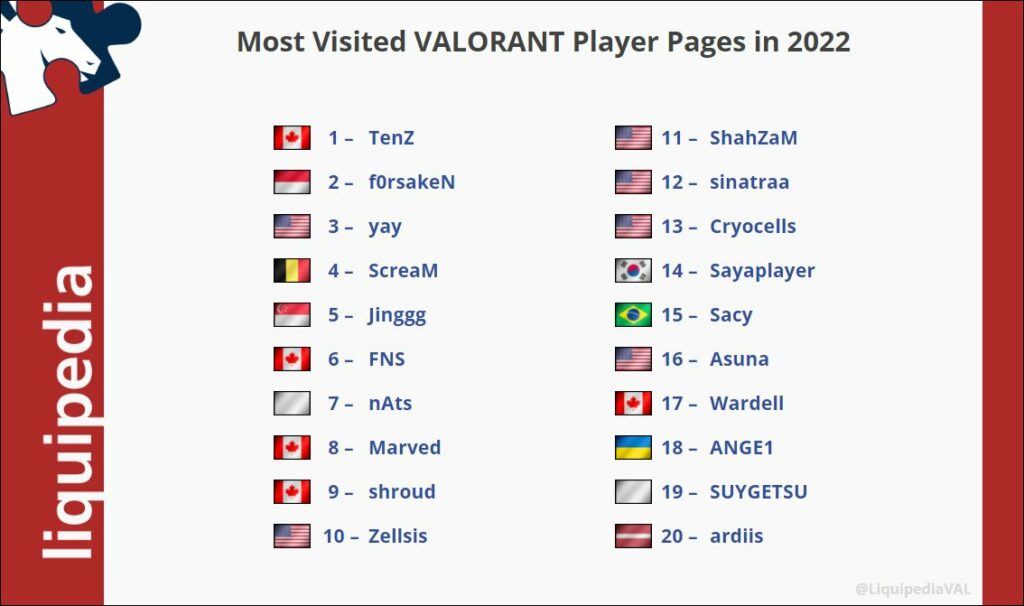 ---
For more insights on the Asian VALORANT scene and upcoming content like this, be sure to like and follow VALO2ASIA on Facebook, Twitter & Instagram.
---
Cover photo courtesy of Colin Young-Wolff/Riot Games