Six teams remain alive in FGC VALORANT Invitational Act 1. 
CHINA – The FGC VALORANT Invitational Act 1 has now progressed to its playoff stage, with only six teams remaining after the conclusion of the group stage. This invitational tournament featured twelve teams divided into two groups of six, with participants coming from five-week qualifiers. Following ten days of intense group play, six teams managed to secure their positions in the playoffs.
In Group A, surprises emerged as Attacking Soul Esports, who had placed fourth in last year's Epilogue event, rose to the top, impressing with a flawless 5-0 record and only two map losses. Joining them in the playoffs were FunPlus Phoenix and KONE, while Team Weibo, Number One Player, and Invincible were unable to advance further in the tournament.
Meanwhile, EDward Gaming (EDG) entered the group stage as one of the highest-ranked teams and proved their dominance by topping Group B with an impressive 5-0 record. They were followed closely by Dragon Ranger Gaming and Totoro Gaming, leaving NTER, Bilibili Gaming, and TYLOO behind.
ALSO READ: Kizuna Tsuki sign former X10 Sapphire player Alyssa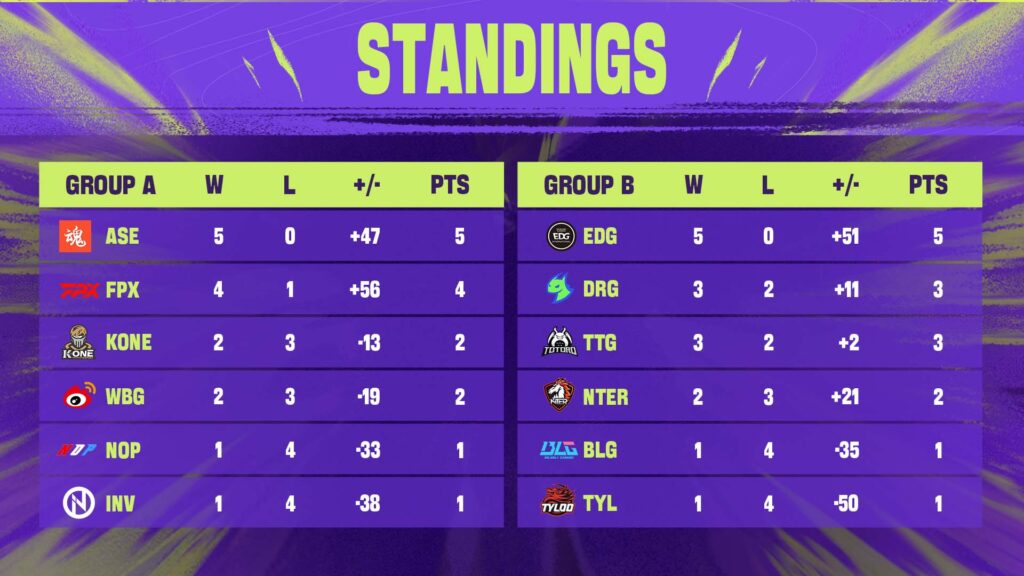 It is worth noting that although Team Weibo and NTER were eliminated from the playoffs, they have secured direct qualification for Act 2.
Although FunPlus Phoenix and EDward Gaming are considered the favorites going into the playoffs, Attacking Soul Esports' outstanding performance in the group stage, with a strong 5-0 record, makes them a dark horse in the competition. In addition, all eyes will be on Qu "Life" Donghao, who had an impressive average of 271.3 ACS (1.31 VLR rating), powering his team to the playoffs.
Attacking Soul Esprts and EDward Gaming will be lying in wait in the upper-bracket semi-finals after topping their respective groups, while the remaining four teams will start their journey from the upper-bracket quarter-finals. ASE will face the winner between FunPlus Phoenix and Totoro Gaming, while EDG will wait for the winner of Dragon Ranger Gaming and KONE.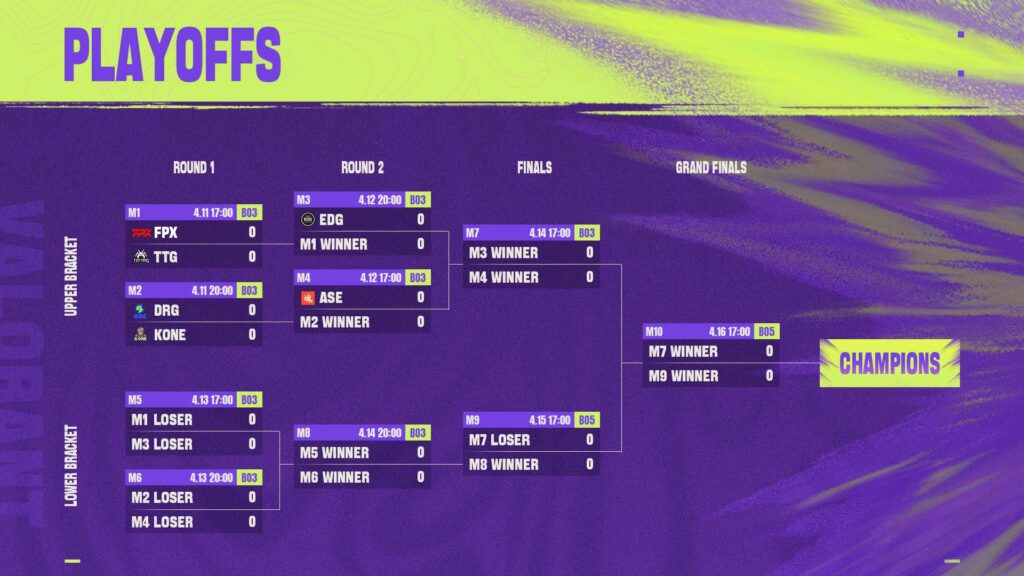 The playoffs kick off on April 11, with the best-of-five grand final taking place on Sunday, April 16.
The six teams that will compete to become FGC VALORANT Invitational Act 1 champions are:
| | |
| --- | --- |
| Attacking Soul Esports | EDward Gaming |
| FunPlus Phoenix | Dragon Ranger Gaming |
| KONE | Totoro Gaming |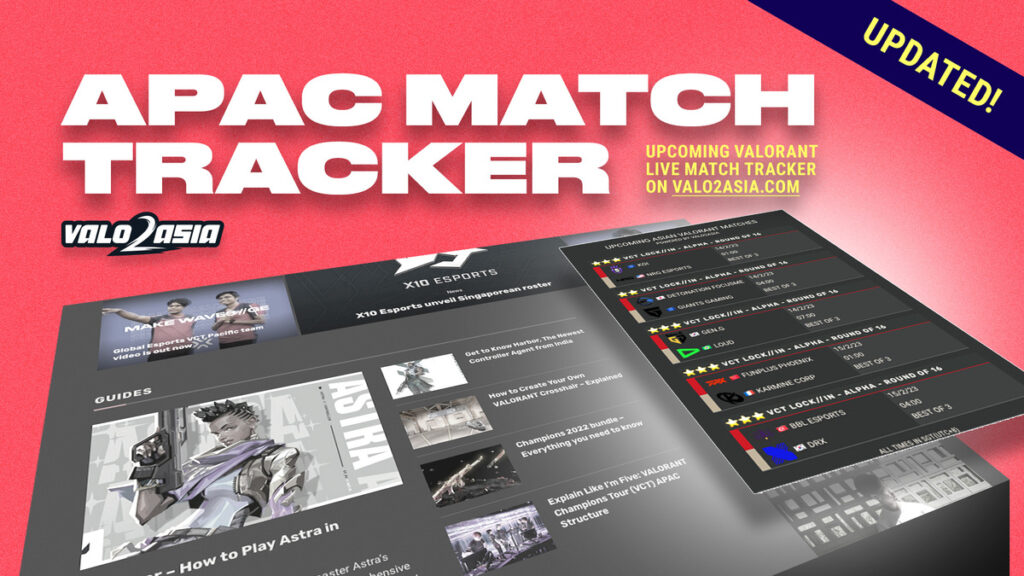 Get ready for non-stop action with VALO2ASIA.com! We bring you the pulse of APAC's most electrifying matches with our real-time match ticker, updated daily to keep you in the loop on all the latest. Our star rating system rates the importance of each match based on factors such as the teams' lineups, tournament rounds, and prestige.
From FGC VALORANT Invitational Act 1 to other major tournaments, we've got you covered with the most comprehensive coverage in the region with accurate schedules in Singaporean Time (UTC+8). Explore VALO2ASIA's match ticker now on the right side of our website!
---
For more insights on the Asian VALORANT scene and upcoming content like this, be sure to like and follow VALO2ASIA on Facebook, Twitter & Instagram.
---
Cover photo courtesy of VALORANT Esports China