The sole representatives of Korea at Champions will soon face the other fifteen teams in the most prestigious VALORANT competition this year. Can they bring back the glorious days of South Korean FPS in VALORANT?
"Vision Strikers is the definition of team play. But the things I've heard about this team and their work ethic are insane. These guys practice more than any other team I've ever even heard of. They practice like crazy; they play like crazy. Like as a team, they live and breathe this game as a unit." Shahzeeb "ShahZaM" Khan of Sentinels says during his Berlin live stream.
That's how we can describe Vision Strikers at best in less than 15 seconds.
The Golden Days of Korean FPS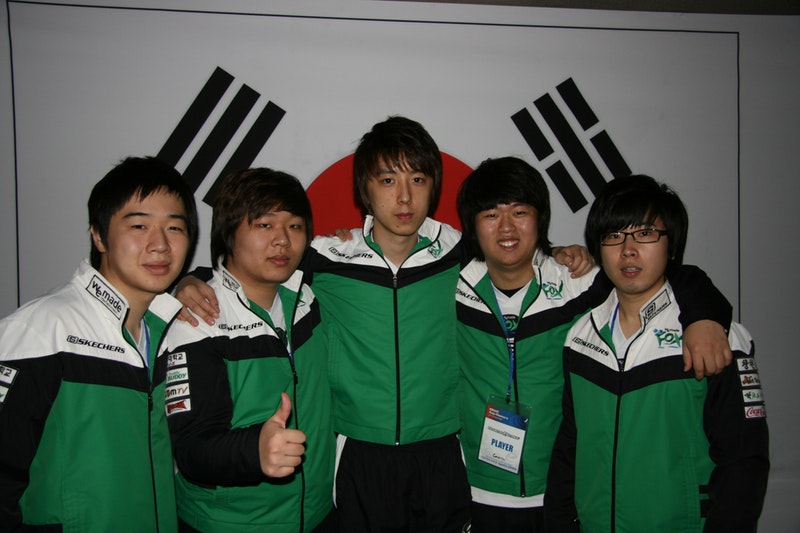 While Korea has a lengthy history of esports dating all the way back to Counter-Strike 1.6, the country has fallen behind in FPS titles since its peak with WeMade Fox and project_kr. 
However, the launch of VALORANT is set to resurrect the Korean FPS scene. With some of the most accomplished players to ever touch the game, Vision Strikers are arguably the team that many would bank big on to bring back the golden era to the Korean peninsula.
The team was initially composed of four former MVP.PK CS:GO players under the Vision Striker banner established by Can Yang — an esports veteran with over two decades of experience managing the country's brightest talent. We also spoke with Can Yang to learn more about the man behind Vision Strikers and the organization's approaches behind its incredible 103-0 victory run.
ALSO READ: The man behind Vision Strikers, Can Yang
"Many people say Asia is bad in FPS. But I don't think so. Just remember the CS 1.6 period. Not the Source and Global Offensive teams. In VALORANT, everyone started on the same day."

– Can Yang, Founder & CEO of Vision Strikers
Out of nine players of the initial lineup, seven had previous experience in CS:GO by playing for South Korea's most prestigious organization at that time: Team MVP. With a wealth of expertise in Counter-Strike, they had the foundation, the system, and the ability to rise to the top in a brief period — a chance to redeem themselves in another title, which they successfully did. 
During the squad's first year in VALORANT, Vision Strikers soared to worldwide fame as Korea's strongest team – outclassing everyone else in terms of skill sets, raw aim, and tactics department. The fact that Vision Strikers had pre-built synergies amongst the players during Counter-Strike gave them a significant advantage over the others.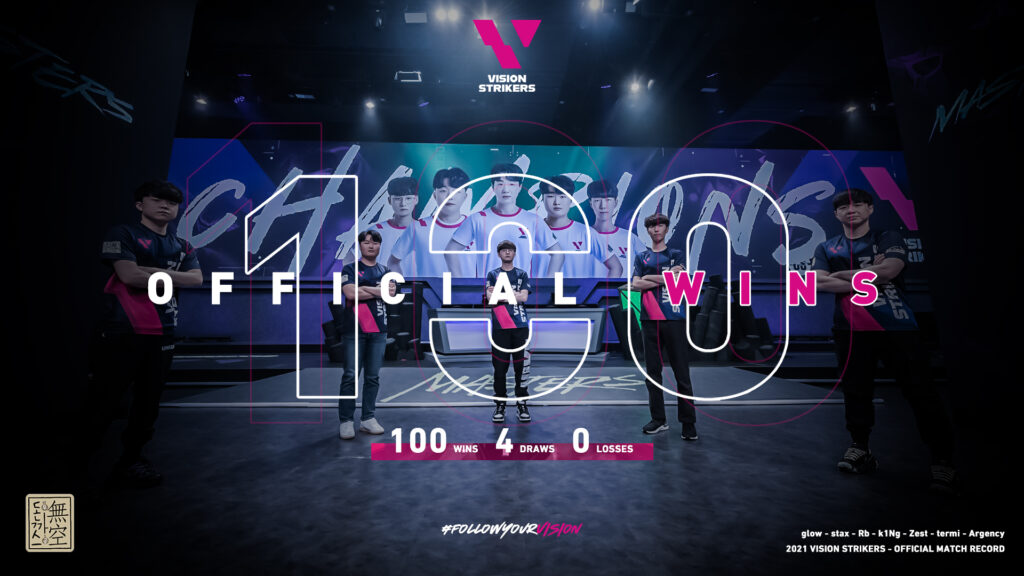 A true dominance was held by Vision Strikers from June 2020 through April of this year; the squad managed to never lose a single match during that time frame except for four draws. Vision Strikers held a 103-game winning streak in addition to numerous trophies such as the EPULZE Royal SEA Cup, First Strike Korea, and VCT Korea Stage 1 Masters. Vision Strikers were at the top of the Korean VALORANT and received much attention from the international scene after beating the famed Ninjas In Pyjamas CS:GO's 87-0 win streak by a considerable margin. 
The bad news is nothing lasts forever; the good news is nothing lasts forever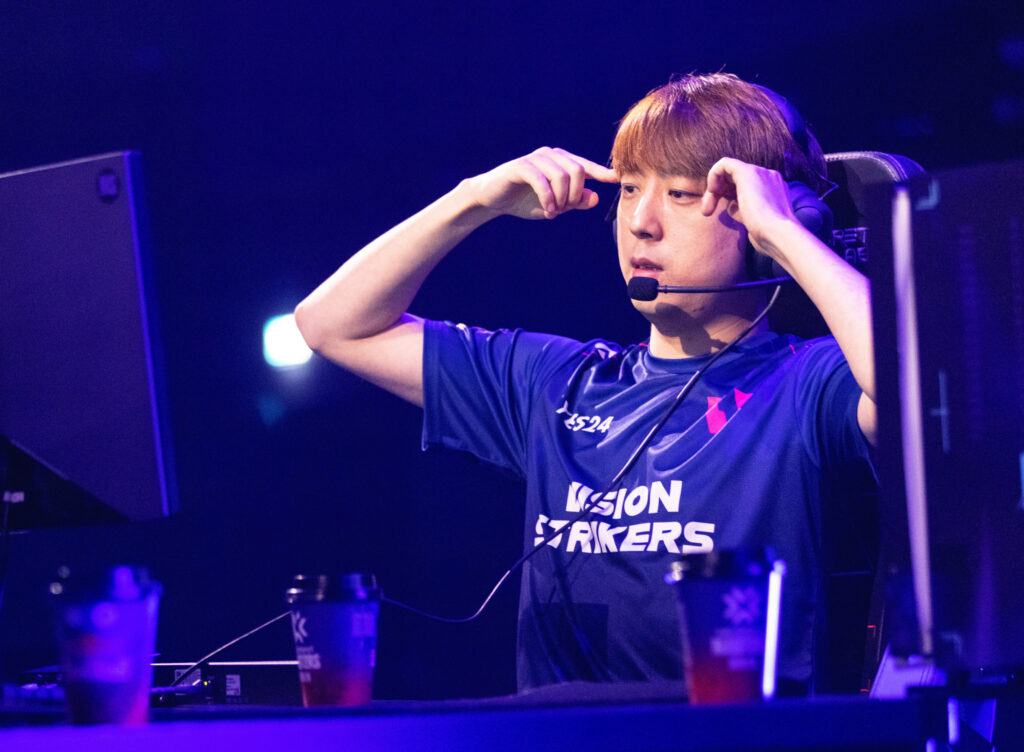 Nothing endures in perpetuity except for desire. That is presumably how Vision Strikers condition throughout Stage 2. In April, Vision Strikers suffered their first defeat against F4Q in the VCT Korea Stage 2 Challengers Playoffs. Not only that, they failed to perform when it counted, as NUTURN Gaming defeated them in the semi-finals. Vision Strikers were unable to secure tickets to VALORANT's first international LAN, VCT Masters 2, in Reykjavik, Iceland.
"Of course, we were disappointed, but there's nothing we could do about it. It's a competition, and we need to take it in. Will there ever be an occasion for us to visit Iceland in our lives?" stax said in a documentary by VCT.
Following the defeat, Vision Strikers made several changes to their lineup, starting with the reassignment of glow to the coaching position and stax to the IGL role. The changes also made them one of the youngest teams in the elite tier of international VALORANT, with stax being the oldest at only 21 years old and BuZz being the youngest at the age of 18.
"I was worried, but since I am on the older side, I think I could let go easily because I knew I could keep supporting the players outside of the game." glow said.
"I think the biggest reason for the team rebuilding was that people thought that Vision Strikers can't crush other teams anymore. It was because of the title 'The Vision Strikers'. We wanted to build a roster where we could indeed crush other teams, and that's why we recruited MaKo and BuZz. I think that we're, in a way, really close to being perfect. I felt it right away during our very first scrim. It really ping-ponged well [between us]." stax said.
With his extensive career under glow's leadership, dating all the way back to the days when they were still under MVP.PK CS:GO in 2019, stax was able to comprehend the approach and strategy that glow developed throughout their dominance era and mix it with his own style. They have everything necessary to overcome a more competitive field than a year before, having acquired two emerging Korean talents and NUTURN's top performer, Lakia.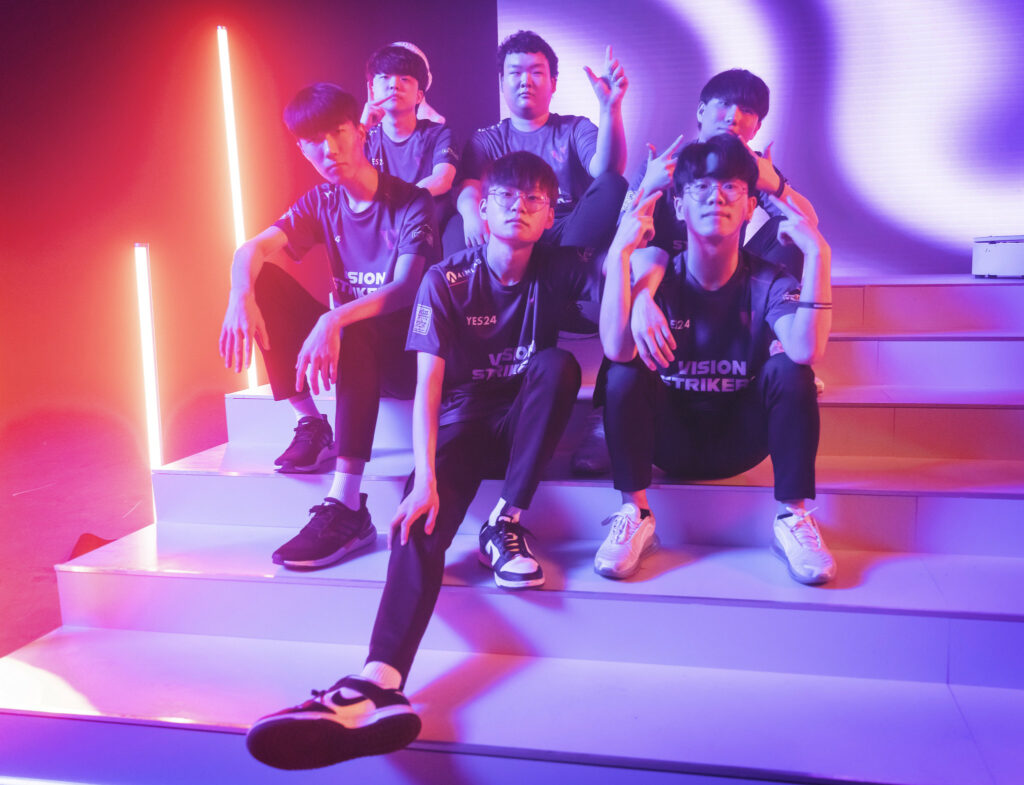 "If there was something that didn't work smoothly, we overcame it well by discussing together how to fix it. When we lost during scrims from time to time, we thought that it was beneficial to us because it meant that we found a problem and we could fix it to level up." BuZz continued.
Less than a month after having the rebuilding process, Vision Strikers made waves once again with the re-acquisition of Lakia, who left NUTURN Gaming one day earlier. The Day 4 MVP of VCT Masters 2: Reykjavik, as well as NUTURN's top performer in that event, provided a significant boost for South Korea's renowned Vision Strikers, especially in terms of firepower.
Finally living up to the hype – Vision Strikers' First International Appearance
Vision Strikers' first effort at establishing themselves again was in the VCT Korea Stage 3 Challengers Playoffs, which they prevailed in. Vision Strikers were a team the rest of the world was watching closely. They secured their tickets to Berlin to attend VCT Masters 3 after dominating the domestic Challengers with incredible mechanics.
"I think we were able to become champions because we have an amazing coaching staff that supports us perfectly, and the players are willing to give each other feedback." Lakia said. 
In Berlin, Vision Strikers was at the center of attention as other teams often commented that they were a lethal squad with an elevated level of strategic play.
While some underestimated Vision Strikers by only dominating in a region with a weak history in FPS titles in the past five years, stax and co. were able to prove that Vision Strikers are a genuine contender for international trophies. All of this was shown during their group stage matches, during which they did not concede a single map to either Paper Rex or Acend in the so-called group of death. 
Vision Strikers had the pedigree to sail through to the playoffs. Their run at Masters 3: Berlin, however, came to an end in the first round of the playoffs. Vision Strikers were defeated 1-2 by the tournament's eventual victor, Gambit Esports.
While they were eliminated before the final day, given their performance and what they showed in three of their matches abroad, Vision Strikers remain one of VALORANT's top performers. In a way, Vision Strikers' performance in Berlin was more than enough to make a bold statement to close their first international voyage.
The Final Puzzle, Lakia, hasn't been fully activated.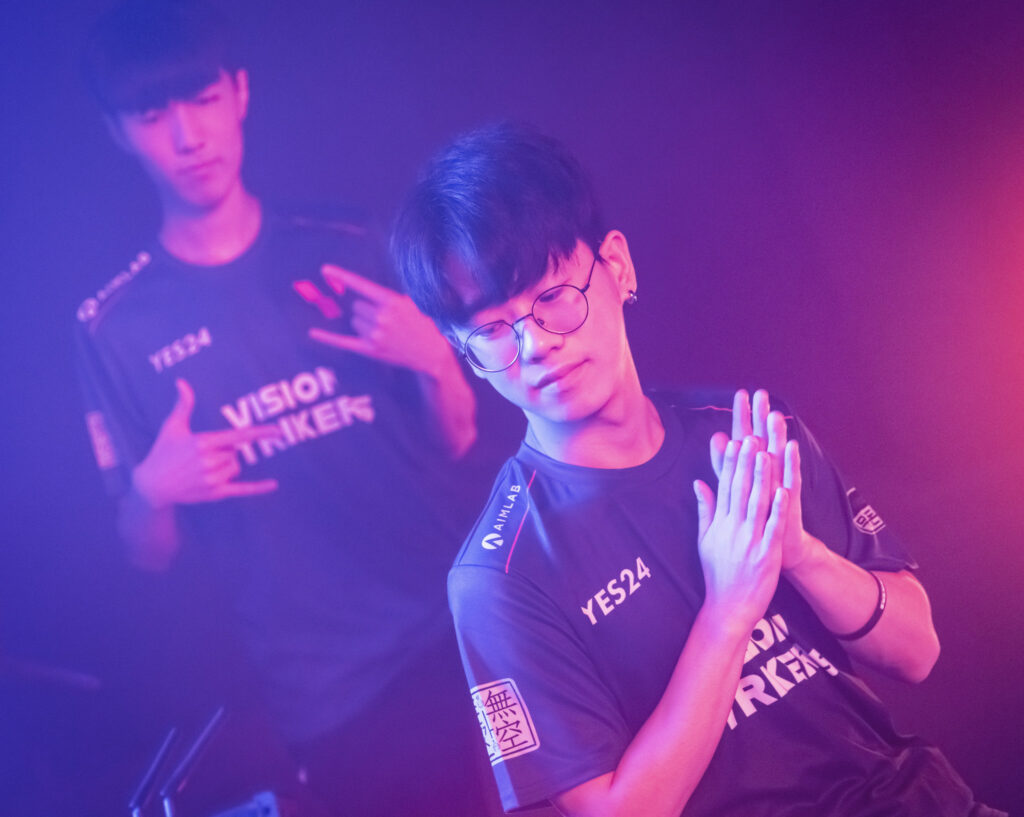 "Since I joined VS after their team rebuild was over, at first, a lot of things were just different to me since their team plays were already fixed. Our team has a six-man roster, I play on some maps and I don't on others. That makes me do my very best and practice hard to make sure to win the maps where I play." Lakia said.
"With the addition of Lakia, we were able to have a wider choice." termi said.
Vision Strikers adopted a system in which players can be swapped around flexibly based on maps and playable agents, enabling them to deliver the most excellent performance out of the six players. "It was more of us working together and figuring things out, not competing for a seat." BuZz said.
"The coaches would tell us things like 'this player is good at this, this player good at this map', and that's how we were able to operate a six-man roster without anxiety or competition. " Rb said. 
However, their Berlin campaign ended with Lakia only utilized in one map. Should they experiment more with Lakia against other formidable opponents in a wider map selection at Champions, we may see Vision Strikers at their finest.
Korea's highest-caliber team are ready to aim for the crown
As we count down to curtain opening in Berlin, Vision Strikers are still doing their all-out preparation for the most important and prestigious VALORANT tournament of the year.
Looking back at Vision Strikers' performance at Masters 3 Berlin, it's more reasonable than ever if they now have goalposts of dominating the entire seven regions of VCT or the other way to say it: win Champions. 
---
For more insights on the Asian VALORANT scene and upcoming content like this, be sure to like and follow VALO2ASIA on Facebook, Twitter & Instagram.
---
Cover photo courtesy of Colin Young-Wolff/Riot Games
Interview quotes courtesy of VALORANT Champions Tour