Nongshim RedForce have finalized their 2024 roster with three new players and two new coaches. 
SOUTH KOREA – Nongshim RedForce's lineup for 2024 has been finalized with the addition of three Kang "iNTRO" Seung-gyun, Shin "Jan" Dong-yeop, and Park "PKM" Kang-min. This announcement marks the end of a period of uncertainty surrounding the LCK organization's participation in the WCG Korean Challengers circuit for 2024, following their 5-6th place finishes in their inaugural season earlier this year.
The Korean team's roster had been depleted to just two players after they parted way with Lee "Jeong Hi" Jeong-ha, Lee "pr0xy" Do-gyoung, Park "Moves" Jun-seo, and head coach Kim "Pine" Do-hyeon in September. In contrast, Gu "Cloudy" Min-jae and Kim "margaret" Ji-woo are the sole returning members who will be featured in NS RedForce's new starting lineup.
Joining Cloudy and margaret in the new roster will be the aforementioned trio. iNTRO is the most high-profile addition to the team, having previously competed with three of the country's upper echelons from DWG KIA in 2021 to Gen.G and T1 in 2023 –  although during his time with the latter in the VCT Pacific League, he primarily served as a sixth player.
ALSO READ: Munchkin joins Gen.G for VCT 2024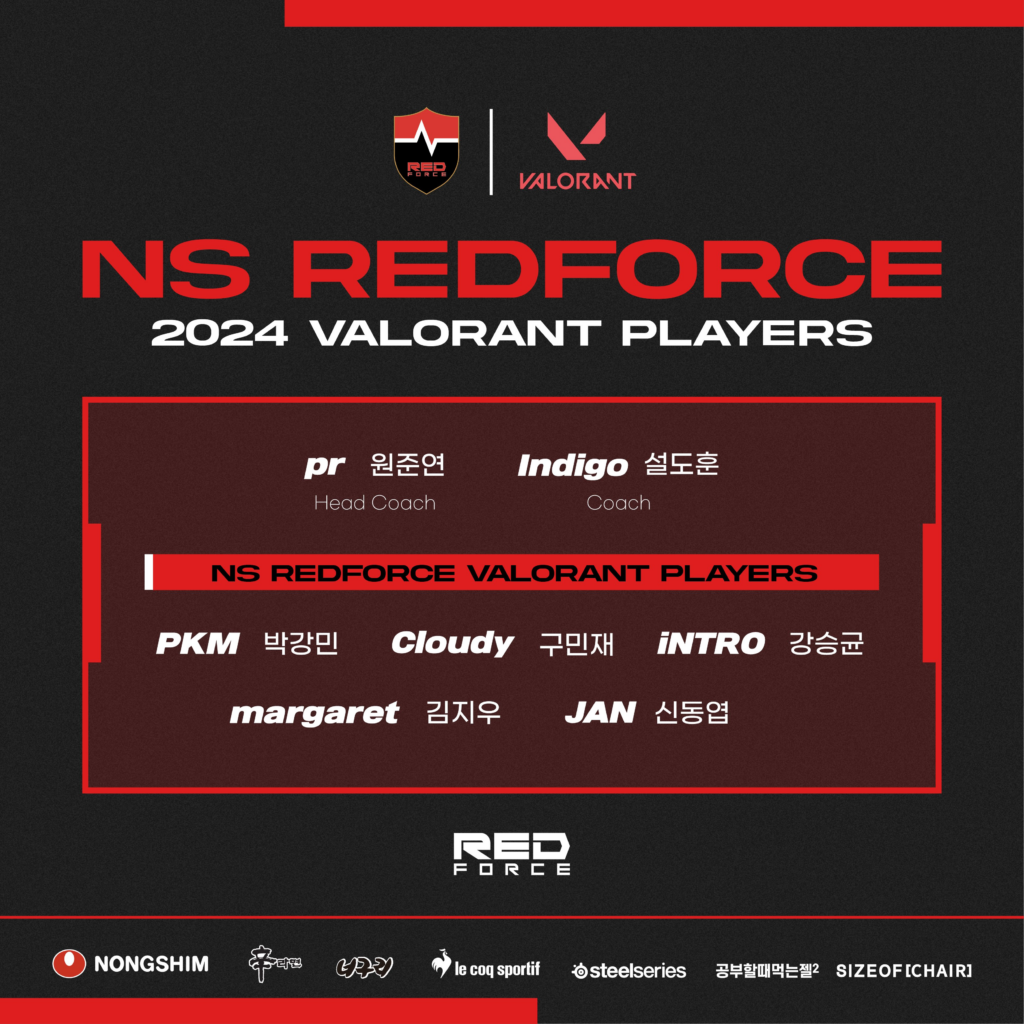 Jan makes the move to Nongshim RedForce after previously representing Japan-based FAV Gaming in the 2023 season. In the domestic Korean circuit, Jan underwent trials with CNJ Esports late last year, took part in the Daejon VALORANT Invitational, and was also associated with former Gwangju Shadow teammates during the 2022 season while competing under the banners of Over Quality and Next eSports.
The final addition to the roster is PKM, who remains relatively unknown to those outside of Korea, as he has only participated in six official matches documented on VLR.gg. There isn't much information available apart from his preference for Controller agents.
Assuming leadership of the new NS RedForce roster will be former Gwangju Shadow coach Won "pr" Jun-yeon, who will serve as the head coach alongside Seol "indigo" Do-hoon. pr previously led GJS to an unprecedented high of topping the Regular Season of WCG VCL Korea Split 1 before ultimately finishing in fourth place in the playoffs.
The new coaching staff will be taking over the role previously held by departing coach Kim "Pine" Do-hyeon. NS RedForce are hoping that the combination of new blood and experience in the new players and coaching staff will lead to an improvement in the upcoming Korean circuit and ultimately allow them to represent the region in next year's Ascension.
The Nongshim RedForce organization is best known for its participation in the LCK and is under the ownership of the well-known food and beverage company Nongshim, famous for its instant noodles brand, "Ramyun." The Korean organization made its entry into the Korean VALORANT scene just last December in 2022 and managed to secure qualification for both the main events of WCG VCL Korea Split 1 and 2.
Nongshim RedForce now have the following five:
🇰🇷 Gu "Cloudy" Min-jae
🇰🇷 Kim "margaret" Ji-woo
🇰🇷 Kang "iNTRO" Seung-gyun
🇰🇷 Shin "Jan" Dong-yeop
🇰🇷 Park "PKM" Kang-min
🇰🇷 Won "pr" Jun-yeon (Head coach)
🇰🇷 Seol "indigo" Do-hoon (Coach)
---
For more insights on the Asian VALORANT scene and upcoming content like this, be sure to like and follow VALO2ASIA on Facebook, Twitter & Instagram.
---
Cover photo courtesy of VCT Pacific