TenTen has been permanently removed from NORTHEPTION's VALORANT lineup as of July 5. 
JAPAN — NORTHEPTION has made the decision to permanently terminate the contract of "TenTen" from their VALORANT team in response to the incident involving racist remarks by the Korean player. The organization took this action less than 24 hours after the incident occurred during an APAC ranked match, with racist remarks directed towards Saibani "fl1pzjder" Rahmad of Rex Regum Qeon.
In a heated exchange, the two individuals exchanged a few words until the younger brother of Gen.G's Kim "Meteor" Tae-O directed an offensive comment, specifically using a racist phrase of "f**k India" towards the Indonesian player. "You wipe your poop with your hands"
"The racist comments made this time are unacceptable under all circumstances, and we take the situation very seriously," the official statement issued by NORTHEPTION reads. The organization reached the decision to suspend the player's contract after opening internal investigation regarding the matter. 
ALSO READ: VCT Ascension Pacific reaches playoffs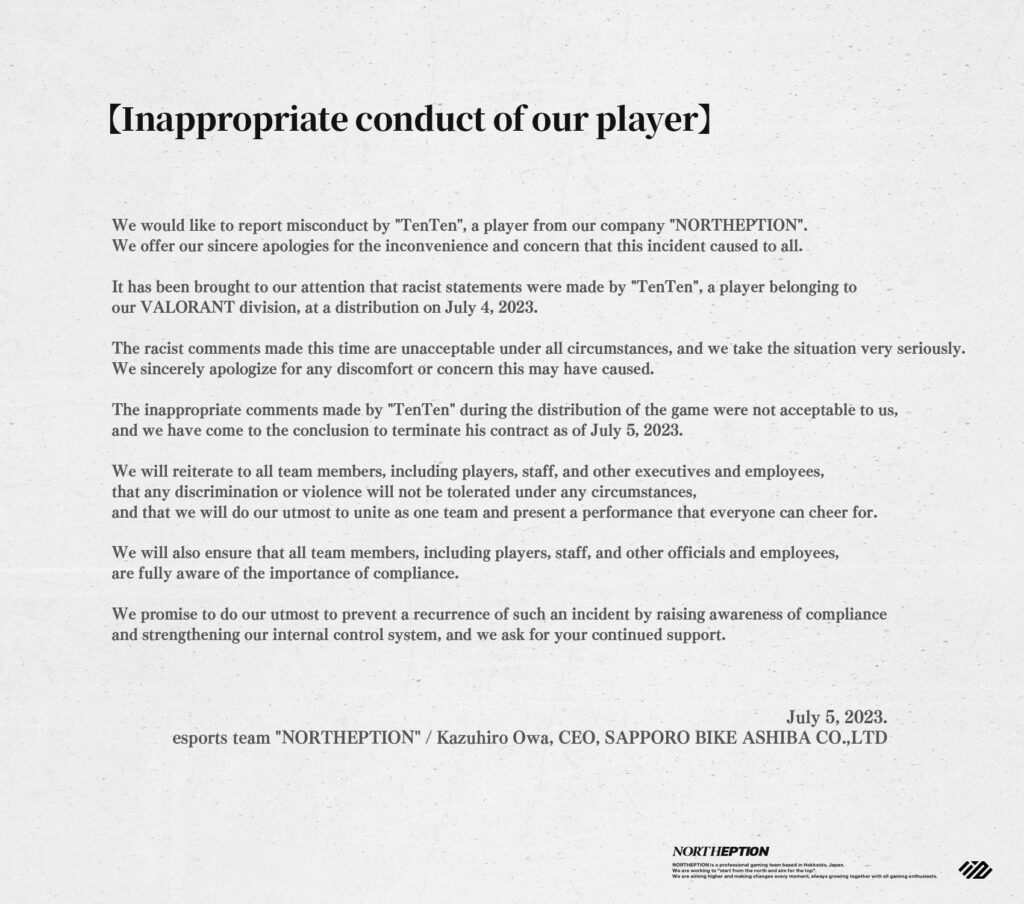 "We sincerely apologize for any discomfort or concern this may have caused. The inappropriate comments made by TenTen during the distribution of the game were not acceptable to us, and we have come to the conclusion to terminate his contract as of July 5, 2023."
The Korean player began his career with NORTHEPTION since November last year, in which he competed in the Riot Games ONE Pro Invitational Online and consequently both VALORANT Challengers League Japan Split One and Two this year. Throughout the VCT Japan 2023 season, he maintained a consistently impressive performance, achieving the highest rating among his fellow teammates. As the season drew to a close, NTH secured two consecutive 5-6th place finishes.
Following the official statement issued by the organization, TenTen himself took to Twitter admitting to the misconduct and apologizing for his actions, "I sincerely apologize to anyone who was offended by my inappropriate comments. I deeply regret the unacceptable comments I made as a professional player and as a human being. I also take the disciplinary action taken by the team very seriously. I am truly sorry."
fl1pzjder shared his mixed feelings during his stream tonight, expressing sympathy for TenTen and his discomfort with the situation. "I feel unease in my heart because both he and his big brother [Meteor] have apologized, yet today TenTen finds himself in this situation. I thought everything would be resolved when I went to sleep like it would be over." He also mentioned that "even if he hadn't apologized, I would likely have let it go."
---
For more insights on the Asian VALORANT scene and upcoming content like this, be sure to like and follow VALO2ASIA on Facebook, Twitter & Instagram.
---
Cover photo courtesy of VALORANT Esports Japan