Yoon "Hyeoni" Hyun-seok, the most recent addition to NUTURN Gaming's active lineup, has been released from his contract, the Korean organization announced on Tuesday.
Hyeoni joined NUTURN Gaming from DFR in September 2020, taking the spot of Choi "10X" Jin-woo. Coming into NUTURN, Hyeoni was regarded as one of Korea's hottest prospects.
Throughout his official matches prior to joining NUTURN, he picked Jett for more than 94 percent of the time, according to VLR.gg, and topped six out six series he played with DFR during VCT Stage 3. DFR's encounter against NUTURN Gaming saw Hyeoni boasted a monstrous 359 ACS across three maps, with the second fragger coming in at only 196 ACS, demonstrating his raw fragging talent.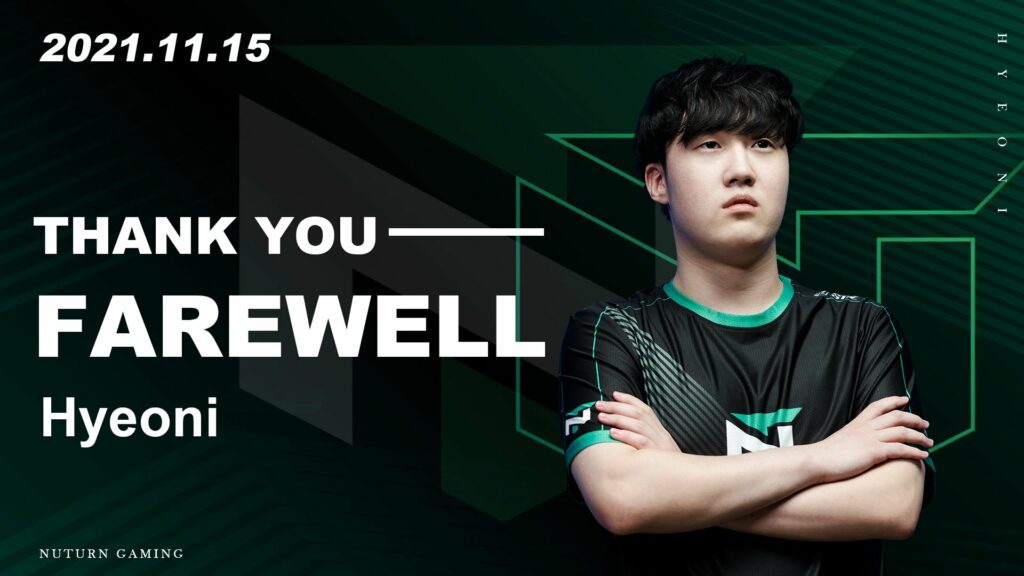 However, Hyeoni did not take the primary duelist position during his first and only tournament with the squad. Instead, he has had more matches with Skye, with the exception of Ascent, where he always played his main, Jett.
In the brief period Hyeoni spent with the squad, he only competed in the VCT Asia-Pacific Last Chance Qualifier, finishing 4th. They were eliminated from the VALORANT Champions contention after losing to Thailand's FULL SENSE and South Korea's DWG KIA, the former of which defeated them 13-0 in the upper bracket semi-finals — precisely one year after their first 0-13 loss, to Cloud9 Korea.
ALSO READ: solo retires – A Tribute to one of South Korea's most experienced FPS players
NUTURN Gaming is yet to reveal their next move but is expected to do so in the coming weeks as the squad has been depleted to just one player and one coach. If the rumors are valid, they will rebuild the roster around Korean veteran player Bum-gi "peri" Jung. Nonetheless, neither peri nor the organization have announced their plans for the future.
Hyeoni's departure leaves NUTURN Gaming with just one player:
🇰🇷 Jeong "Jaemin" Jae-min (Coach)
---
For more insights on the Asian VALORANT scene and upcoming content like this, be sure to like and follow VALO2ASIA on Facebook, Twitter & Instagram.
---