Orangutan Female have announced their newest recruit by signing former Nigma Galaxy Female member Chloe "Chloettw" Wong Ting Ting. 
SINGAPORE – Following Ayesha "Mythica" Samman's sudden departure, Orangutan Female have brought out Chloe "Chloettw" Wong Ting Ting from Nigma Galaxy Female. The Singaporean player is joining the team ahead of VCT Game Changers APAC Overtime and will make her debut on the lineup at the event on June 25.
Prior to joining Nigma Galaxy Female, Chloettw competed with MY/SG Renatus White/The Impaler – the core of which is currently playing under the Team SMG banner. She now enters her first truly international project in Orangutan Female, where she has linked up with two former Asteria members (Neha "CaspeR" Sottany and "Sway") and a former Hashira SR duo ("Japips" and "Kachow").
ALSO READ: Berlin to host VCT Game Changers Championship in November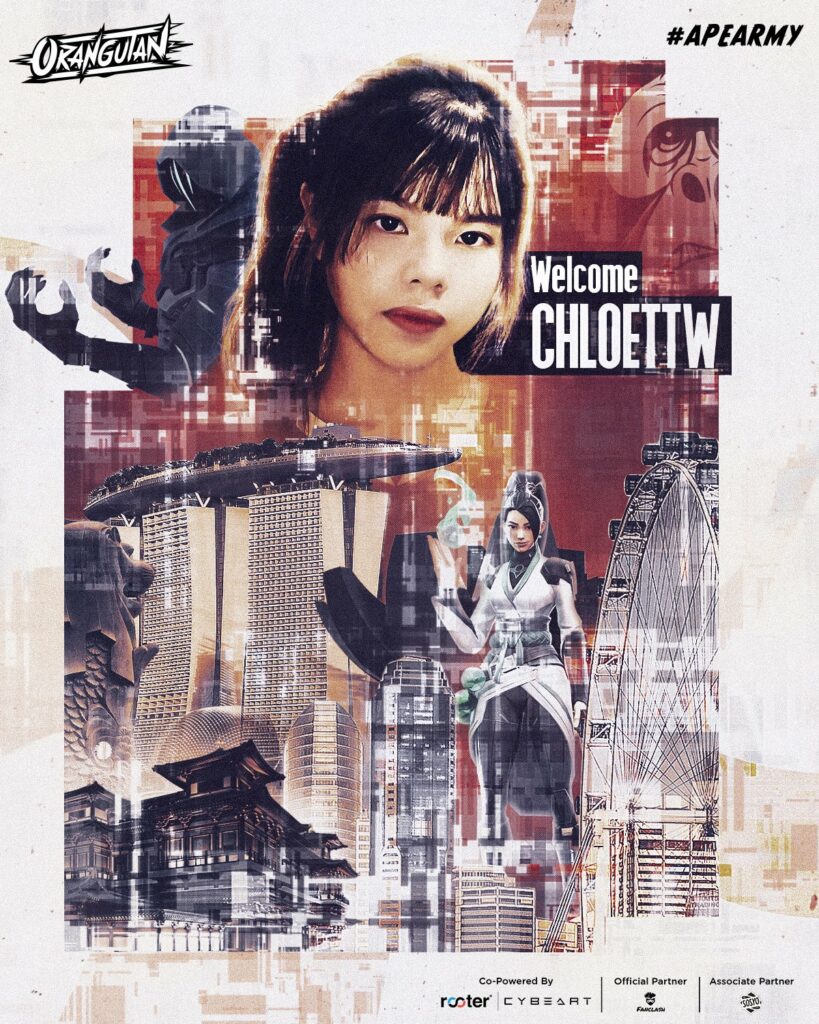 "[I am] thrilled for this opportunity and cannot wait to show everyone what we can do together," Chloettw said in a statement. "Extremely thankful for the warm welcome by the community as well as the amazing management and my lovely teammates. Let's get this bread!" 
The team has already secured a spot in the upcoming VCT Game Changers APAC Overtime on the back of a meteoric rise that saw them make three playoff appearances throughout the Open stage, with Neha "CaspeR" Sottany and co. set to face MY/SG's Thirsts Red in the opening round of the tournament for a chance to qualify for VCT Game Changers APAC Elite.
Given their placement on opposing sides of the bracket, Orangutan Female and Nigma Galaxy Female are unlikely to confront each other early on. Sarindhorn "JinNy" Wanothayarnchai's X10 Sapphire, however, will be the most difficult obstacle for Orangutan Female if they wish to secure an Elite spot directly from the upper bracket.
With Chloettw's addition, Orangutan Female's roster will look as follows:
🇮🇳 Neha "CaspeR" Sottany
🇸🇬 Chloe "Chloettw" Wong Ting Ting
🇵🇭 "Japips"
🇵🇭 "Kachow"
🇮🇳 "Sway"
🇵🇰 Asad "GuNNeR" Azam (Coach)
---
For more insights on the Asian VALORANT scene and upcoming content like this, be sure to like and follow VALO2ASIA on Facebook, Twitter & Instagram.
---
Cover photo courtesy of Orangutan