A reverse sweep for the ages sees Paper Rex win their first-ever international VALORANT Champions Tour trophy in Seoul.
SOUTH KOREA – The thrilling VCT Pacific grand finals saw Paper Rex triumph over DRX with a score of 3-2. After finding themselves trailing 2-0 in the series, Khalish "d4v41" Rusyaidee and his team staged an incredible comeback, accomplishing the second best-of-five grand final reverse sweep in the history of the international VALORANT Champions Tour.
DRX, despite a near-flawless performance in the regular season and the exceptional performance of Kim "MaKo" Myeong-kwan, had to settle for a second-place finish. Their journey through the competition was nothing short of exceptional, putting up seven consecutive series victories in the regular season. DRX will still continue their journey at the upcoming VALORANT Masters Tokyo and Champions Los Angeles.
ALSO READ: VALORANT Masters Tokyo team list set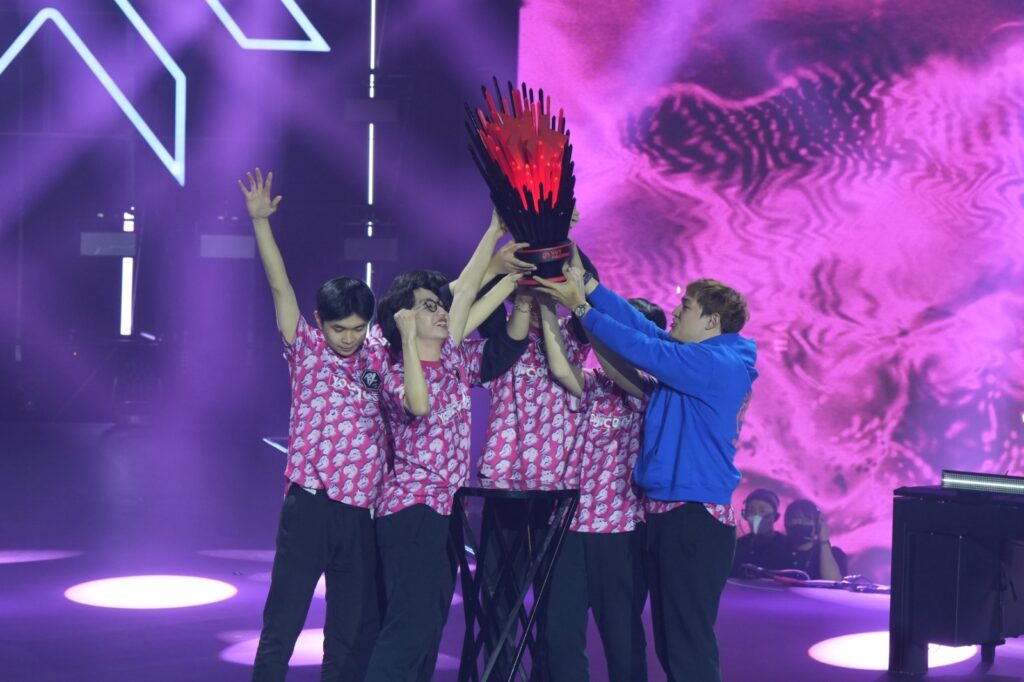 In post-match interviews, the Paper Rex players expressed their joy and gratitude. Jason "f0rsakeN" Susanto acknowledged their victory over the reigning champions, stating, "It really feels amazing because finally we can beat the Kings of Pacific themselves, and now we are the Kings of Pacific." 
"It feels great because in the early of the season, I think everyone doubted us but thankfully we can win the league, and it's not a fluke that we won against DRX, I guess, so thank you," expressed Aaron "mindfreak" Leonhart.
d4v41 expressed his surprise and gratitude for their unexpected triumph, giving special thanks to his family for their unwavering support. "Having 'something' added to the team [just] two months ago, nobody would have expected this from the W Gaming team. I feel really really great, and I want to give shoutouts to my family and especially my mom for coming all the way here to give full support."
Wang "Jinggg" Jing Jie also conveyed his overwhelming pride and happiness. "I can't really express how I feel because it's too much; it's overwhelming. We were down 2-0, at the back of our heads, we felt like this game is so hard and we were an inch away from losing [but] we reverse swept them. So very very happy. Very proud of my team."
Ilya "something" Petrov, reflecting on his journey from the Japanese region, tweeted after the match about his dreams coming true after winning the inaugural edition of the VCT Pacific league with Paper Rex. "Coming from the Japanese region, this is absolutely a dream come true. All I wanted to do was to play in the franchise league, and now to win MVP, I am truly humbled by everything that has happened."
Alexandre "alecks" Sallé's men had previously suffered four losses and no wins against DRX for the past two years, but they managed to overcome the odds when it mattered most, defeating them in the upper final and grand final of the league. Paper Rex secured their place in the grand finals after a dominant victory in the upper final against DRX, while DRX earned their spot by defeating their fellow Koreans in T1 in a tightly contested best-of-five lower final match that could have swung either way.
DRX defeated Paper Rex on the first map on Fracture with a score of 13-6 and Ascent in a closely-contested map that went the distance with three overtimes, ending with 16-14 in their favor.
The Southeast Asian side seemed destined for defeat, trailing by two maps in the series at that point. However, they managed to stage a remarkable comeback, demonstrating resilience and dominance on Lotus with a score of 13-3. They further equalized the series by winning on the opponent's map pick of Pearl with a score of 13-6.
"I think I tried to draw experiences from our grand finals in Copenhagen. We were a lot more nervous then. I think they came into the third map very relaxed. We knew maybe Lotus is a possible good win for us because we know they [DRX] have been banning [the map often], so it's either they have something insane or we win that map. And then we just needed a bit of momentum and could get going," coach Alexandre "alecks" Sallé said when asked in a post-match interview on the condition after the team was down 2-0.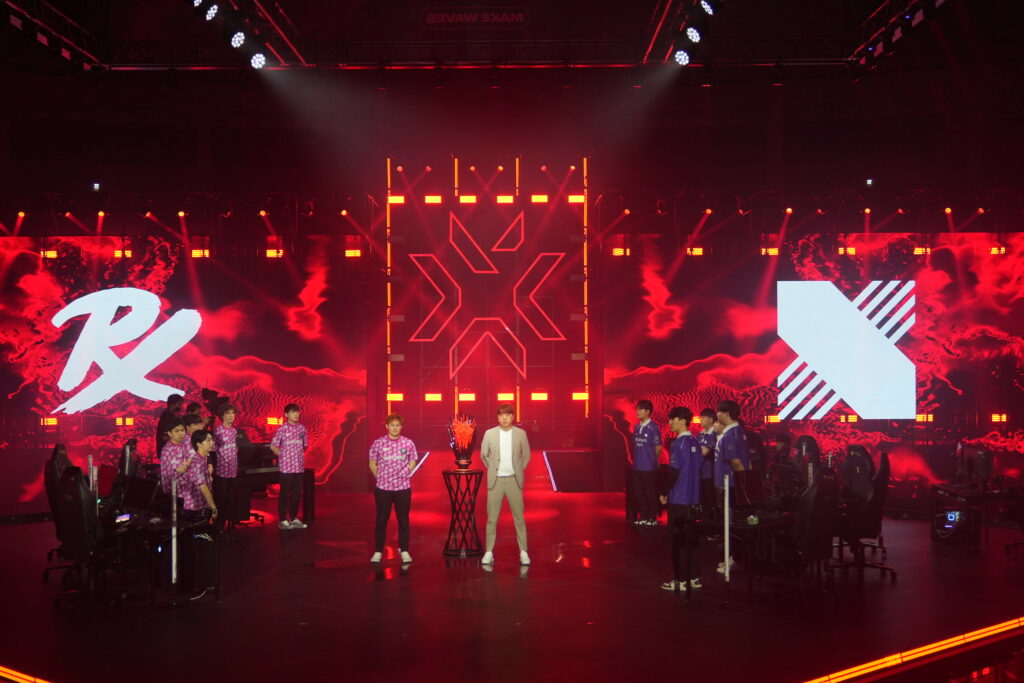 The decisive moment arrived with the Bind map. Riding a wave of momentum, Paper Rex came out all guns blazing, setting the tempo from the outset as they brute-forced their way to a 6-0 lead following d4v41's ace on the B defense. Although DRX managed to secure a round soon after, the competition remained fierce as both teams exchanged rounds, resulting in a halftime score of 9-3 in favor of PRX.
As the sides switched and DRX assumed the defensive position, they managed to execute a 9-3 curse on their opponent by claiming the pistol round. Goo "Rb" Sang-min and Byung-chul "BuZz" Yu aggressively pushed towards the A bath area, securing a crucial victory in the last pistol round of the league.
However, Paper Rex swiftly regained control by winning the subsequent bonus round, putting them back in the driver's seat with a score of 12-5. Although Kim "stax" Gu-taek prevented them from securing round 18, Paper Rex defied all expectations and staged a remarkable comeback, ultimately emerging victorious on the Bind map and clinching the VCT Pacific grand finals series.
With the victory, Paper Rex secured the lion's share of the US$250,000 prize pool and the first seed in Tokyo alongside Team Liquid, FNATIC, and LOUD. They will have more extra days before their first match in VALORANT Masters Tokyo on June 16.
VCT Pacific 2023 final standings:
Paper Rex
DRX
T1
Gen.G
Team Secret
ZETA DIVISION
Rex Regum Qeon
Global Esports
Talon Esports
DetonatioN FocusMe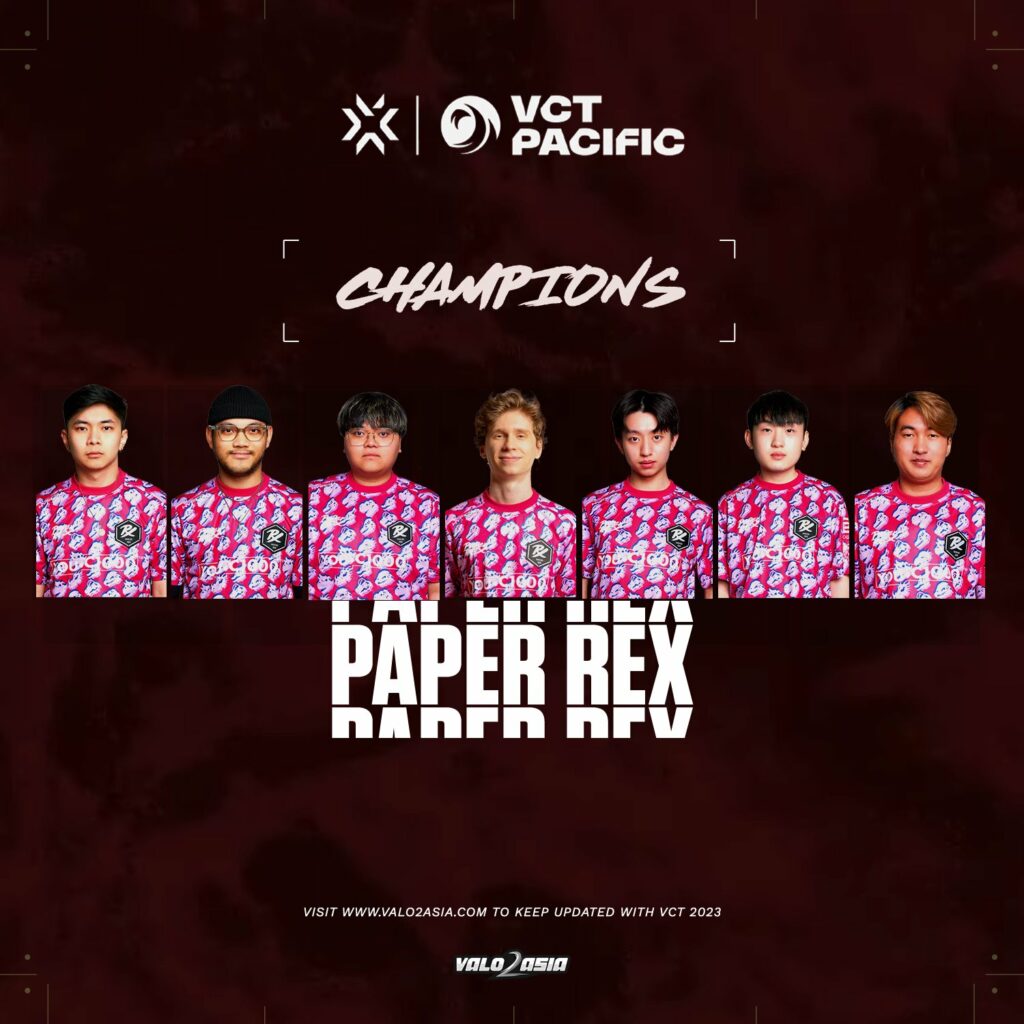 For more insights on the Asian VALORANT scene and upcoming content like this, be sure to like and follow VALO2ASIA on Facebook, Twitter & Instagram.
---
Cover photo courtesy of VCT Pacific