Korean tactician Woo "m4hogany" Sang-ho makes his return to another Indian team after spending a short stint on Blind Esports' books since June.
INDIA – Reckoning Esports have added Woo "m4hogany" Sang-ho as coach, while Aditya "Pixelzz" Gulhane has been transferred to True Rippers Esports in exchange for Gaurav "CrosshaiR" Chabukswar. The Korean coach will take over the position of head coach from Gourang "BLU" Sharma, who stepped down four months ago.
"I am so elated that I will be joining Reckoning as the head coach of the VALORANT division." m4hogany said about his move to a team that he describes as "full of potential". Prior to assuming a coaching role in South Asia, m4hogany spent his time on several rosters across the second tier of Korean VALORANT, most notably helping VAC Kimchi place 3rd-4th at the Red Bull Campus Clutch – World Final Stage.
ALSO READ: Playoff portion of Champions to take place in front of live audience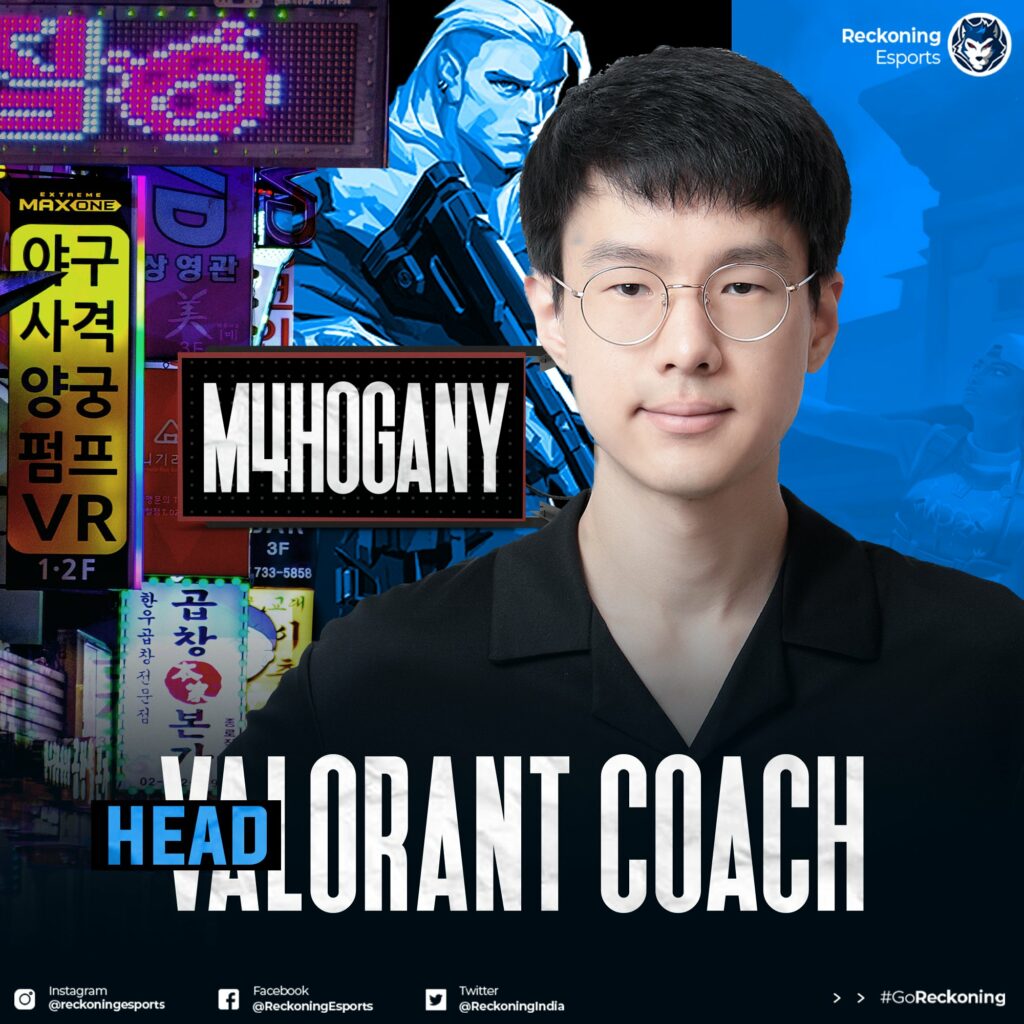 Sharang "Sh4rkyy" Naicker, the organization's Managing Director, also spoke highly of their newest coach addition, saying that they finally "found the right fit mentally and ethically for a coach to take the team ahead and hopefully start qualifying for some LANs."
Other than the addition of m4hogany, Reckoning Esports have secured the services of Gaurav "CrosshaiR" Chabukswar from True Rippers Esports, with Aditya "Pixelzz" Gulhane moving in the opposite direction. The Controller player bids farewell to Reckoning Esports after eight months with the team, having been recruited in early January.
Under the REG banner, Pixelzz helped the team qualify for various significant South Asian tournaments, including the Zotac Cup and the Skyesports Champions Series. Meanwhile, Gaurav "CrosshaiR" Chabukswar made one of his last appearances for True Rippers Esports in the first season of the Skyesports Pro Invitational, where the team finished in 5-6th place.
M4hogany's first task as Reckoning's coach will be to prepare the squad for their second match in the IN₹700,000 Skyesports Pro Invitational Season 2, where they will face Velocity Gaming for a chance to qualify for the playoff stage.
With the trade deal in place, Reckoning Esports' roster looks as follows:
🇮🇳 Jay "BADlove" Patil
🇮🇳 Saksham "Deadly10" Aurangabadkar
🇮🇳 Atharv "Rio" Ahire
🇮🇳 Harsh "Harshhh" Arora
🇮🇳 Gaurav "CrosshaiR" Chabukswar
🇮🇳 Woo "m4hogany" Sang-ho (Coach)
While True Rippers now have:
🇮🇳 Pruthvi "RelliK" Rathod
🇮🇳 Varun "Mast3r" Menon
🇮🇳 Sahil "1TaPGoD" Duble
🇮🇳 Kaustabh "BoNeS" Kadam
🇮🇳 Simar "psy" Sethi
🇳🇵 Vidit "Dafi" Singh (Coach)
---
For more insights on the Asian VALORANT scene and upcoming content like this, be sure to like and follow VALO2ASIA on Facebook, Twitter & Instagram.
---
Cover photo courtesy of Reckoning Esports