A familiar face returns to represent the Reckoning Esports banner at the upcoming VCL South Asia Split 1.
INDIA – Reckoning Esports have bolstered their ranks with the additions of Russian duo Daniil "flabben" Merzlyakov and Aleksandr "hvoya" Eremin, as well as former True Rippers player Varun "Mast3r" Menon. Additionally, Saksham "Deadly10" Aurangabadkar returns to his first professional team, further bolstering their lineup ahead of a super-stacked VCL South Asia Split 1.
The new quarter comes in to complete an overhaul of the Reckoning Esports team, which just parted ways with three players since a month ago in Muhammad "soulM8" Usman, Atharv "Rio" Ahire, and Muhammad "zeeq" Hazeeq.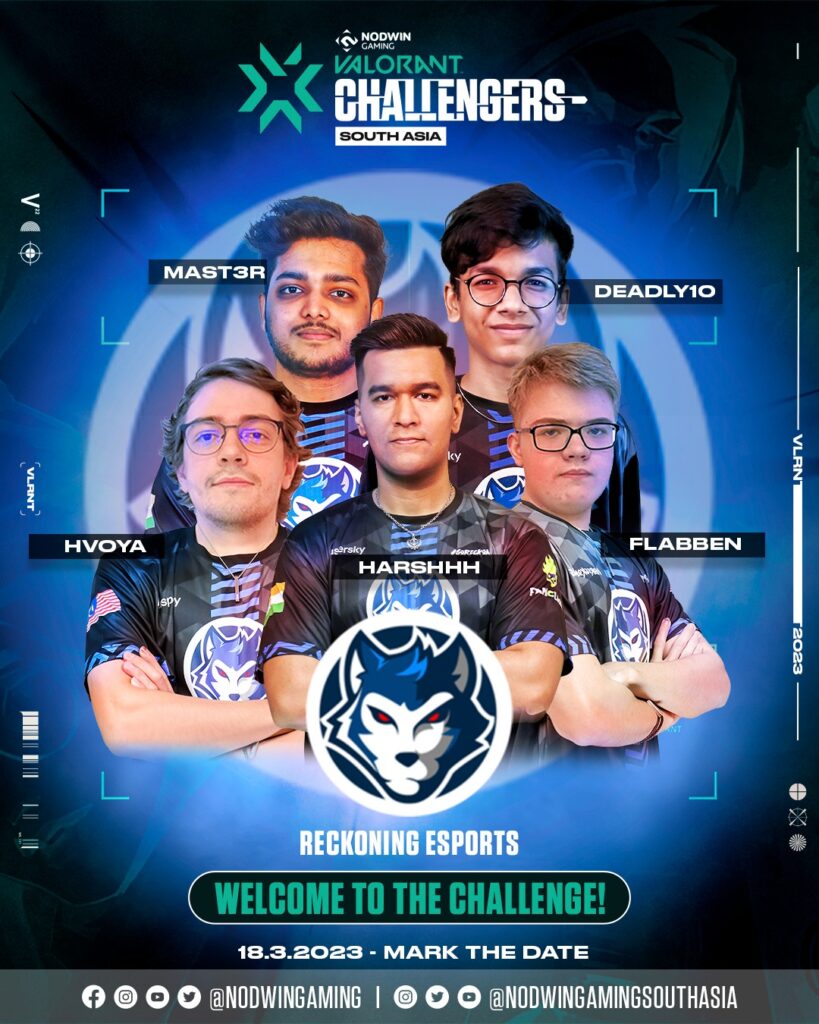 Flabben joins RGE after his tenure with Bravado Gaming recently, while hvoya had been competing in the French regional league (VRL) with beGenius last year before joining a number of mixed European and Russian teams throughout the OFF//SEASON. Both players had also played under the same banner in KPI Gaming, where they had won the GameGune 24 tournament. However, their journey with the organization was cut short when the VCT CIS Stage 1 Challengers was canceled due to the ongoing conflict in Ukraine.
In their new journey, flabben and hvoya are expected to assume the controller and initiator roles, respectively, as observed from their past matches. Reckoning Esports will be hoping that flabben's and hvoya's experience playing in the EMEA circuit will inject more structure and an edge against other competing teams in VCL South Asia, further enhancing their chances of success.
Deadly10 is no stranger to Reckoning Esports, having previously represented the organization for a period of nine months in the previous year. After parting ways with the team in September 2022, Deadly10 briefly competed with Velocity Gaming in three OFF//SEASON tournaments. In addition to these endeavors, the 20-year-old duelist was also a member of the roster representing India at the Redbull Campus Clutch 2022 held in São Paulo, Brazil.
Rounding out the quartet is Mast3r. The 25-year-old made a name for himself with True Rippers Esports for more than a year throughout the 2021 and 2022 seasons. Despite having limited success at the top level in South Asia, Mast3r played a role in helping TR finish as the second runners-up in the third and fourth seasons of The Esports Club Gauntlet.
Reckoning Esports will put their new roster into action at the upcoming VCL South Asia Split 1 starting March 18.
Reckoning Esports now have the following roster:
🇮🇳 Harsh "Harshhh" Arora
🇮🇳 Saksham "Deadly10" Aurangabadkar
🇮🇳 Varun "Mast3r" Menon
🇷🇺 Daniil "flabben" Merzlyakov
🇷🇺 Aleksandr "hvoya" Eremin
---
For more insights on the Asian VALORANT scene and upcoming content like this, be sure to like and follow VALO2ASIA on Facebook, Twitter & Instagram.
---
Cover photo courtesy of NODWIN Gaming