NODWIN has revealed that the long-awaited VCL South Asia Split 1 is set to kick off tomorrow, Saturday, March 18.
SOUTH ASIA – VCL South Asia Split 1 is set to begin March 18, with ten teams slated to battle on the competition's main stage. It features a US$140,000 prize pool, and the winning team will secure the highly sought-after spot in the upcoming Pacific Ascension league, representing the South Asian region.
The competition will be divided into the regular season and the playoffs. The regular season will kick off on March 18th at 9:30 PM SGT (UTC+8), with seven invited teams and three qualified sides engaging in intense matches in two best-of-three round-robin groups.
Only six teams will progress to the playoffs, where the top team from each group will automatically advance to the semi-finals, while the remaining four teams will begin their journey from the first round of the playoffs.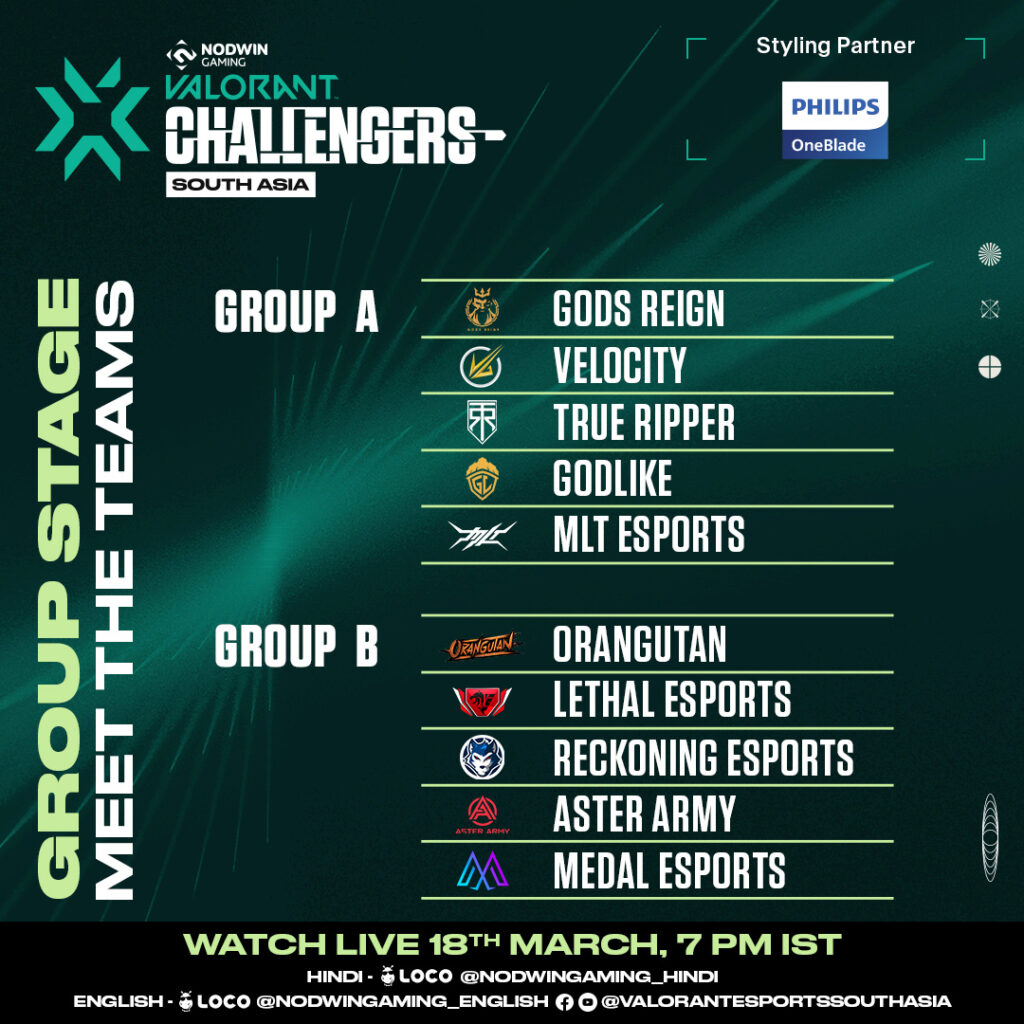 The playoffs themselves will play out in a double-elimination bracket, with matches being played in a best-of-three series. As the playoffs progress, the level of competition will increase, culminating in a highly anticipated best-of-five grand final, where the victors will be awarded the much sought-after Ascension slot to represent the South Asian region.
Furthermore, the participating teams for the main event have been confirmed, with a majority of them boasting Indian-heavy rosters. The complete list of teams set to compete in the tournament will be revealed by NODWIN prior to the event's commencement.
The team list for VCL South Asia Split 1 is as follows:
Orangutan
– Antidote
– Rawfiul
– RvK
– Tesseract
– Azys
Reckoning Esports
– Harshhh
– Deadly10
– Mast3r
– Hvoya
– Flabben
Medal Esports
– Godvexy
– Tricky
– FOX
– Ezzy
– DcRulz
– Kakarot
– JEE
Velocity Gaming
– Hellff
– Amaterasu
– DeathmakeR
– Excali
– ec1s
– Doma
Gods Reign
– Hoax
– Psydreams
– Ember
– Vibhorr
– Autumn
– tixx
MLT Esports
– KnightRider
– Rio
– venka2cold
– BADlove
– BadmaN
Lethal Esports
– Marzil
– Sh1vy
– Lucia
– Rossi
– Cybbell
– Kheltuzad
True Rippers
– Whimp
– sens3i
– Pixelzz
– Aryu
– d1srupt
– Techno
Aster Army (formerly Anaadi)
– DominiK
– DOXZ3RRR
– Kohliii
– Kishi
– wink
– SSSami
GodLike Esports
– Rexy
– Karam1L
– hikkA
– Astro
– Zey
---
For more insights on the Asian VALORANT scene and upcoming content like this, be sure to like and follow VALO2ASIA on Facebook, Twitter & Instagram.
---
Cover photo courtesy of NODWIN Gaming