The former ZOL Meraki player takes the final spot on RRQ Kaguya's active roster heading into VCT Game Changers 2023.
INDONESIA – RRQ's VCT Game Changers lineup has been finalized with the additions of former ZOL Meraki player Karla "bes" Reyes and former XSET Purple coach Daniel "Ducky" Duong. The Filipino player will take on the controller role within the team, filling the spot that had remained empty since Rex Regum Qeon's acquisition of the Alter Ego Celeste quartet.
RRQ Kaguya's trend of scouting for talented players from the Philippines continues, as bes joins the core of July "Eisberg" Kusuma, Nurul "Ayumiii" Aini, Nabila "nabbsky" Sulthana, and Filipino compatriot Tiara "Alluka" Pleno.
In a recent statement to VALO2ASIA, bes revealed that she will join the rest of the team in Jakarta, Indonesia, during the playoff stage. Meanwhile, it is highly likely that coach Ducky will head the team from the States for the inaugural Open series.
The newest recruit from the Philippines brings the experience of playing for ZOL Meraki, where she played a significant role in the team's second runners-up finish in the 2022 VCT APAC Game Changers Elite, ending the year on a high note before being called up to the Kaguya roster. Throughout her VALORANT tenure, bes displayed impressive numbers, averaging 224.9 over 38 maps played, according to THESPIKE.gg.
ALSO READ: theDoctorr leaves Enigma Gaming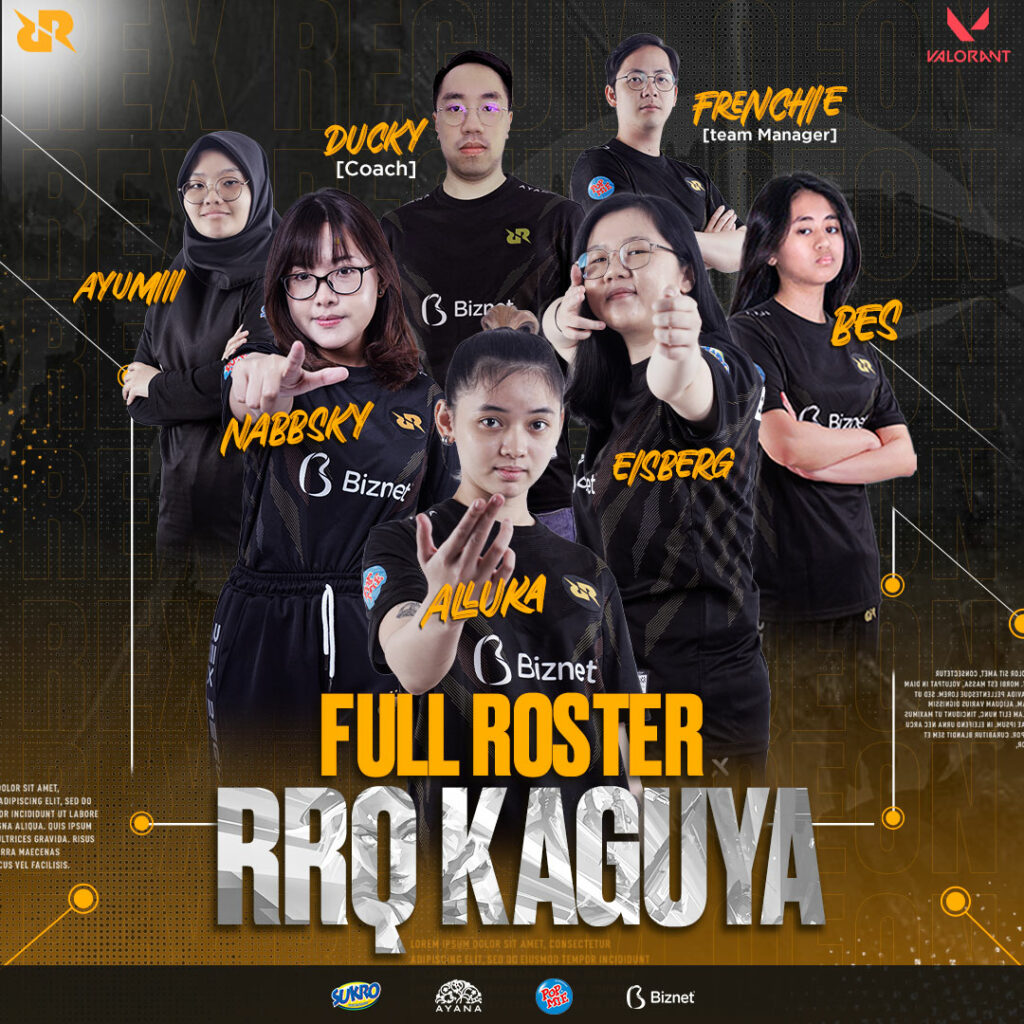 Furthermore, RRQ Kaguya has appointed former XSET Purple coach Ducky as the head coach for the team. Ducky has previously helped the North American side achieve fourth placement in the 2021 VCT Game Changers North America Series 3, as well as a runner-up finish in the GIRLGAMER Challenge North America tournament.
His resume also includes highlights such as managing Oxygen Academy, with whom he finished 5-8th at the NSG Summer Championship before returning to coaching a female squad in Team Mystic Venus towards the end of 2022.
With the new signing, Nabila "nabbsky" Sulthana and co. are hoping to regain their previously dominant position, which they gradually lost towards the end of last year. The Celeste roster suffered a setback when they lost the grand final of the VCT APAC Game Changers Elite, resulting in them losing their first-ever Game Changers tournament and, consequently, missing out on the opportunity to represent the region in Berlin, Germany, for the world championship.
The team is set to make their debut in RRQ colors in VCT Game Changers APAC Open 1, kicking off on March 9.
RRQ Kaguya now have the following lineup:
🇮🇩 July "Eisberg" Kusuma
🇲🇾 Nurul "Ayumiii" Aini
🇮🇩 Nabila "nabbsky" Sulthana
🇵🇭 Tiara "Alluka" Pleno
🇵🇭 Karla "bes" Reyes
🇺🇸 Daniel "Ducky" Duong (Coach)
🇮🇩 Richie "Frenchie" Pratama (Manager)
---
For more insights on the Asian VALORANT scene and upcoming content like this, be sure to like and follow VALO2ASIA on Facebook, Twitter & Instagram.
---
Cover photo courtesy of RRQ