In a shocking move by RRQ, the organization announced that it has parted ways with Nexi and kellyS, arguably two of its best players from the previous roster iteration.
PHILIPPINES – Nathaniel "Nexi" Cabero and Kelly "kellyS" Sedillo will no longer be part of RRQ, the Indonesian organization has announced on Twitter.
"With the conclusion of our extended trial period, the management and coaching team have agreed on sticking with a 6-man roster moving forward." the announcement reads. "This was not an easy decision from the coaching team to exclude Nexi and kellyS, as they both have been such an integral part of the VALORANT team and the RRQ Family. We would like to give our heartfelt thank you to Nexi and kellyS, and wish them all the best for the future."
ALSO READ: Talon Esports unveil VCT Pacific roster featuring Patiphan and XERXIA trio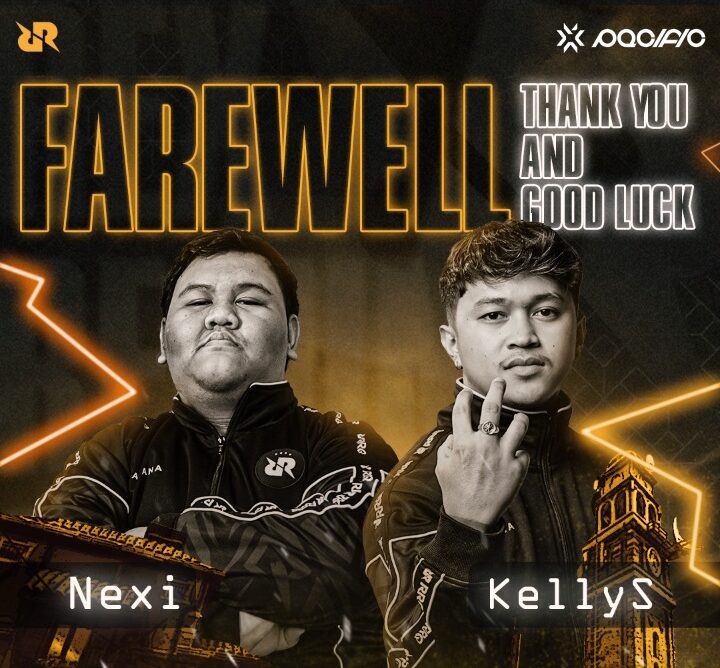 The Indonesian organization first began a phase of team restructuring back in late September, when they handed trials to a total of 13 players from both Indonesia and the Philippines. It began with the appointment of Marthinus "Ewok" Jacobus Van Der Walt as the team's head coach, who rose to prominence with VCT Indonesia Stage 2 Challengers champions ONIC G.
They followed it up with this by retaining four members of their Filipino lineup and adding another two in David "Tehbotol" Monangin and Eroll Jule "EJAY" Delfin. However, backlash and pressure from the public resulted in the organization to sign two more Indonesians, Saibani "fl1pzjder" Rahmad and the latest one, Hagai "Lmemore" Tewuh. With the move, RRQ's VCT Pacific roster has been downsized to the Riot-mandated minimum roster capacity.
The release of kellyS sees the end of a ten-month long tenure with the organization since the inception of the Filipino lineup, in which the 22-year-old was the most impactful player for the team alongside Nexi. The duo led the scoreboard for the team's campaign in VCT Philippines Stage 2 Challengers and VCT APAC Stage 2 Challengers.
That leaves RRQ with six members, who are the following:
🇮🇩 Hagai "Lmemore" Tewuh
🇮🇩 Saibani "fl1pzjder" Rahmad
🇮🇩 David "Tehbotol" Monangin
🇵🇭 Eroll Jule "EJAY" Delfin
🇵🇭 Emmanuel "Emman" Morales
🇵🇭 James "2ge" Goopio
🇿🇦 Marthinus "Ewok" Jacobus Van Der Walt (Head coach)
🇵🇭 Jose "Rbtx" Carlo Jamir (Analyst)
---
For more insights on the Asian VALORANT scene and upcoming content like this, be sure to like and follow VALO2ASIA on Facebook, Twitter & Instagram.
---
Cover photo courtesy of RRQ