Singapore taking on Vietnam and the Philippines going up against Indonesia mark two of the highlight matches of the first day.
CAMBODIA – VNG and VIRESA have announced the timetable for the group stage and how the days will play out for the SEA Games VALORANT competition. The event will take place from May 8-10 in Olympia Mall, Phnom Penh, Cambodia, with six teams competing for medals in the biennial event.
The group stage will consist exclusively of best-of-one matches, with six teams playing in a single round-robin group in hopes of securing one of the four playoff spots. On the first day, the matches will start at 1 PM SGT and run through the final set of matches until approximately 10 PM. The following day, matches will begin at a later time, starting from 5 PM to 9 PM.
The top four teams from the group stage will advance to the playoffs, which will take place on the final day, Wednesday, May 10. This stage will feature a single-elimination bracket consisting of two semi-final matches, a third-place decider, and a grand final.
ALSO READ: SEA Games 2023 – VALORANT format and schedule out; six countries confirmed
Indonesia, the Philippines, Vietnam, and Singapore are among the notable participants listed for the upcoming event. The former two nations will be represented by their top-performing teams from their respective Challengers League circuits, namely Alter Ego and Bigetron Esports from Indonesia and Oasis Gaming from the Philippines.
Meanwhile, Vietnam will be fielding players from four different teams (Team Big BAAM, TTT, LAZY, and Bleed Esports), and Singapore will be represented by their second-best team, Enigma Gaming, in addition to two players from X10 Esports and Bleed Esports.
Cambodia's representative in the VALORANT competition will be AG Esports, while Malaysia will be sending Todak and a player from Reckoning Esports, hoping to make their mark in the tournament.
The schedule for the SEA Games VALORANT competition is as follows (time in SGT/GMT+8):
Day 1
| | | |
| --- | --- | --- |
| 1 PM | 🇸🇬 Singapore | 🇻🇳 Vietnam |
| 2 PM | 🇰🇭 Cambodia | 🇲🇾 Malaysia |
| 3 PM | 🇵🇭 Philippines | 🇮🇩 Indonesia |
| 4 PM | 🇻🇳 Vietnam | 🇰🇭 Cambodia |
| 5 PM | 🇲🇾 Malaysia | 🇵🇭 Philippines |
| 6 PM | 🇸🇬 Singapore | 🇮🇩 Indonesia |
| 7 PM | 🇵🇭 Philippines | 🇻🇳 Vietnam |
| 8 PM | 🇸🇬 Singapore | 🇰🇭 Cambodia |
| 9 PM | 🇮🇩 Indonesia | 🇲🇾 Malaysia |
| 10 PM | 🇵🇭 Philippines | 🇰🇭 Cambodia |
Day 2
| | | |
| --- | --- | --- |
| 5 PM | 🇸🇬 Singapore | 🇲🇾 Malaysia |
| 6 PM | 🇮🇩 Indonesia | 🇻🇳 Vietnam |
| 7 PM | 🇵🇭 Philippines | 🇸🇬 Singapore |
| 8 PM | 🇮🇩 Indonesia | 🇰🇭 Cambodia |
| 9 PM | 🇻🇳 Vietnam | 🇲🇾 Malaysia |
The following VALORANT delegates are as follows:
🇰🇭 Cambodia
Vonn "SweetieJC" Virakboth
Yet "lurk3r" Yuthna
Lim "T0nNyKIM" Kimton
Soun "Lucid" Ratana
Thean "Paatu" Sovandy

Thay "LooDen" Channaro (Sub)
Sun "FALLENFIST" Kong Minh (Sub)

Chea "SweetieShakee" Kimvid (Coach)
🇮🇩 Indonesia
Delbert "deLb" Tanoto
Bryan "Gemma" Setiawan
Sheldon "NcSlasher" Andersen
Oliver Budi "m0rea" Wangge
Willy "sayoo" Ivandra
Nanda "asteriskk" Rizana
Kevin "Eeyore" Gunawan

Baskoro Dwi "roseau" Putra (Head coach)
Iqbal "kyloo" Mauldhan (Coach)
Rafi "frostmind" Diandra (Coach)
🇲🇾 Malaysia
Shamir "subbey" Zaman
Muhammad "FrostyZ" Adam
Muhammad "Zeeq" Hazeeq
Fakhrul "jeed" Najeed
Muhd "kael" Tarmizi

Muhammad "D4N" Danial Haiqal (Coach)
🇵🇭 Philippines
Brheyanne "Wild0reoo" Christ Reyes
Xavier "xavi8k" Juan
Jed "Draxii" Jamir
Nathaniel "Nexi" Cabero
George "Georggyyy" Lachica
Mark "Markyyy" Tuling

Jose "Rbtx" Jamir (Coach)
🇸🇬 Singapore
Tidus "STYRON" Goh
Ingram "FREY" Tan
Chun Ting "Divine" Yeoh
Rodman "Vera" Yap
Marcus "Nephh" Tan

Ayrton "artn" Soh (Coach/Sub)
🇻🇳 Vietnam
Nguyễn "Nhatthong2k" Thống
Phạm "d0rf" Quốc
Nguyễn "P1nA2k4" Nam
Nguyễn "Viness" Trung Tín
Ngô "crazyguy" Anh
Hoàng "DucT" Trung Đức
Nguyễn "Suka" Văn Tiến

Hoàng "Vizzz" Việt (Coach)
If there are any inaccuracies in the names or IGNs, please reach out here
---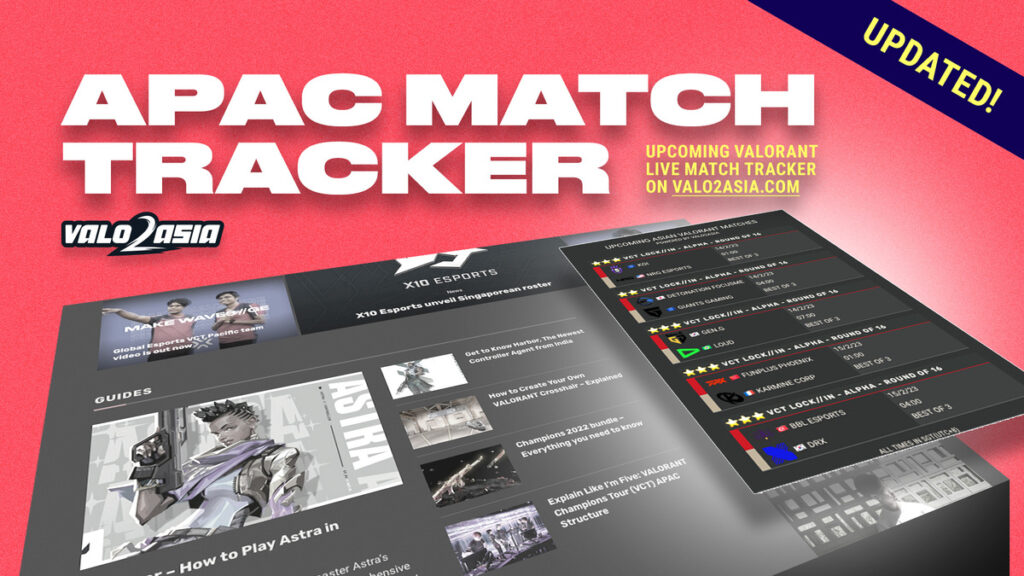 Get ready for non-stop action with VALO2ASIA.com! We bring you the pulse of APAC's most electrifying matches with our real-time match ticker, updated daily to keep you in the loop on all the latest. Our star rating system rates the importance of each match based on factors such as the teams' lineups, tournament rounds, and prestige.
From SEA Games VALORANT to other major tournaments, we've got you covered with the most comprehensive coverage in the region with accurate schedules in Singaporean Time (UTC+8). Explore VALO2ASIA's match ticker now on the right side of our website!
---
For more insights on the Asian VALORANT scene and upcoming content like this, be sure to like and follow VALO2ASIA on Facebook, Twitter & Instagram.
---
Cover photo courtesy of AP Photo/Achmad Ibrahim