Team Indonesia won the second edition of the SEA Esports Championship after beating Team Vietnam 2-0 in the grand final. 
INDONESIA – The 2023 edition of the SEA Esports Championship culminated in a best-of-three grand final match, wherein Team Indonesia emerged victorious over Team Vietnam with a resounding score of 2-0 (Split 13-1, Haven 13-10). Under the guidance of head coach Baskoro Dwi "roseau" Putra, Team Indonesia take home US$4,000 for their title-winning effort as well as bragging rights heading into the upcoming SEA Games Cambodia.
Organized by VNG Games and VIRESA, the tournament served as a prelude to the highly anticipated SEA Games, which will see countries from across the Southeast Asian region compete across various sports and disciplines, including VALORANT. Notably, all participating teams in the SEA Esports Championship were classified by country, aligning with the nationalistic spirit of the SEA Games.
It featured the participation of six countries: Indonesia, Vietnam, Cambodia, Brunei, Laos, and Malaysia. However, Brunei will not attend the biennial event due to the absence of a recommendation from its national federation, citing a lack of top-quality athletes in VALORANT.
ALSO READ: VCT Pacific tickets go on sale Saturday, March 18
Although the SEA Esports Championship was not recognized as an official pre-event for the SEA Games and did not provide a comprehensive preview of the upcoming SEA Games, as several teams, including Singapore, the Philippines, and Myanmar, were absent from the competition, it still served a significant opportunity for participating countries to acquire valuable experience and improve their strategies ahead of the event.
The competition kicked off with a round-robin group stage, where each country was matched against one another in a best-of-one format. Team Indonesia proved to be a dominant force, winning all five of their matches without conceding a single map, securing their place at the top of the leaderboard, with Team Malaysia closely trailing behind. The semi-final stage also featured the likes of Team Vietnam and Team Cambodia, who completed the final four teams.
In the grand final, Team Indonesia took a commanding lead against Team Vietnam from the start, showcasing their prowess on the attacking side of Split to build an impressive 11-1 advantage. The team then went on to win the remaining two rounds, clinching the first map with a score of 13-1. 
The second map, Haven, proved to be more challenging for both teams, with Team Vietnam also giving their opponents a run for their money. However, thanks to Delbert "deLb" Tanoto's exceptional 319-ACS performance, Team Indonesia managed to secure a 13-10 win, ultimately winning the grand final series 2-0.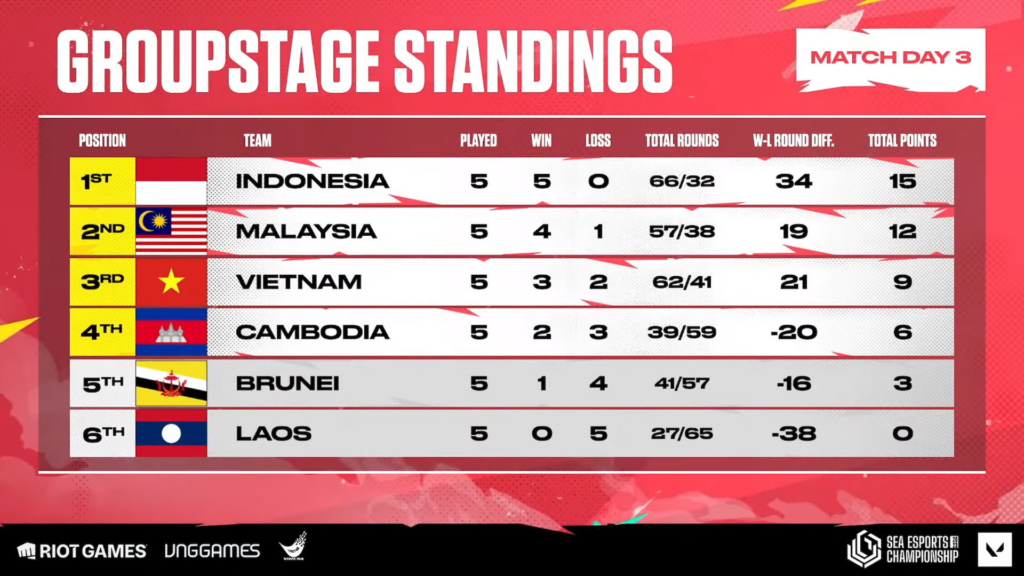 SEA Games Championship 2023 final standings:
Place
Prize*
Team
1st
US$4,000
🇮🇩 Indonesia

– deLb
– NcSlasher
– m0rea
– sayoo
– Gemma
– Asteriskk
– Eeyore

– roseau (Head coach)
– kyloo (Asst. coach)
– frostmind (Asst. coach)
2nd
US$3,000
🇻🇳 Vietnam

– Nhatthong2k
– d0rf
– P1nA
– Viness
– crazyguy
– DucT
– Suka

– Vizzz (Coach)
3rd
US$2,000
🇲🇾 Malaysia

– FrostyZ
– subbey
– kael
– Jeed
– aduka
– toggle
– zeeq

– D4N (Coach)
4th
US$2,000
🇰🇭 Cambodia

– SweetieJC
– lurk3r
– ToNnyKIM
– Lucid
– Paatu
– BOVIII

– SweetieShakee (Coach)
5th
US$1,000
🇧🇳 Brunei

– Mojo
– Wyte
– brat
– Jxn
– spacey
– Rizzy
6th
US$1,000
🇱🇦 Laos

– KatoKota
– Est Matino
– WindStyle
– BIGDAKID
– Ferrari

( * US$1,000 for participation)
---
For more insights on the Asian VALORANT scene and upcoming content like this, be sure to like and follow VALO2ASIA on Facebook, Twitter & Instagram.
---
Cover photo courtesy of Ligagame