The Singaporean-Thai combine will make its first appearance in the upcoming VCT Game Changers APAC Open 1 Playoffs tomorrow.
SINGAPORE — Team SMG revealed today that it has signed an all-female VALORANT team. The new lineup of Team SMG sees some players reunited after playing each other in the early period of the FSL VALORANT circuit in 2020, which eventually became the official VCT Game Changers APAC circuit.
The roster is headlined by three former Renatus White players, who placed third in last year's VCT Game Changers SEA – FSL Elite competition. It is rounded out by two former teammates of in-game leader Abigail "Kohaibi" Kong. Jularat "YOKY" Buaphan and Wanwisa "fixky" Pannil (formerly fixkyNaja) were formerly members of 7sins, in which the team finished runner-up in the FSL Valorant Open V 2020 tournament.
ALSO READ: RRQ VALORANT part ways with trio; Vyminal and Rbtx join coaching staff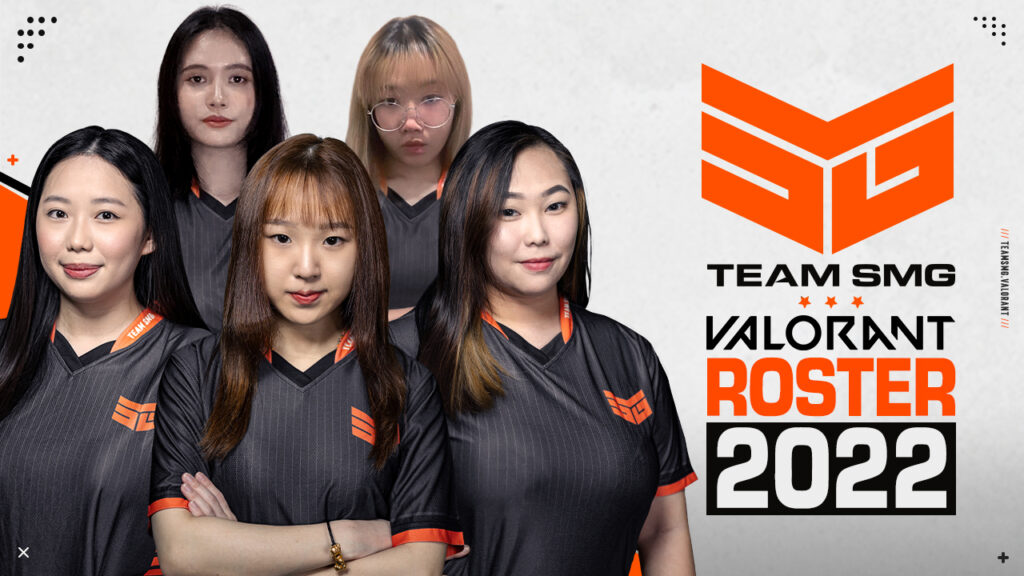 Following the dissolution in late 2020, YOKY went on to play under the MAD Army banner before eventually spending the latter half of 2021 with Aricat.Aresta. Meanwhile, fixky will return to play after being away from action since VCT Game Changers SEA – FSL Open V.  Furthermore, Alex "falx3" Cheang (formerly falfalfal) will be taking up the coaching position within the new lineup. The 27-year-old previously played for the previous roster iteration of Team SMG for 17 months before he transitioned to a streamer role within the organization following the team's disbandment in December last year.
The new-look Team SMG competed under the pseudonym, "jjlfc" in the open qualifier of VCT Game Changers APAC Open 1. The Abigail "Kohaibi" Kong-led team went unbeaten there, with wins over Couldn't Care Less, TiAMAT, The Most Delicate, and Siomai and Friends en route to qualification as the tournament's first seed.
"Congratulations to the girls! It's been one of FSL's aims to have esports organisations take on women in their professional rosters, and we are overjoyed that SMG has decided to do so this year." Said Tammy Tang, CEO of FSL, the tournament organizer of VCT Game Changers APAC. "It's been an exciting 2 years following the progress of the players in our FSL circuit, and we are looking forward to supporting them under their new tag with Team SMG."
"We have always been invested in nurturing the esports scene in Southeast Asia and with our new roster, we are confident in providing support to maximize the potential in our new roster." Said Orrin Xu, General Manager of Team SMG, "Our all-female roster will be our sole VALORANT roster and will receive the same extent of support that we have for our Dota 2, MLBB, and PUBG Mobile rosters. We aim to represent APAC in the global Game Changers tournament, as well as compete in the main VCT Malaysia/Singapore qualifiers."
The all-female lineup will debut their black and orange jerseys in the VCT Game Changers APAC Open 1 Playoffs, taking on Hero Zero KDA in their first match of the tournament tomorrow at 9:30 SGT.
Team SMG's new squad features the following players:
🇸🇬 Abigail "Kohaibi" Kong
🇸🇬 Yu Ting "Envious" Ewa
🇸🇬 Kellyn "Kaephrodite" Sim
🇹🇭 Jularat "YOKY" Buaphan
🇹🇭 Wanwisa "fixky" Pannil
🇸🇬 Alex "falx3" Cheang (Coach)
---
For more insights on the Asian VALORANT scene and upcoming content like this, be sure to like and follow VALO2ASIA on Facebook, Twitter & Instagram.
---
Cover photo courtesy of Team SMG