Bangkok has been chosen as the host city of the VCT Ascension Pacific 2023, Riot Games has announced.
THAILAND – The VCT Ascension Pacific 2023 will be held in Bangkok, Thailand, Riot Games has announced.
Scheduled to take place from June 28 to July 9, the tournament will feature ten teams, each representing a VCT sub-region in the Asia Pacific. The team emerging victorious in the Ascension tournament will be rewarded with a two-year promotion into the VCT Pacific League.
Each year, the international league will gradually increase its team count by one, culminating in a maximum limit of 14 teams by the year 2027. The promoted team will receive comparable league benefits and a fair chance to qualify for both the Masters and Champions tournaments. Following the conclusion of the two-year period, the team will return to their league to battle their way back through Challengers and Ascension tournaments to battle their way back up the ladder.
ALSO READ: VCT Game Changers APAC Open 2 registration begins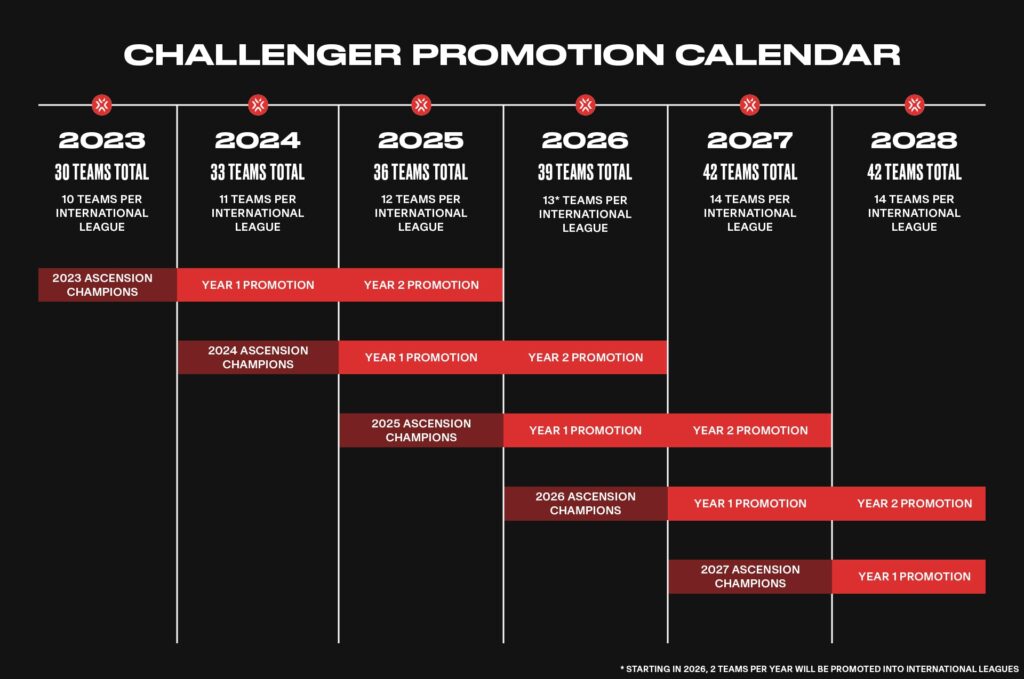 The Bangkok event marks a significant milestone as the first international VCT tournament to be held in Southeast Asia. Ten teams will be sorted into two groups competing through a single round-robin bracket featuring best-of-three matches. The top three teams from each group will advance into the playoffs. The top two teams from the Group Stage will earn byes into the semi-finals, while the other four teams will begin the quarter-finals.
At present, no teams have been confirmed, and the participating teams will be determined according to the specified dates for each region:
🌏 South Asia – June 11
🇦🇺 Oceania – June 10
🇯🇵 Japan – June 4
🇵🇭 Philippines – June 4
🇲🇾🇸🇬 Malaysia/Singapore – June 4
🇭🇰🇹🇼 Hong Kong/Taiwan – June 4
🇮🇩 Indonesia – June 4
🇹🇭 Thailand – June 4
🇻🇳 Vietnam – June 4
🇰🇷 Korea – June 3
"This year more than twenty Challenger Leagues provided organized competitions that helped develop the next generation of VALORANT talent. A robust Challenger ecosystem is imperative to ensuring the most talented teams and pros in esports select VALORANT as the game where they dedicate their time and effort. Ascension represents the culmination of our first ever Challengers Season and we think this tournament series has the potential to become one of the most exciting events on our calendar. We're excited to share these details with all of you and we'll be listening closely to hear your thoughts on the tournament," Anton Ferraro, global communications lead for VALORANT Esports, said.
Bangkok, the capital city of Thailand, is a vibrant metropolis known for its rich cultural heritage, bustling streets, and modern skyscrapers. Here are some intriguing facts about this captivating city. Locally referred to as "Krung Thep" (City of Angels), Bangkok is home to over 10 million people, making it one of the most populous cities in Southeast Asia.
The city showcases a harmonious blend of ancient traditions and contemporary influences, with magnificent Buddhist temples like Wat Arun and Wat Phra Kaew coexisting alongside modern shopping malls and bustling markets. Food enthusiasts can indulge in a culinary paradise with Bangkok's diverse street food scene, offering tantalizing dishes such as Pad Thai, Tom Yum, and Mango with Sticky Rice. The city also houses remarkable landmarks, including the grandiose Grand Palace and the iconic Wat Phra Kaew, where the revered Emerald Buddha resides.
Krung Thep Mahanakhon Amon Rattanakosin Mahinthara Ayuthaya Mahadilok Phop Noppharat Ratchathani Burirom Udomratchaniwet Mahasathan Amon Piman Awatan Sathit Sakkathattiya Witsanukam Prasit is the full name of Bangkok.
Further details about the Ascension tournament will be unveiled in the forthcoming weeks.
---
For more insights on the Asian VALORANT scene and upcoming content like this, be sure to like and follow VALO2ASIA on Facebook, Twitter & Instagram.
---
Cover photo courtesy of Note Thanun