FSL has launched the registration process for VCT Game Changers APAC Open 2, featuring a US$10,000 prize pool. 
APAC – Registration is now open for the second Open tournament of the VCT Game Changers APAC circuit. The sign-up page for the Game Changers event can be found here and will continue to be open until May 25 at 23:59 PM SGT. 
The group stage of VCT Game Changers APAC Open 2, taking place from May 30 to June 3, will accommodate up to 80 slots for competition, with the top eight finishers moving on to the playoffs. The playoffs will commence on June 6-10, where eight teams will fight for the lion's share of the US$10,000 prize pool. It will also award points towards the GC APAC leaderboard, which will be used to determine the teams attending the Elite stage in October.
Six top teams from the circuit standings will qualify for the US$35,000 event acting as the crown jewel later this year, with the other two berths given through the Last Chance Qualifier, taking place in August.
ALSO READ: VCL Japan Split 2 down to top three; to be played in front of audience in Osaka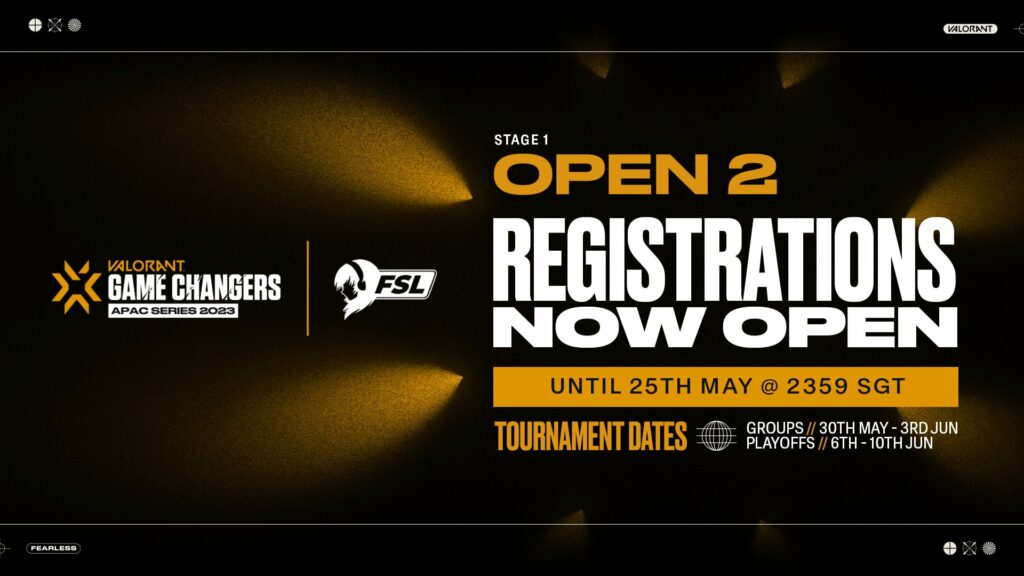 Team SMG emerged victorious in the VCT Game Changers APAC Open 1 tournament after taking down Orangutan X in a best-of-five grand final.
The Singapore-based team brought in a major overhaul entering the 2023 season with the additions of former Bren Esports Victress duo Kelly "shirazi" Jaudian and Alexandria "Alexy" Francisco, as well as former ZOL Meraki player Camille "Kamiyu" Enriquez.
Furthermore, Ryona "Tarathiel" Tan came out of retirement in September last year and joined Team SMG as her second team after Celestè. Among the changes, Abigail "Kohaibi" Kong remains the only player from Team SMG's original Game Changers lineup announced in March of the previous year. 
Details on the registration process and rules of the tournament may be found below:
---
For more insights on the Asian VALORANT scene and upcoming content like this, be sure to like and follow VALO2ASIA on Facebook, Twitter & Instagram.
---
Cover photo courtesy of Adela Sznajder/Riot Games