With another 2-0 victory over NRG Esports, Bilibili Gaming became the last team to advance to VALORANT Champions LA Playoffs, joining Asian counterparts PRX, DRX, and EDG in a double-elimination bracket. 
UNITED STATES – The group stage of VALORANT Champions Los Angeles has concluded, narrowing the competition down to eight teams with the quarter-final matchups already set. The initial week in LA witnessed the early departure of major teams such as Natus Vincere, Team Liquid, and NRG Esports, while teams like Bilibili Gaming and FUT Esports achieved historical milestones for their respective regions. 
The playoffs are set to take place live at the Shrine Expo Hall once more, with the venue transitioning to the renowned KIA Forum for the concluding three days, starting with the upper finals and the lower semi-finals.
An anticipated clash is brewing as LOCK//IN and Masters Tokyo champions FNATIC, having passed the group stage without a scratch, will face reigning world champions LOUD. This showdown is a repeat of the LOCK//IN grand finals, where the EMEA powerhouse executed a spectacular reverse sweep in São Paulo
ALSO READ: Riot Games announces 17 OFF//SEASON events for Pacific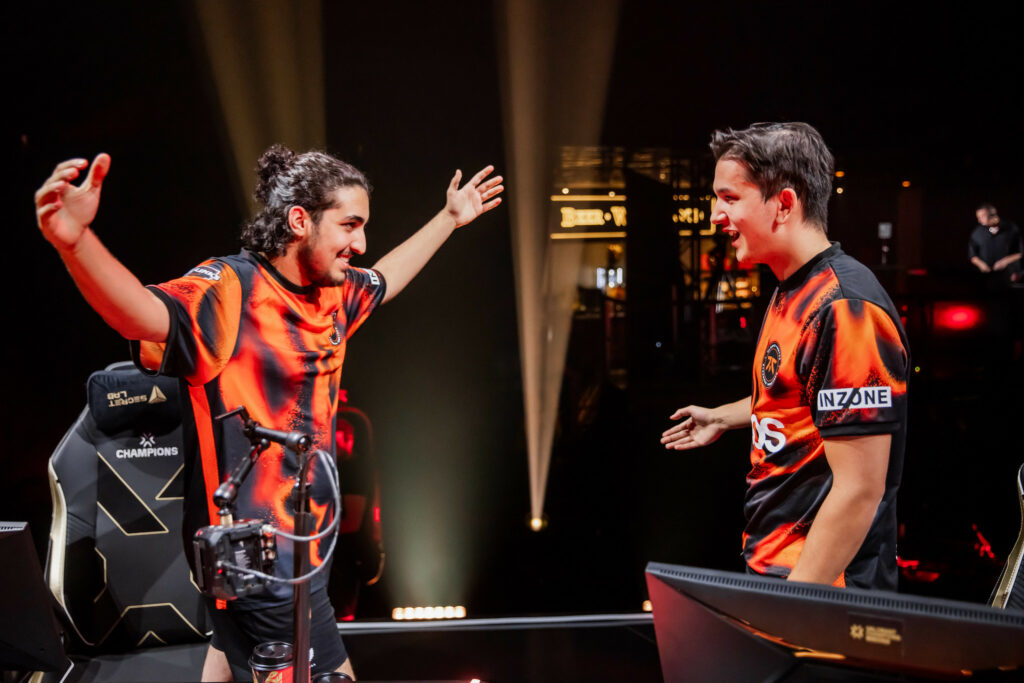 In another surprising turn, Bilibili Gaming have qualified for the playoffs after taking down NRG Esports twice and will be up against Korean giants DRX, who navigated through the toughest group in LA without losing a series. A headline clash between Evil Geniuses and EDward Gaming is garnering attention, particularly after EG's in-game leader, Kelden "Boostio" Pupello, previously said that "China will never be better than NA". North America's last hope will now have a chance to back up this claim, facing two Chinese teams on their side of the bracket.
Paper Rex have been handed what could be considered a favorable draw, facing Turkey's FUT Esports first. However, should the Pacific powerhouse progress, they could face either FNATIC or LOUD early on, setting the stage for an early face-off between three teams many had tipped to be among the last standing.
Below you can find the schedule for the playoffs, which will culminate with a best-of-five title decider on Monday, August 27, at 3 AM SGT (UTC+8):
Thursday, August 17
3 AM SGT – FNATIC vs. LOUD
6 AM – Paper Rex vs. FUT Esports
Friday, August 18
3 AM – DRX vs. Bilibili Gaming
6 AM – Evil Geniuses vs. EDward Gaming
Saturday, August 19
3 AM – Lower round 1
6 AM – Lower round 1
Sunday, August 20
3 AM – Upper semi-finals
6 AM – Upper semi-finals
Monday, August 21
3 AM – Lower quarter-finals
6 AM – Lower quarter-finals
Friday, August 25
3 AM – Upper final
6 AM – Lower semi-final
Saturday, August 26
Sunday, August 27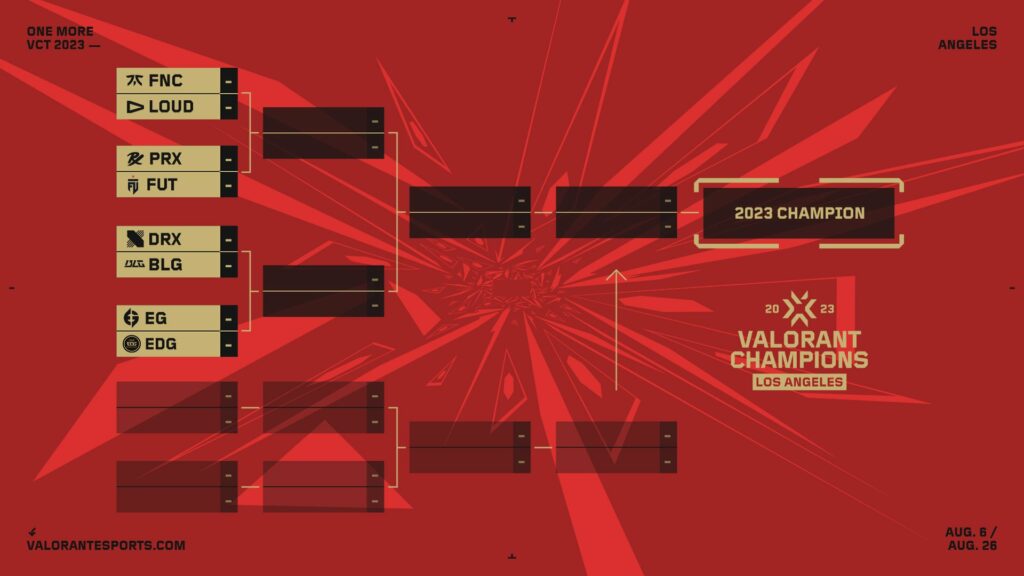 ---
For more insights on the Asian VALORANT scene and upcoming content like this, be sure to like and follow VALO2ASIA on Facebook, Twitter & Instagram.
---
Cover photo courtesy of Colin Young-Wolff/Riot Games