VARREL have bolstered their support staff, now totaling five individuals, in preparation for the forthcoming VCT 2024 season.
JAPAN – VARREL have announced the formation of their new support staff, which now incorporates three coaches and two analysts. These five new additions will spread the workload and bring additional tactical diversity to VARREL's upcoming roster for the VCT 2024 season.
The most high-profile figure among the new hires is head coach Cullan "PirateFlag" Smith, having boasted a track record of helping various regional teams in both three major regions including who cars in VCL Polaris and Westception in VCL Japan. In addition, PirateFlag has resided in Japan since 2019. "When I was given the opportunity to come here to Japan and build a roster with VARREL, I knew it was an opportunity I had to take," revealed PirateFlag in the introductory video.
He further elaborated, saying, "2024 is going to be an exciting year for both VALORANT in Japan and internationally, and VARREL wants to be a part of it. We are going to build a roster that can compete both on the Japanese stage and also on the international stage. We have seen the power that can come out of Japan both regionally and in the Ascension tournament. We hope for your support as we move into 2024. We will have much to share as we get closer to the 2024 season, but for now, we thank you for your support and thank you for welcoming me to VARREL.
ALSO READ: Enigma Gaming release MY/SG roster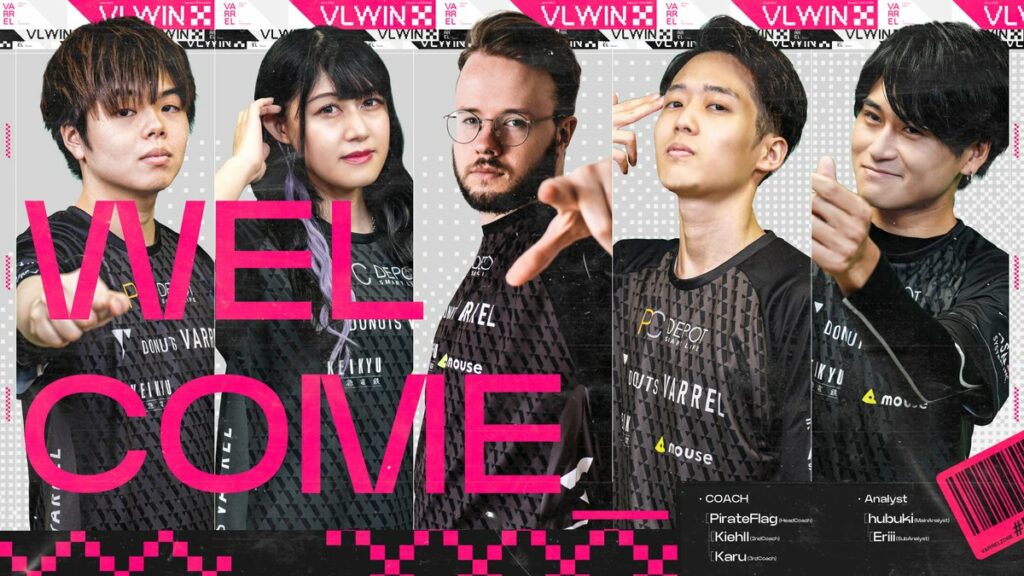 Former Focus e-Sports coach "Kiehll" will join as the second coach for VARREL's upcoming roster. Currently pursuing his studies in the United States, the 21-year-old previously led his team to secure a respectable 7-9th place in the Advance Stage of VCL Japan Split 2, defeating the likes of Good 8 Squad and Murash Gaming. "Although I am still inexperienced in some areas, I will do my best to achieve results, so please give me your support."
A familiar face returns to VARREL with "Karu", previously coaching the organization's Rainbow Six Siege division for almost a year, now transitioning to VALORANT. Having represented Japan at the 2023 BLAST R6 Major Copenhagen in Denmark and R6S Dream Showdown in Japan, he now steps into the role of the third coach for VARREL. "I am very happy to be able to move to an environment where I can learn and discuss with a great group of people. I will also do my best to repay the management for allowing me to make this transition. Thank you for your support!" Karu expressed on Twitter, as translated.
Rounding out the newly formed team are analysts "Eriii" and "Hubuki". Eriii previously worked with DetonatioN FocusMe, a role she stepped in in November 2020, and has lent her expertise to RIB.gg Japan. Hubuki, who previously served as an analyst for VARREL last year, is set to return, rounding out the newly restructured support staff.
VARREL are in the process of overhauling their roster, with the finalized lineup to be announced closer to the upcoming season. It remains to be seen whether they will acquire an existing team or form a new one from scratch.
VARREL are now:
🏴󠁧󠁢󠁳󠁣󠁴󠁿 Cullan "PirateFlag" Smith (Head coach)
🇯🇵 "Kiehll" (Coach)
🇯🇵 "Karu" (Coach)
🇯🇵 "Hubuki" (Analyst)
🇯🇵 "Eriii" (Analyst)
---
For more insights on the Asian VALORANT scene and upcoming content like this, be sure to like and follow VALO2ASIA on Facebook, Twitter & Instagram.
---
Cover photo courtesy of VARREL