Enigma Gaming has announced the departure of its MY/SG roster, ending the season with two top-four finishes in the Challengers League. 
INDIA – Enigma Gaming has announced that it is parting ways with its MY/SG roster. A major roster reshuffle for the MY/SG circuit is now on the horizon as the OFF//SEASON nears, with the promotion of Bleed Esports to the Pacific League and the break-up of numerous teams post their 2023 season.
"An unforgettable journey with our Enigma Gaming Valorant squad comes to an end," the statement reads. "We thank you for always giving a 100% to Enigma Gaming. Really unfortunate to have to release a roster with such high potential and dedication. May your next adventure be even more extraordinary!"
ALSO READ: Orangutan, Aster Army, Reckoning Esports among EMG Pro Series South Asia invites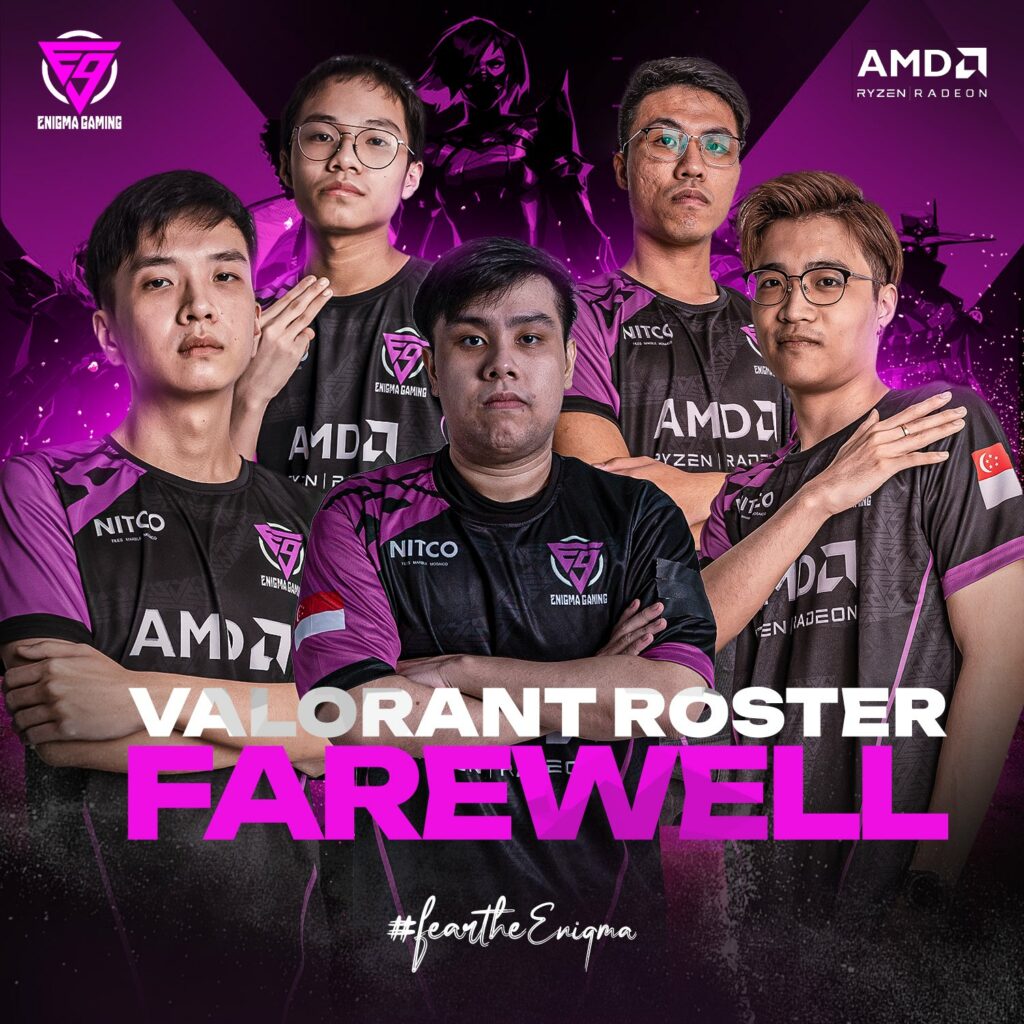 Following a successful run with a top-three South Asian lineup throughout 2022, Enigma Gaming ventured across borders for the subsequent season, forming a primarily Singaporean lineup. The roster was spearheaded by the former LaZe (Gaimin Gladiators) trio in Ingram "FREY" Tan, Tidus "STYRON" Goh, and Ayrton "artn" Soh.
Chun Ting "Divine" Yeoh had also shared the same banner with various members of the Enigma Gaming roster at different periods, during his stints with Team SMG, LaZe, and Huat Zai. The team was completed by the Malaysian pair, Xan "xan" Ng and Mathanraj "theDoctorr" Munisparan, with the latter departing shortly after his recall to coach Orangutan.
The MY/SG team of Enigma Gaming found considerable success, making it to the main Challengers League MY/SG circuit and securing third and fourth place in VCL MY/SG Split 1 and 2, respectively.  In addition, all four Singaporean members of Enigma Gaming clinched gold in the VALORANT competition at the 32nd Southeast Asian Games. 
Nevertheless, Enigma Gaming's focus appears to be diverting towards Counter-Strike now, leaving fans speculating about the organization's future plans. The Mumbai-based organization hasn't given a clear indication as to when it intends to return to VALORANT.
With the dissolution of Enigma Gaming, the players have chosen to explore individual paths. Currently, only STYRON and xan have declared their intention to seek new representation and return to the VCT circuit as soon as possible.
Enigma Gaming's roster had the following players and coach:
🇸🇬 Chun Ting "Divine" Yeoh
🇸🇬 Tidus "STYRON" Goh
🇸🇬 Ingram "FREY" Tan
🇸🇬 Ayrton "artn" Soh
🇲🇾 Xan "xan" Ng
🇮🇳 Nikhil "Sieh" Bhansali (Coach)
---
For more insights on the Asian VALORANT scene and upcoming content like this, be sure to like and follow VALO2ASIA on Facebook, Twitter & Instagram.
---
Cover photo courtesy of VALORANT Esports MYSG