Eight teams will vie for two spots in the VCT APAC Challengers Playoffs this March.
The teams for VALORANT Conquerors Championship 2022 has been determined after the conclusion of the Wildcard Qualifier, with Global Esports possibly joining Velocity Gaming in the same group should NODWIN Gaming confirms the group. VCC 2022 is slated to take place from February 18-27, with the winner earning the US$15,000 first-place prize and tickets to VCT APAC Challengers Playoffs alongside the runner-up. 
ALSO READ: VCT Stage 1 Challengers shows the competitive side of the Philippines
The groups were initially determined ahead of the Wildcard Qualifier grand final matchup between Global Esports and God Particles. However, neither team performed to the best of their abilities in a seeding match for the playoffs, resulting in a re-seeding of the groupings. The second map, for example, saw both teams run unusual agent compositions to avoid the group of death, thus potentially compromising esports' competitive integrity.
"These teams have been warned and further actions will be taken in due course." the statement reads. In addition to issuing a statement, the organizer has decided to randomly seed the groups "to maintain the competitive integrity of VCC".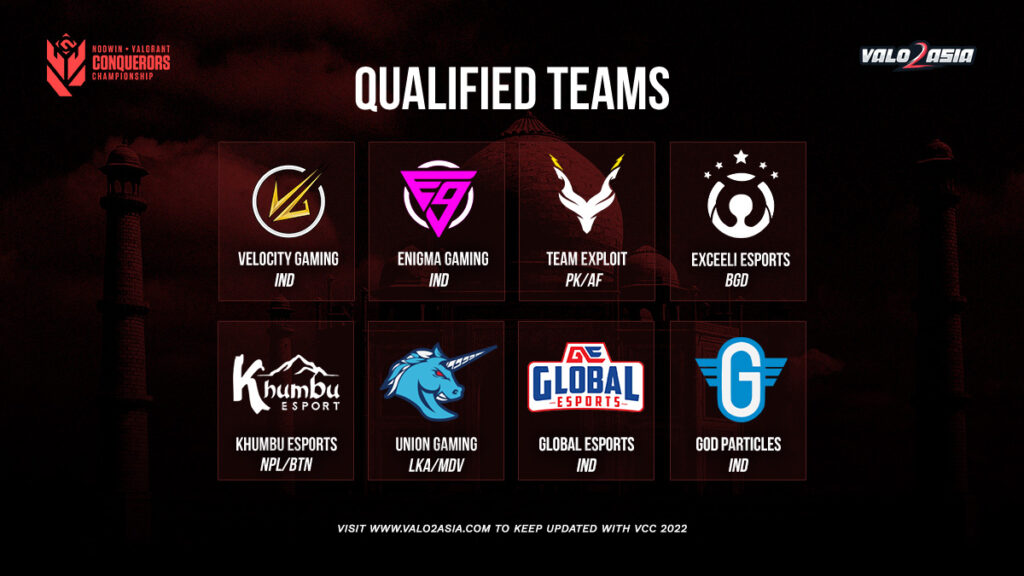 Kicking off on Friday, the eight competing sides from seven qualifiers have been split into two GSL groups, which will run from February 18-20. The top two teams from each group will earn spots in the best-of-three double-elimination playoffs, taking place on February 25-27. The winner will take the lion's share of a US$30,000 prize pool. 
NODWIN Gaming has yet to confirm the groups for VCC 2022, which will be updated as soon as they are confirmed.
VALORANT Conquerors Championship 2021 champions Global Esports have been placed in Group B alongside Velocity Gaming – two teams who have not faced each other since November last year. All eyes will be on the possibility of a clash between the two highest-ranked sides in attendance.
Meanwhile, Enigma Gaming have been slotted with local rivals God Particles as well as Team Exploit and Khumbu Esports.
Below you can find the groups in full for VCC 2022, still unconfirmed by NODWIN Gaming as the organizer:
| | |
| --- | --- |
| Group A | Group B |
| 🇮🇳 Enigma Gaming | 🇧🇩 Exceeli Esports |
| 🇳🇵 Khumbu Esports | 🇮🇳 Velocity Gaming |
| 🇮🇳 God Particles | 🇮🇳 Global Esports |
| 🇵🇰 Team Exploit | 🇱🇰 Union Gaming |
The unconfirmed schedule for the event has also been unveiled. You can find the full group stage schedule below:
February 18
16:30 – Exceeli Esports vs. Velocity Gaming (Group B opening match)
19:00 – Global Esports vs. Union Gaming (Group B opening match)
21:30 – God Particles vs. Team Exploit (Group A opening match)
24:00 – Enigma Gaming vs. Khumbu Esports (Group A opening match)
February 19
16:30 – Group A winners' match
19:00 – Group B winners' match
21:30 – Group A elimination match
February 20
16:30 – Group B elimination match
19:00 – Group A decider match
21:30 – Group B decider match
---
For more insights on the Asian VALORANT scene and upcoming content like this, be sure to like and follow VALO2ASIA on Facebook, Twitter & Instagram.
---