VCL MY/SG Split 2 has progressed to the knockout stage, featuring six teams that have advanced from the regular season and secured their spots in the double-elimination playoff bracket.
MALAYSIA/SINGAPORE – VCL MY/SG Split 2 now moves into the playoff phase following the completion of the group stage, where six teams remain in contention for the championship title, a prize of MYR40,000 (~US$9,015), and the opportunity to represent the region in the Pacific Ascension tournament.
The tournament will now observe a two-week hiatus as Singapore and Malaysia will be focused on the 32nd Southeast Asian Games this week. The playoffs are set to commence on May 24.
ALSO READ: VCL Philippines Split 2 Finals to be held on LAN at CONQuest Festival 2023
All eyes will be on the defending champions, Bleed Esports, who secured their playoff berth as the first team with an impeccable record of 7-0 during the regular season without dropping a single map. The second seed goes to Enigma Gaming, led by Chun Ting "Divine" Yeoh, who suffered their only defeat in the final week of the regular season against Bleed Esports.
In the opening round of the playoffs, Bleed Esports will face off against fourth-place sides X10 Esports in a highly anticipated rematch of the Split 1 grand final. In the previous Split, Bleed Esports emerged victorious with a decisive 3-0 victory. However, their regular season encounter was closely contested, with two maps resulting in a narrow 13-11 scoreline in favor of Bleed Esports.
On the other side of the bracket, Enigma Gaming will go head-to-head against Kizuna Esports, the third-place finishers. Their previous encounter in the regular season saw Enigma Gaming emerge victorious in a three-map series that was largely one-sided on each map.
Bikini Bottom Pratahouse and Teo Teo Teo (previously Hey! Yakiniku) will be awaiting their opponents in the lower-bracket quarter-finals. A loss in the first series would result in elimination for both teams. They finished the regular season with records of 2-5.
Meanwhile, two bottom-placed teams Todak and Louvre have been eliminated from the tournament. Todak finished with a 2-5 record but had a worse round differential compared to Bikini Bottom Pratahouse and Teo Teo Teo, while Louvre finished at the bottom of the standings without securing a single series win, managing only one map victory against Teo Teo Teo.
The winner of VCL MY/SG Split 2 will secure a highly coveted spot in the Pacific Ascension tournament, a LAN event scheduled for June, offering a two-year promotion into the exclusive VCT Pacific League for the upcoming season.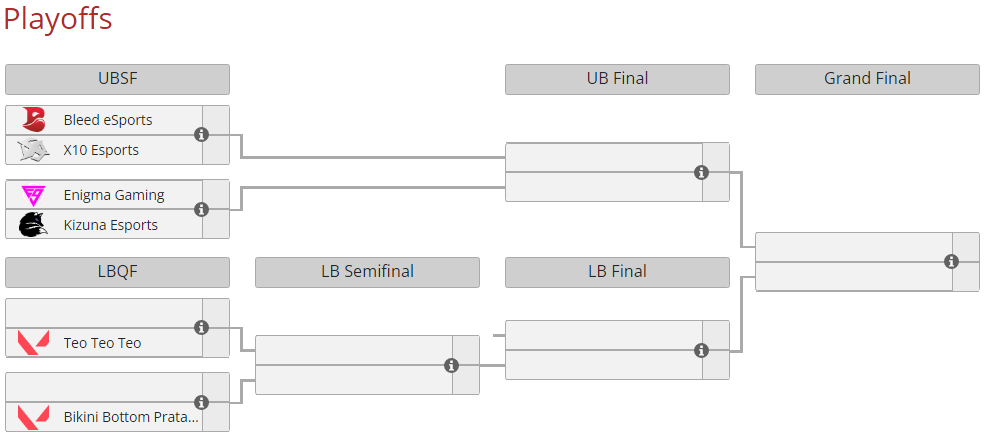 The complete playoff schedule can be found below:
Wednesday, May 24
6:30 PM – Bleed Esports vs. X10 Esports
9 PM* – Enigma Gaming vs. Kizuna Esports
Thursday, May 25
6:30 PM – Teo Teo Teo vs. TBD
9 PM* – Bikini Bottom Pratahouse vs. TBD
Friday, May 26
6:30 PM – Upper Final
9 PM* – Lower Round 2
Saturday, June 3
Sunday, June 4
(* = to be confirmed)
---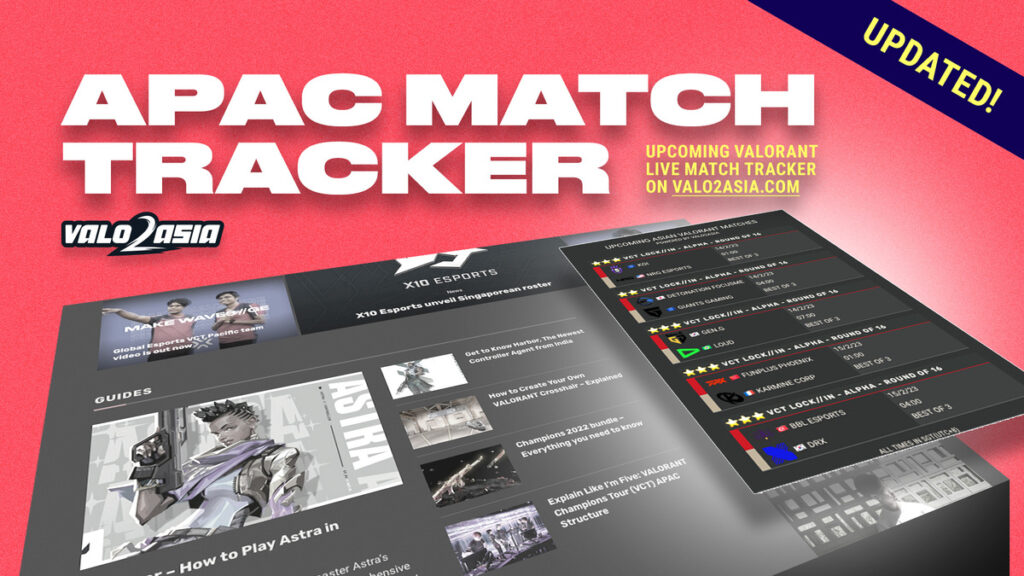 Get ready for non-stop action with VALO2ASIA.com! We bring you the pulse of APAC's most electrifying matches with our real-time match ticker, updated daily to keep you in the loop on all the latest. Our star rating system rates the importance of each match based on factors such as the teams' lineups, tournament rounds, and prestige.
From VCL MY/SG Split 2 to other major tournaments, we've got you covered with the most comprehensive coverage in the region with accurate schedules in Singaporean Time (UTC+8). Explore VALO2ASIA's match ticker now on the right side of our website!
---
For more insights on the Asian VALORANT scene and upcoming content like this, be sure to like and follow VALO2ASIA on Facebook, Twitter & Instagram.
---
Cover photo courtesy of VALORANT Esports Malaysia/Singapore