The team list for VCL MY/SG Split 2 is complete after the conclusion of the Promotion/Relegation Stage. 
MALAYSIA/SINGAPORE – The VCL MY/SG Split 2 team list has been finalized with the conclusion of the Promotion/Relegation Stage. Bikini Bottom Pratahouse and Kizuna Esports secured the last two spots in the tournament, completing the roster of eight teams that will be competing for the MYR40,000 (~US$8,936) first-place prize and a coveted spot in the upcoming VCT Pacific Ascension League.
The tournament will take place from March 29 to June 4, featuring six invited sides from the previous Split and the two aforementioned qualified teams. Bleed Esports, the winners of VCL MY/SG Split 1, are once again one of the favorites to go deep into the Split 2 bracket. 
ALSO READ: São Paulo to host the 2023 VCT Game Changers Championship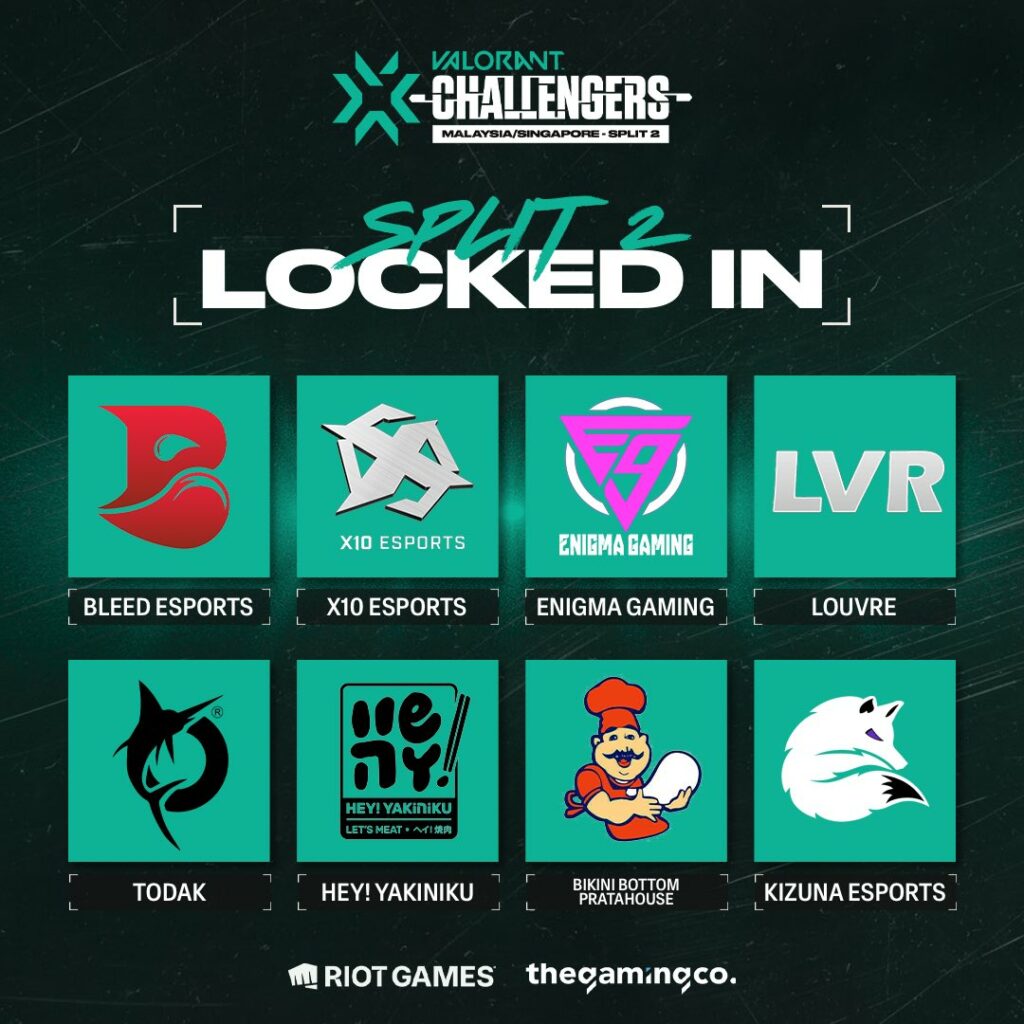 X10 Esports, Enigma Gaming, Louvre, Hey! Yakiniku, and Todak all also earned direct qualification to the main event of Split 2 by finishing in the top six spots in the previous Split, leaving only two berths that were up for grabs.
Joining the six invited teams via the Promotion/Relegation stage are Kizuna Esports and Bikini Bottom Pratahouse. Kizuna Esports return after being relegated following a seventh-place finish in the previous split, while Bikini Bottom Pratahouse are headlined by former Bleed Esports player Xavier "LEXY" Lee and former Kizuna Esports duo Gordon "DxN" Lek and Song Lin "Shun" Han.
Both teams beat Team Path and The Mongs en route to qualification. This means that Team Path are the only team that failed to qualify from Split 1, while Todak are now the only Malaysian team with a chance to secure the Ascension slot.
The tournament will begin with a best-of-three, single-round-robin group stage, in which all teams will face each other once to determine the top six teams that advance to the playoffs. The Regular Season matchups will be revealed in the coming days, closer to the start of the tournament. The top four sides will start their campaign from the upper bracket semi-finals, while the fifth and sixth teams must start from the lower bracket quarter-finals.
The tournament champions will secure entry into the VCT Pacific Ascension league, which will take place following the conclusion of Split 2 in all sub-regional APAC leagues. A two-year promotion in the VALORANT Champions Tour circuit's premier league, the VCT Pacific league, will be at stake.
Below you can find the complete team list for VCL MY/SG Split 2:
| | |
| --- | --- |
| 🇸🇬 Bleed Esports | 🇸🇬 Enigma Gaming |
| 🇸🇬 X10 Esports | 🇲🇾 Todak |
| 🇸🇬 Hey! Yakiniku | 🇸🇬 Louvre |
| 🇸🇬 Kizuna Esports | 🇸🇬 Bikini Bottom Pratahouse |
---
For more insights on the Asian VALORANT scene and upcoming content like this, be sure to like and follow VALO2ASIA on Facebook, Twitter & Instagram.
---
Cover photo courtesy of VALORANT Esports