VCL Oceania Split 1 kicks off today with eight teams in attendance fighting for a share of the AU$50,000 prize pot from January 21 to March 12.
OCEANIA – VALORANT Challengers League (VCL) Oceania Split 1 kicks off with eight qualified sides competing through six weeks of action from January 21 through March 12. The teams will play in a best-of-three series, where each side will play against all others once to determine the top six teams moving forward to the playoffs.
Topping the regular season may place teams in an advantageous playoff, which will have a double-elimination, best-of-three format. A total of AU$50,000 (~US$34,802) will be on offer in the competition, with the winning side earning AU$14,000, while the runners-up will claim AU$10,000.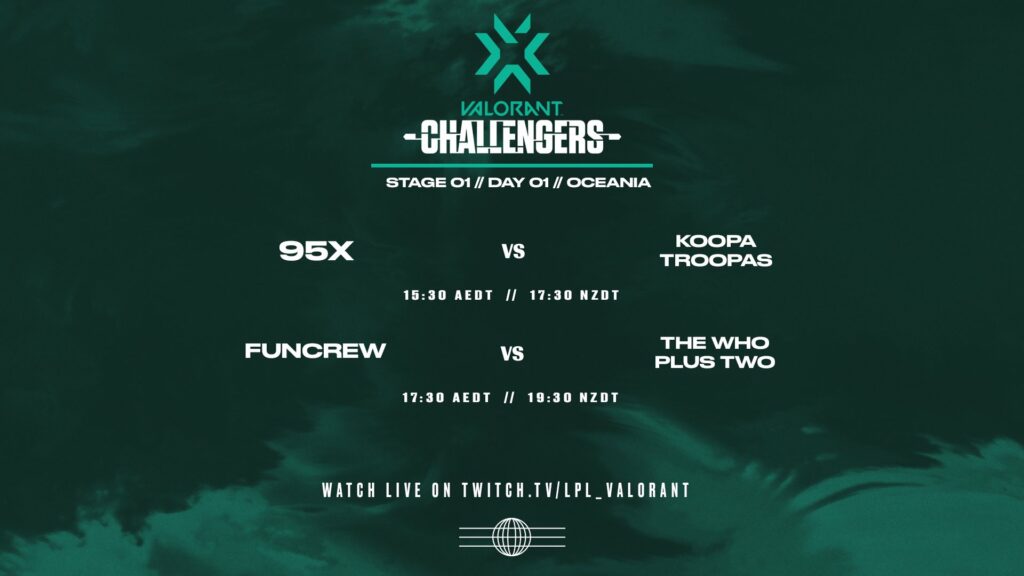 The team list for VCL Oceania Split 1 is as follows:
| | |
| --- | --- |
| BOBO | Honey Badgers |
| Built for Greatness | MAMMOTH Esports |
| The Who Plus Two | Funcrew |
| Koopa Troopas | 95X Esports |
The recently-signed roster of 95X Esports (previously Bonkers) and BOBO were some of the teams to secure their spots and are highly favored to finish high in the standings, having recently won DreamHack Showdown VALORANT Oceania and REFLEX Challenge OCE, respectively, in preparation for VCL. Honey Badgers, Funcrew, MAMMOTH Esports Club, The Who?, and Koopa Troopas are the other names who will be taking part in the regular season in an attempt to break into the Pacific Ascension League.
The clash between 95X Esports and Koopa Troopas will open the action on Saturday, followed closely by Funcrew taking on The Who. It will run every weekend including Fridays with two matches per day. 
VALO2ASIA.com offers a real-time match ticker, updated daily across all major matches to watch, including those from VCL Oceania Split 1. We categorize the match from one to five stars according to both teams' lineups, tournament rounds, and the tournament's prestige. You can always join the euphoria and watch your favorite team play by clicking on the match, and you will be directed to the live stream of the match. Just remember that we use Singaporean Time (UTC+8) for all of the schedules. Check it out right now on the right side of our website!
The event will be broadcast on the official LetsPlayLive Twitch channel and will be covered by familiar faces from the Oceanic VALORANT scene. The broadcast team that will take you through the live action is as follows:
🇦🇺 Mitchell "Conky" Concanen
🇦🇺 Dion "Komodo" Pirotta
🇦🇺 Mitchell "pilski" Pilipowski
🇦🇺 Geordie "Mac" McAleer
🇦🇺 Jake "Kitfox" Punton
🇦🇺 Anthony "TwoTapTony" McMullen
The AU$50,000 prize pool for the tournament will be split in the following way:
| | |
| --- | --- |
| Place | Prize |
| 1st | AU$14,000 |
| 2nd | AU$10,000 |
| 3rd | AU$7,000 |
| 4th | AU$5,000 |
| 5-6th | AU$4,000 |
| 7th | AU$3,000 |
| 8th | AU$3,000 |
---
For more insights on the Asian VALORANT scene and upcoming content like this, be sure to like and follow VALO2ASIA on Facebook, Twitter & Instagram.
---
Cover photo courtesy of LPL