With the last circuit of the VALORANT Champions tour approaching, VALO2ASIA has prepared a complete overview of the format, broadcast, schedule, and more for the two-month-long regional Challengers event, which kicks off on July 2.
Riot Games Southeast Asia will kick off VCT Stage 3 Challengers SEA – Open Qualifiers this July, seeding a total of 16 teams across Thailand (3 seeds), Indonesia (3 seeds), the Philippines (3 seeds), Singapore and Malaysia (2 seeds), Hong Kong and Taiwan (2 seeds), as well as Vietnam (3 seeds).
Competition in the VCT open qualifiers is going to occur over three weeks for the Southeast Asia stage, starting on July 2 and ending on August 9. A two-day break will occur before the SEA Challengers Finals takes place. Below is Riot Games' detailed explanation on the schedule and the qualification: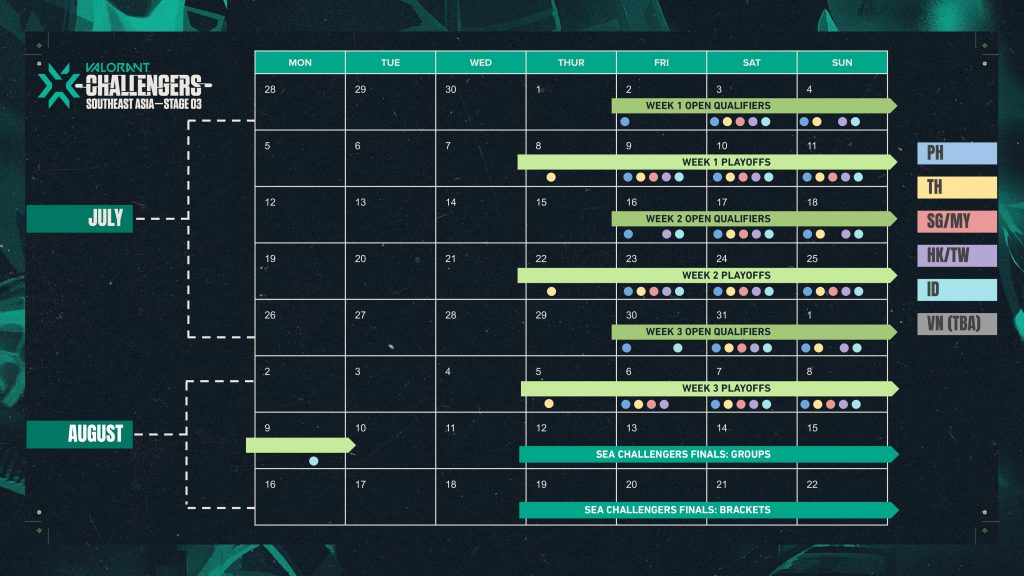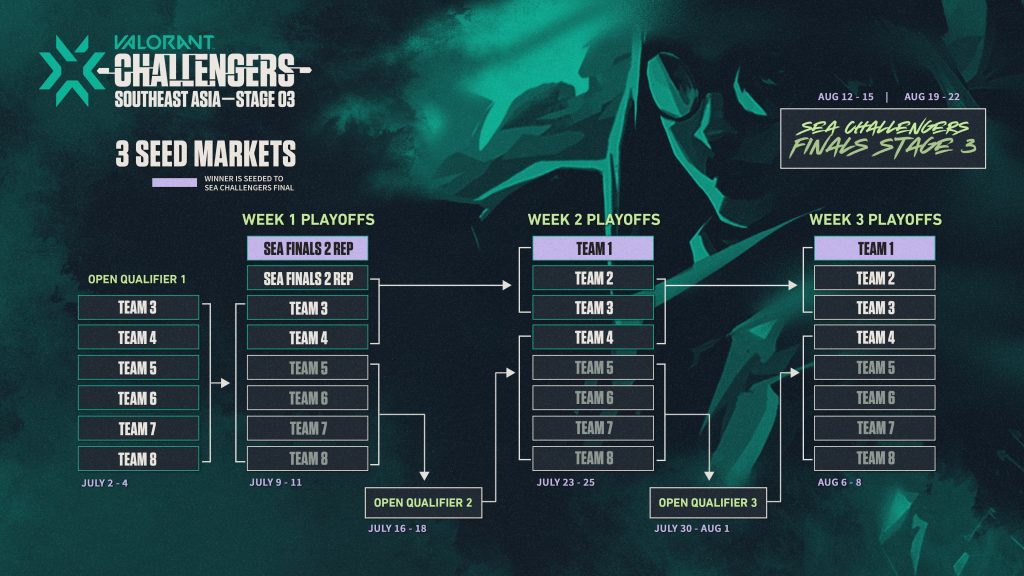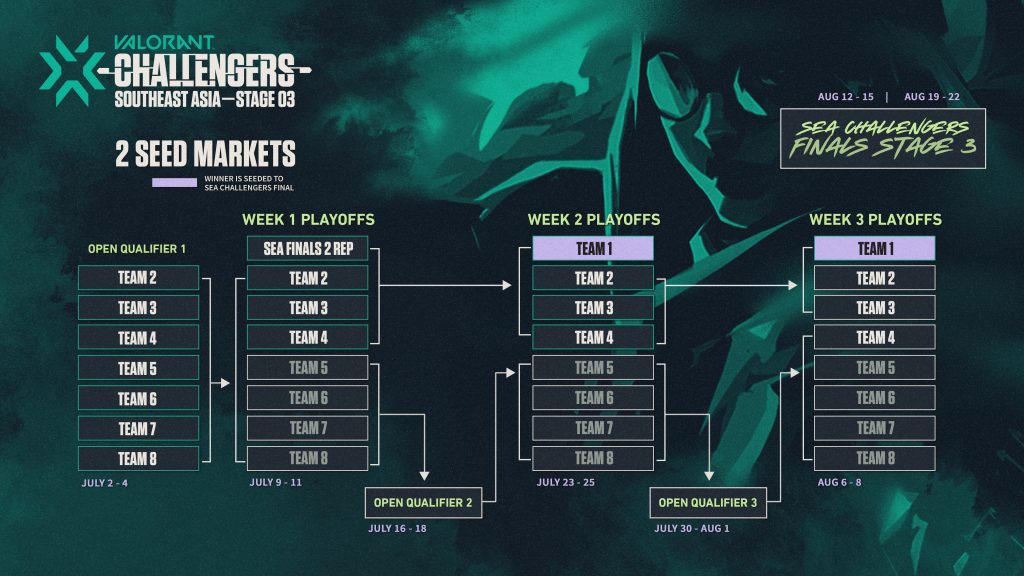 How do the VCT Stage 3 – Challengers SEA Finals Work?
Stage 3 Challengers Finals will be extended to a two-week event with more team participation and activity. Three teams each from Indonesia, Thailand, the Philippines, and Vietnam will compete in the Playoffs, while Singapore, Malaysia, Hong Kong, and Taiwan will have two teams. The first week has a group stage with four groups of four teams, while the second week features an eight-team double-elimination playoff.
Week 1's format is a single round-robin with a best of 2 (BO2) matches, for which group points are awarded based on match results. Tiebreakers are first decided according to the head-to-head map score, followed by the head-to-head round score, then finally, the overall round score. The final tiebreaker will be played on a single map, after which the bracket is drawn following the fourth day of groups.
The two teams that emerge victorious at the VCT Challengers Stage 3 SEA Finals will go on to represent SEA at the VCT Stage 3 Masters – Berlin and will get to compete alongside the best VALORANT teams from North America, EMEA, Brazil, LATAM, Japan, and Korea.
About VCT Stage 3 Masters – Berlin
Masters Berlin will kick off on September 9th, bringing together 16 teams from across the world to fight for points that will contribute towards qualifying at VALORANT Champions, the final event of the 2021 VCT. The competition will come to a close on September 19th, with a final scheduled. The competition will take place at Verti Music Hall – host of the 2019 League of Legends World Championship Group Stage.
How to Participate in VCT Stage 3 Challengers SEA
Depending on your region, you may refer to the following webpage's for registration information:
Broadcast
Twitch will remain a broadcast partner for the VCT Challengers Stage 3 competition. Schedules are available on the local partner sites of Riot Games, featuring broadcasts in the following languages :
---
For more insights on the Asian VALORANT scene and upcoming content like this, be sure to subscribe to our newsletter. Don't forget to follow VALO2ASIA on Facebook, Twitter & Instagram.
Cover photo courtesy of Colin Young-Wolff/Riot Games
---