Bren Esports conquered their demons and emerged victorious in the VALO2ASIA Launch Invitational 2021 after a 2-1 victory over BOOM Esports. The squad from the Philippines walk home with the $2000 first-place prize.
The VALO2ASIA Launch Invitational 2021 was held in celebrating the launch of VALO2ASIA.com. Four of Southeast Asia's top teams were invited: Bren Esports, BOOM Esports, Full Sense, and Paper Rex. The teams battled it out in a best-of-three (BO3) single-elimination bracket with US$3,000 on the line.
In the first semi-final, Paper Rex was thrown out of the competition after being smashed by Indonesian team BOOM Esports. The clash was undoubtedly the most anticipated by the Indonesian community, with Saibani "fl1pzjder" Rahmat and Dong "meow" Ji's debut in BOOM adding previously unseen brains and braun. The match-up was also a reunion of sorts, with Jason "f0rsakeN" Susanto and Aaron "mindfreak" Leonhart going against their old CS:GO teammates in BOOM. BOOM convincingly took the first map, and while Paper Rex made it a hard fight on Icebox, they ultimately lost the series 2-0 to BOOM (Bind 13-1, Icebox 13-10).
Bren Esports and Full Sense was another anticipated match-up, with both teams having no previous encounters. New faces across both sides added to the uncertainty of the matchup. In comparison to VCT Stage 2, Full Sense switched Theethawat "Zelyn" Taechavitidkhul with their substitute Nattawat "SuperBusS" Yoosawat, and former Lucid Dream player Sattawut "Leaf" Reathong joined as a coach. While Bren showed up with their latest addition, Riley "witz" Go.
Bren pulled out a convincing win on Haven, a map that ranked second in both teams' most played maps, trampling the Thai side thanks to Kevin "dispenser" Te's high-caliber performance on the map. Bind, a Bren Esports' map pick, proved to be a child's playground for Full Sense, with the Thai team closing the game in just half an hour, 13-3. The third map was more competitive, but with Jessie "JessieVash" Cucyo leading the charge with his brilliant Sova plays, Bren was able to edge out the Thai squad and move up to the finals (Haven 13-5, Bind 3-13, Ascent 13-10).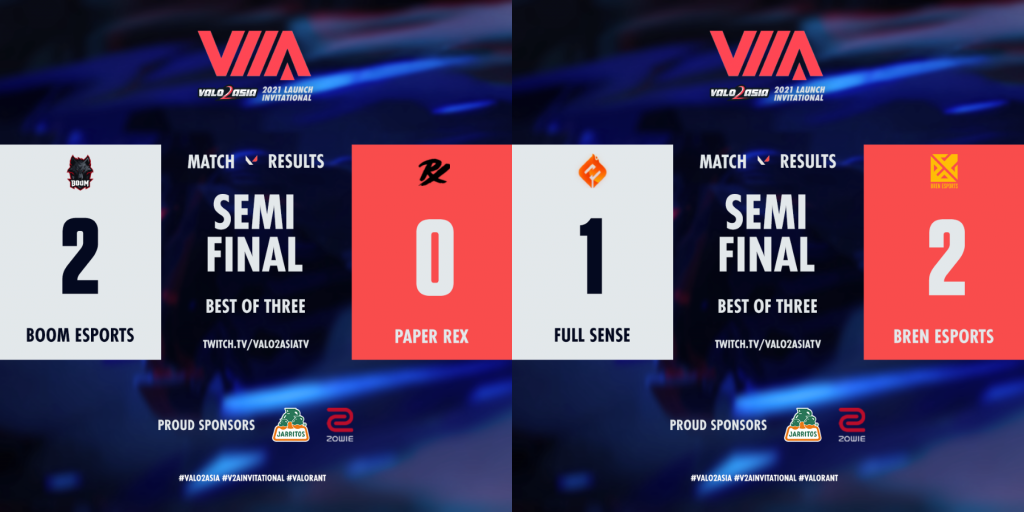 MVPs of the VALO2ASIA Launch Invitational 2021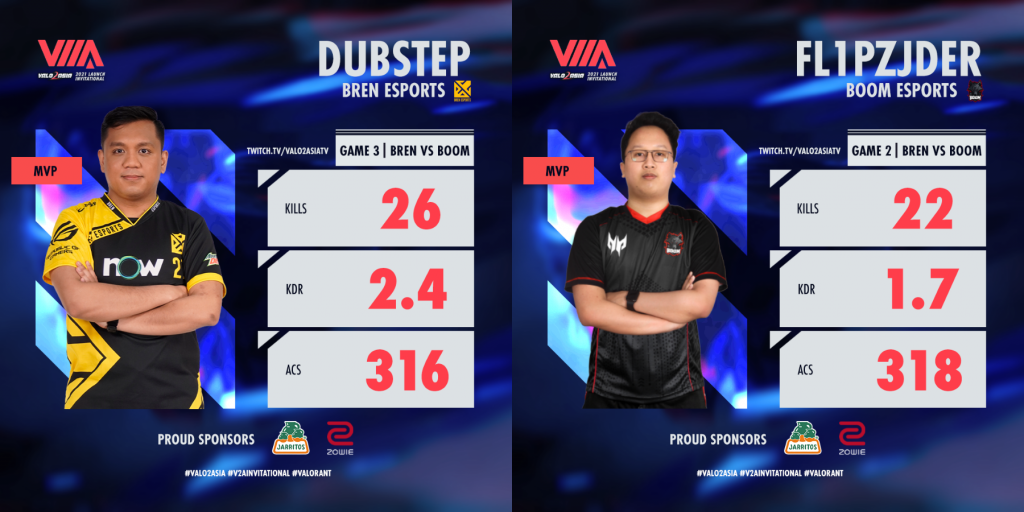 Jayvee "DubsteP" Paguirigan came out as the MVP for the finals, rocking a solid 264 Average Combat Score (ACS) across three maps played, the highest in the server.
Saibani "fl1pzjder" Rahmat of BOOM is worthy of a mention too, with him only joining the team less than a week ago, he solidified himself as a solid pick-up for the Indonesian side, rocking a 253 Average Combat Score (ACS) in the grand final series, right behind DubsteP.
The Grand Final – BOOM Esports vs Bren Esports
The grand final was almost a repeat of the VCT 2021 Stage 2 – SEA Challengers Finals, where Bren overcame BOOM 2-0. On the offensive side, the Filipinos came out the first half with a 9-3 advantage, giving BOOM Esports very little breathing space. Despite losing the second-half pistol round, Bren's determination did not waver, as they ultimately won the opening map (Icebox) 13-6. Witz led the entire server with 23 eliminations while Gary "blaZek1ng" Dastin led BOOM with 16 kills.
BOOM was adamant about tying up loose ends on their map choice of Bind. Throughout the first half, both teams traded rounds. Given how the first half played, many expected it to be another lengthy game, with BOOM Esports securing a 7-5 halftime lead. However, after the Indonesian side switched sides, it was a Cinderella scenario for BOOM, who dominated the defensive side and closed off the map 13-6. Saibani "fl1pzjder" Rahmat, the squad's newest addition, came out on top with an impressive 318 Average Combat Score.
ALSO READ: Zeal Esports upset Paper Rex to seal the win at KJC Esports Tournament One
Map three was Ascent. Bren struggled to make an impact in the early rounds until DubsteP got an Odin on his hands to get Bren's engine to start. From there, things only got worse for BOOM, as the Filipino side put up a solid defense to win four consecutive rounds and tie the first half at 6-6. While the momentum was with Bren, BOOM had a better start on the second pistol round thanks to a quick wipeout. After receiving a full purchase, Bren Esports did not relinquish their momentum and caused difficulties for the defending side, pushing them to win six rounds in a row and ultimately winning the VALO2ASIA Launch Invitational 2021.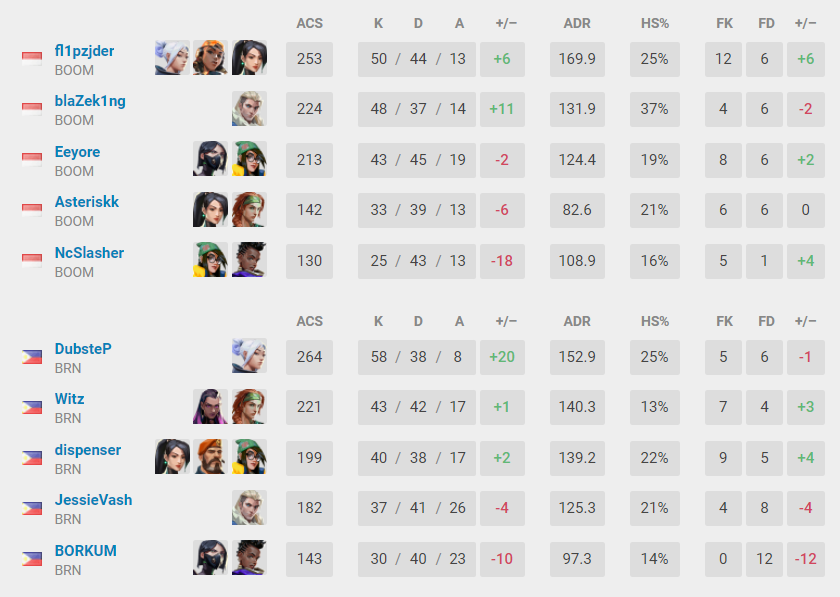 VALO2ASIA Launch Invitational 2021 final standings:
| | | |
| --- | --- | --- |
| Place | Team | Prize |
| 🥇 1st | 🇵🇭 Bren Esports | US$2,000 |
| 🥈 2nd | 🇮🇩 BOOM Esports | US$1,000 |
| 🥉 3rd-4th | 🇸🇬 Paper Rex | – |
| 🥉 3rd-4th | 🇹🇭 FULL SENSE | – |
---
For more insights on the Asian VALORANT scene and upcoming content like this, be sure to subscribe to our newsletter. Don't forget to follow VALO2ASIA on Facebook, Twitter & Instagram.
---