Riot Games and Singapore-based FSL have once again collaborated to bring forth the VCT Game Changers APAC circuit for the year 2023
SINGAPORE – FSL has revealed the dates and prize pools for the 2023 VCT Game Changers APAC circuit, which is set to begin in March. Over the course of spring, summer, and autumn, there will be five tournaments awarding a total of US$75,000 in prize pool, with the Stage 3 Elite's US$35,000 in October acting as the crown jewel. 
The upcoming VCT Game Changers in 2023 will be structured into three stages: Open, Last-Chance Qualifier, and Elite. The Open Stage features three stops that will take place between March and July. With each tournament sporting a prize pool of US$10,000, the Open stage will have a group stage and an eight-team double-elimination playoff. By competing in the Open competitions, teams will win points towards a circuit ranking, with the six best sides earning spots in the Elite stages. 
ALSO READ: ZETA DIVISION GC acquire KOHAL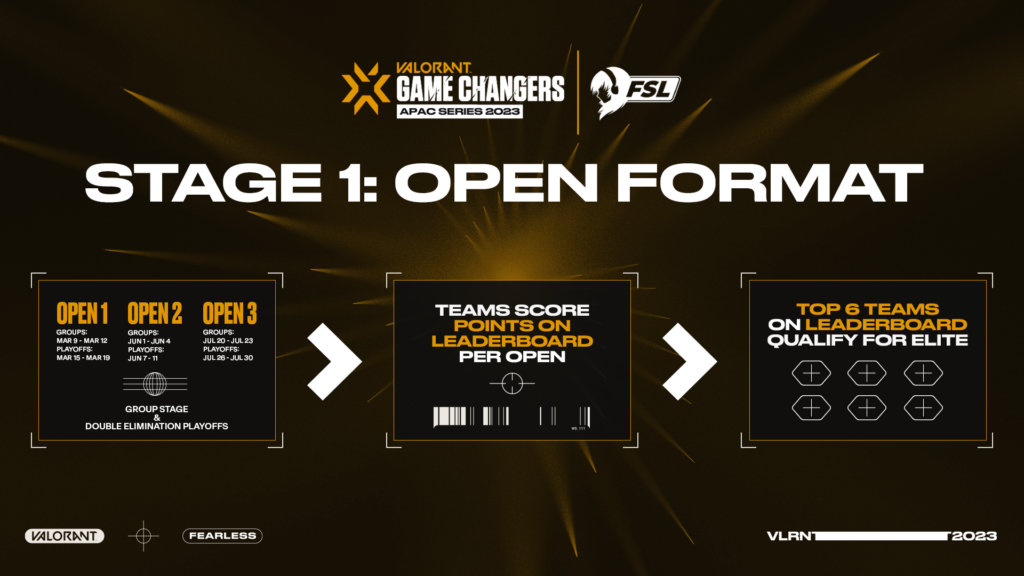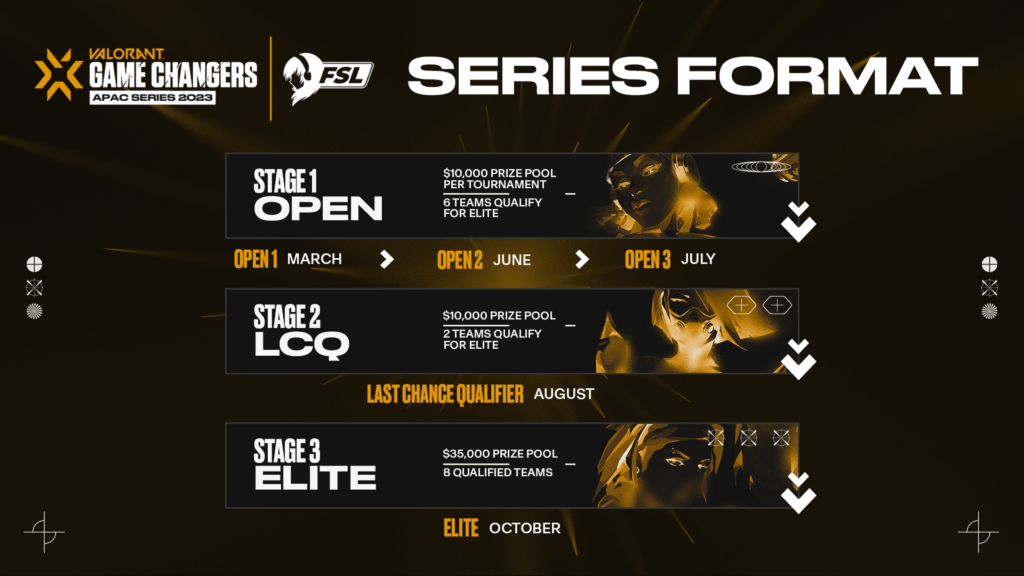 A last-chance qualifier will follow after Stage 2, which provides a final opportunity for teams to battle it out for the last two remaining spots in the Elite stage. It will follow a similar format with a group stage and an eight-team double-elimination playoff, with a prize pool of US$10,000 up for grabs. The Overtime stage, a closed tournament held in the previous two seasons to give the 16 teams on the leaderboard another chance to qualify for the Elite stage, will no longer be part of the circuit.
The Elite stage is the final and most anticipated stage, where the six best teams from the Open leaderboard, along with the two teams from the Last Chance Qualifier, will compete for the grand prize of US$35,000 and a chance to participate in the Global Championship event. More information can also be found on the website of the circuit.
The now-defunct Alter Ego Celeste dominated the first two years of the VCT Game Changers competition in Asia, taking almost all titles on offer before falling short at the end of the last season to their constant nemesis, X10 Sapphire, in the 2022 VCT Game Changers APAC Elite. 
---
For more insights on the Asian VALORANT scene and upcoming content like this, be sure to like and follow VALO2ASIA on Facebook, Twitter & Instagram.
---
Cover photo courtesy of Wojciech Wandzel/Riot Games