The team list for the VCT Game Changers APAC Open 1 is complete after the conclusion of the swiss stage.
SINGAPORE – The VCT Game Changers APAC Open 1 Playoffs have now been set after the conclusion of the Swiss stage, which has narrowed the initial pool of 70 teams to just eight. The inaugural Open stage of VCT Game Changers will take place from Wednesday, March 15, to Sunday, March 19, and will showcase some of the most promising and exciting names in Asia's Game Changers ecosystem. 
The playoff bracket features eight qualified sides fighting in a double-elimination bracket. The list of participants includes last year's VCT Game Changers APAC Elite champions Sapphire (previously X10 Sapphire), the core of former AE Celeste in RRQ Kaguya, as well as Orangutan Female and Team SMG, who now both boast a Filipino-majority roster. 
ALSO READ: VCT Pacific full schedule released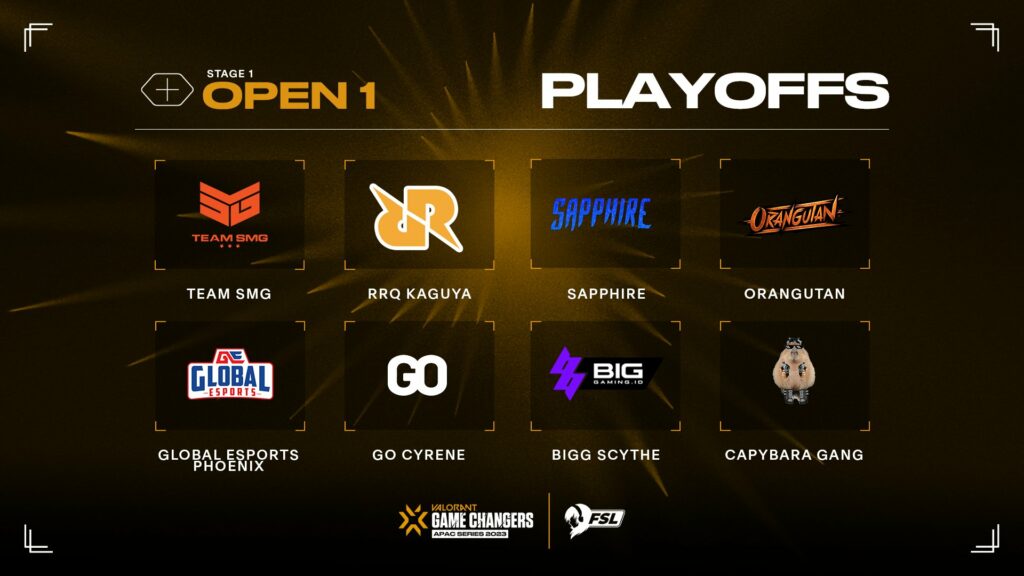 🇵🇭 Team SMG (Kohaibi, Tarathiel, shirazi, Alexy, Kamiyu)
🇹🇭 Sapphire (Muffyn, poly, margeaux, babytz, JinNy, Celine)
🇮🇩 BIGG SCYTHE (gWenn, oreopheliaa, erumaa, marche, yaamoriY, sereine)
🇵🇭 Orangutan Female (CaspeR, Japips, capriciouS, zini, Chloettw)
🇮🇩 Rex Regum Qeon Kaguya (nabbsky, Eisberg, Ayumii, alluka, bes)
🇮🇳 Global Esports Phoenix (Meow16k, muffinloop, Hyphae4K, Rose, BA1LA, KiRi)
🇵🇭 GO Cyrene (DelBisky, Jaile, KDG, mija, Twirly)
🇹🇭 Capybara GanG (Pichy, mycrephy, izze, Newky, yyamroll, wisely)
It is also worth noting that Sapphire have brought an interesting change to this season by replacing Annitta "Alyssa" Peerwantanagul with former Alter Ego Celeste player Dhammamitta "margeaux" Marvella and highly likely switching their in-game communication to English.
Team SMG have now transitioned to a majority-Filipino roster, and it seems to have paid off as they finished the Swiss stage at the very top and were the only team that went without losing a single map throughout six series. Former Bren Esports Victress duo Alexy "Alexy" Francisco and Kelly "shirazi" Jaudian, as well as former ZOL Meraki player "Kamiyu" join Abigail "Kohaibi" Kong and Ryona "Tarathiel" Tan under the orange banner.
Same as SMG, the Indonesians of BIGG SCYTHE went 6-0 in the record, beating the likes of Kizuna Tsuki, Capybara GanG, and others on their way to qualification. Rounding out the list are Anrionel "Twirly" Cajanding's GO Cyrene and Capybara GanG. The two teams are the new contenders, hailing from the Philippines and Thailand, respectively.
The Global Esports Phoenix lineup have been in the works since the beginning of the year under the pseudonym 'Grace Esports'. During the OFF//SEASON period, they emerged as champions in the Windows 11 Skyesports Grand Slam, the first all-female LAN tournament ever held in India.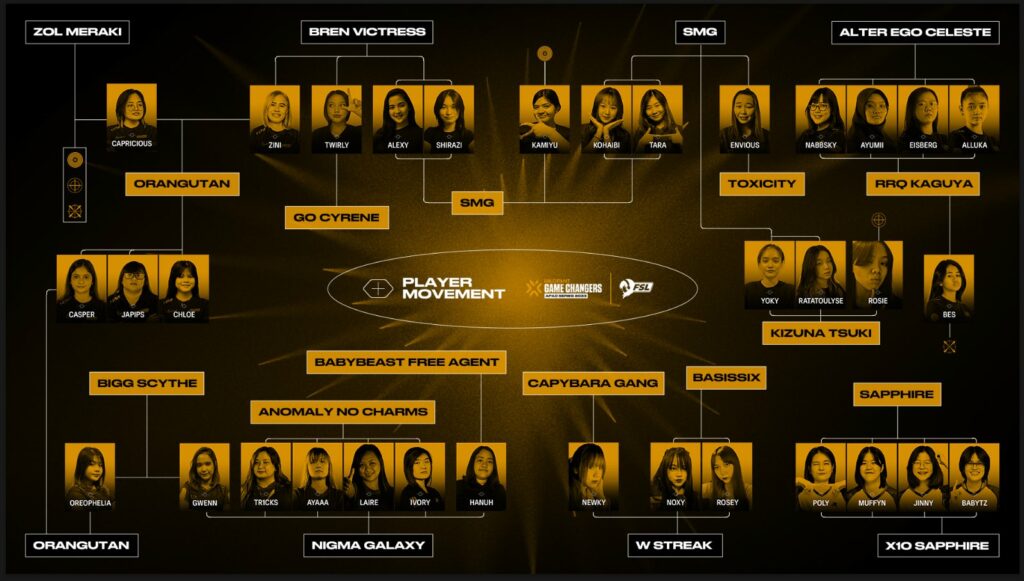 The first two quarter-finals on Wednesday will be streamed simultaneously, featuring Global Esports Phoenix and Team SMG on one side, and GO Cyrene and Sapphire on the other side. It will be followed closely by a match in which Orangutan Female will take on BIGG SCYTHE, while RRQ Kaguya will face Capybara GanG.
Below you can find the complete schedule of the VCT Game Changers APAC Open 1 playoffs bracket (time in SGT/UTC+8):
Wednesday, March 15
6:00 PM – Global Esports Phoenix vs. Team SMG
6:00 PM – GO Cyrene vs. Sapphire
8:30 PM – Orangutan X vs. BIGG SCYTHE
8:30 PM – RRQ Kaguya vs. Capybara GanG
Thursday, March 16
6:00 PM – Lower Round 1
6:00 PM – Lower Round 1
8:30 PM – Upper semi-finals
8:30 PM – Upper semi-finals
Friday, March 17
6:00 PM – Lower Round 2
6:00 PM – Lower Round 2
Saturday, March 18
12:00 PM – Upper Final
2:30 PM – Lower Round 3
5:00 PM – Lower Final
Sunday, March 19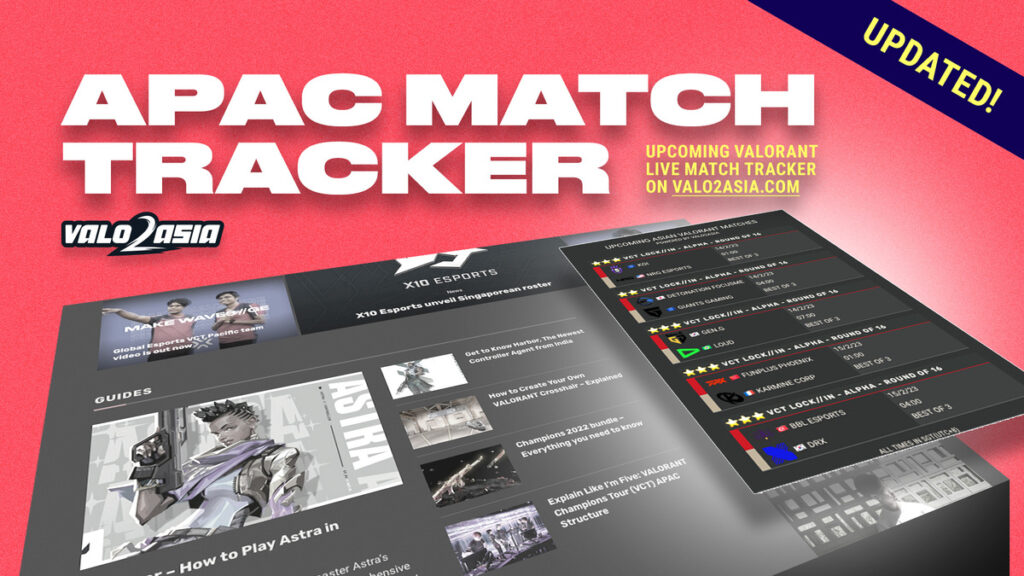 Get ready for non-stop action with VALO2ASIA.com! We bring you the pulse of APAC's most electrifying matches with our real-time match ticker, updated daily to keep you in the loop on all the latest. Our star rating system rates the importance of each match based on factors such as the teams' lineups, tournament rounds, and prestige.
From VCT Game Changers APAC Open 1 to other major tournaments, we've got you covered with the most comprehensive coverage in the region with accurate schedules in Singaporean Time (UTC+8). Explore VALO2ASIA's match ticker now on the right side of our website!
---
For more insights on the Asian VALORANT scene and upcoming content like this, be sure to like and follow VALO2ASIA on Facebook, Twitter & Instagram.
---
Cover photo courtesy of VALORANT Esports