VCT Game Changers APAC Open 3 is set to kick off with five spots in the Elite stage on the line. 
SINGAPORE – VCT Game Changers APAC Open 3 is set to kick off on July 20 with a roster of 56 teams ready to compete. The final Open tournament of the season comes with another US$10,000 prize pool and will determine the next five teams to advance to the Elite stage later this year.
The initial round of this best-of-three, Swiss format tournament has now paired each of the 56 teams with their respective opponents, set to take place on July 8 at 8 PM SGT. By the end of the sixth round, eight teams will have earned their place in the playoffs, which will take place from July 26-30. Ultimately, the remaining teams will contend against each other in a double-elimination best-of-three bracket. This will culminate in a grand final, best-of-five showdown on Sunday, July 30. 
ALSO READ: VCT Ascension Pacific surpass Americas in peak viewership by over 50%; Which team drew in the most audience?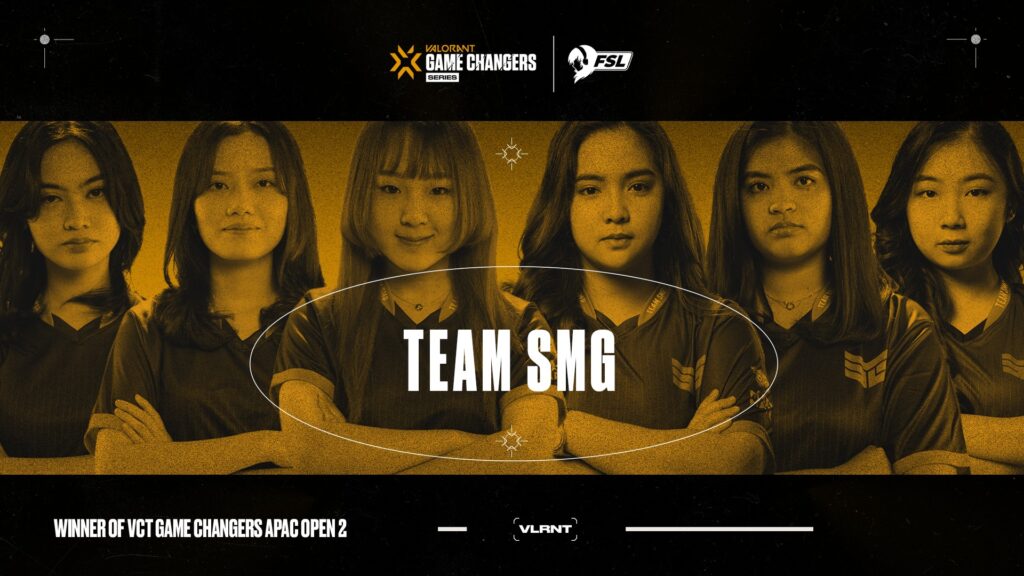 In both of the previous two Open tournaments, the Abigail "Kohaibi" Kong-led Team SMG emerged victorious, maintaining a flawless record for this season with a current standing of 20 wins and no losses. This has already earned them a place in the Elite stage later this year, setting them on the path towards qualifying for the VCT Game Changers Championship in São Paulo, Brazil.
FULL SENSE Sapphire, the runners-up in GC Open 2 and headlined by four former members of X10 Sapphire who represented the region in Berlin last year, will be hoping to disrupt SMG's winning streak this time around. The Thai-Indonesian side previously pushed SMG to the edge of defeat across all five grand final maps but couldn't quite cross the finish line.
All the teams who reached the playoffs in the last Open, except the now-defunct BIGG SCYTHE, are set to return for another shot. BIGG SCYTHE, released by their organization on July 8, will continue to compete together under a new name, SCYTHE NWJ.
After failing to reach the playoffs in the last two Opens, Kizuna Tsuki has made alterations to their team by bringing in Nikaela "zini" Cruz, formerly of Bren Esports Victress and Orangutan X and they will adopt a six-member roster configuration.
Some of the other standout names in the tournament include Global Esports Phoenix, Orangutan X, RRQ Kaguya, THE HERO KDA, TiAMAT, Callais Stella, and DEWA Blisse, among others. 
| | | | |
| --- | --- | --- | --- |
| Ace of Hearts | Crimson Valkyries | Krazy Gurlz | Ravenous E-Sports |
| Ai | Deviant Topaz | LDR Deodorant | RRQ KAGUYA |
| Anomaly No Charms | DEWA BLISSE | Matrix | SAVAGE |
| ARETHA Cosima | DTGirls | Monkey Man | SCYTHE NWJ |
| Astra Millennia | Duelist | Mysterious Vous | Sector Zero Sierra |
| Aurorus White | Ethereals | Nemo Fanclub | SleepyValkyrie |
| Autterx Zera | For The LOLs | Neons | STORM'S END GAMING KYROS |
| BabyBeast Free Agent | FULLSENSE Sapphire | NoTale Basileia | Team SMG |
| be my team | Fyllontal | NOXA Esports – Minerva | Team Victoria |
| Black Flag Feurig | GameBucks Aeon | NYX Kyosei | THE HERO KDA |
| BLEND ESPORTS AQUA | Global Esports Phoenix | OKAMI | TheGirls INID |
| Callais Stella | Halo Freyja | Orangutan X | TiAMAT |
| CIINX | Insurgo Charlie | Point of Authority Blossom | TOXICITY |
| Crimson Eclipse | Kizuna Tsuki | Purr-ple | vervain |
---
For more insights on the Asian VALORANT scene and upcoming content like this, be sure to like and follow VALO2ASIA on Facebook, Twitter & Instagram.
---
Cover photo courtesy of VALORANT Esports