With VALORANT Champions LA around the corner, the time has come to find out the final Pacific representatives that will join Paper Rex, DRX, and T1. 
SOUTH KOREA – The 2023 VCT Pacific Last Chance Qualifier is set to begin on Tuesday (July 18), standing as the last window of opportunity for the remaining seven VCT Pacific teams to carve out a spot for themselves at VALORANT Champions Los Angeles later this August.
The seven teams left in the fray have been positioned in brackets according to their eight-week Regular Season performance. The teams that ended 9th and 10th in the Regular Season, Talon Esports and DetonatioN FocusMe, are slated to compete in the opening round, which follows a single-elimination format. A single defeat at this stage could mean the end of their tournament run and their 2023 season.
ALSO READ: VCT Game Changers APAC Open 3 set to start with 56 teams
The teams that were placed 6th to 8th in the Regular Season, Gen.G, Rex Regum Qeon, and Global Esports, gain a slight edge by directly entering the quarter-finals, which, however, still abide by the single-elimination format.
On the other hand, the 4th and 5th seeds – ZETA DIVISION and Team Secret respectively, gain an even more advantageous position as they are fast-tracked directly into the upper-bracket semifinals. This is particularly favorable as the competition format transitions to double-elimination from the semifinals onwards. This means these teams would have to be defeated twice before being eliminated from the tournament.
The opening match of the LCQ will pit Thailand's Talon Esports against DetonatioN FocusMe, a team that has yet to secure a series win in their VCT Pacific run.
However, the Japanese side is banking on a change in leadership to turn the tide in their favor, with Japanese CS legend Kohei "XrayN" Shimaki stepping in to replace Kim "HSK" Hae-seong. On the other hand, Talon Esports is introducing a slight shift, with Patiphan "Patiphan" Chaiwong opting for a name change from "Patt", possibly bringing a fresh perspective to the team's dynamic.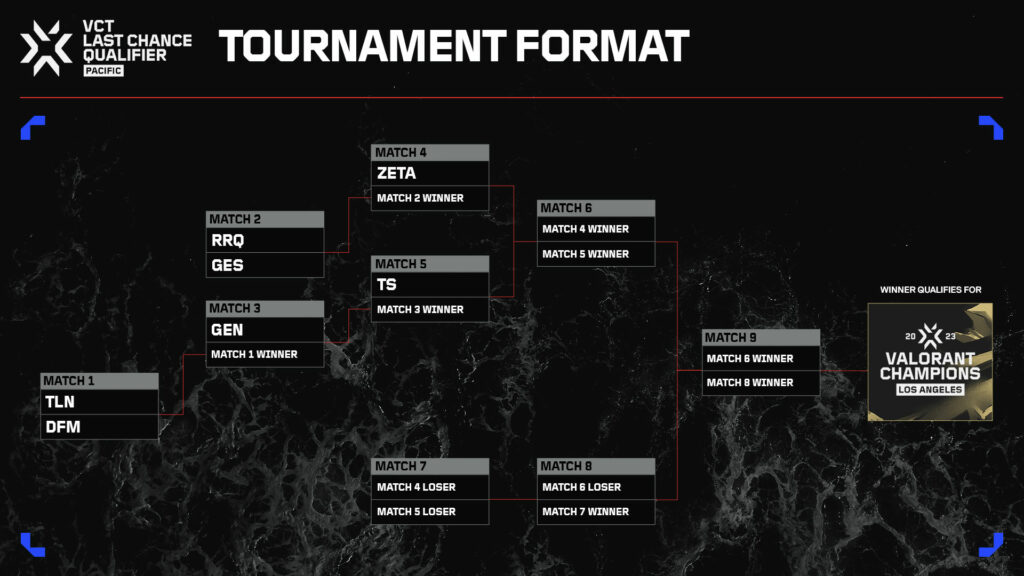 Rex Regum Qeon will meet with Global Esports the following day, meaning that only one team will come out alive. The two teams narrowly missed out on VCT Pacific playoff qualification, with Team Secret and Gen.G progressing due to the tiebreaker. Gen.G will close the second day with a match against the winner of the Talon Esports vs. DetonatioN FocusMe showdown.
As previously mentioned, ZETA DIVISION and Team Secret will be lying in wait for their opponents in the double-elimination bracket beginning in the semi-finals.
The entire schedule of the 2023 VCT Pacific Last Chance Qualifier is as follows:
Tuesday, July 18 (Single-elimination)
4 PM SGT – Talon Esports vs. DetonatioN FocusMe
Wednesday, July 19
4 PM – Rex Regum Qeon vs. Global Esports
7 PM – Gen.G vs. TLN/DFM
Thursday, July 20 (Double-elimination)
4 PM – ZETA DIVISION vs. TBD
7 PM – Team Secret vs. TBD
Friday, July 21
4 PM – Upper final
7 PM – Lower semi-final
Saturday, July 22
Sunday, July 23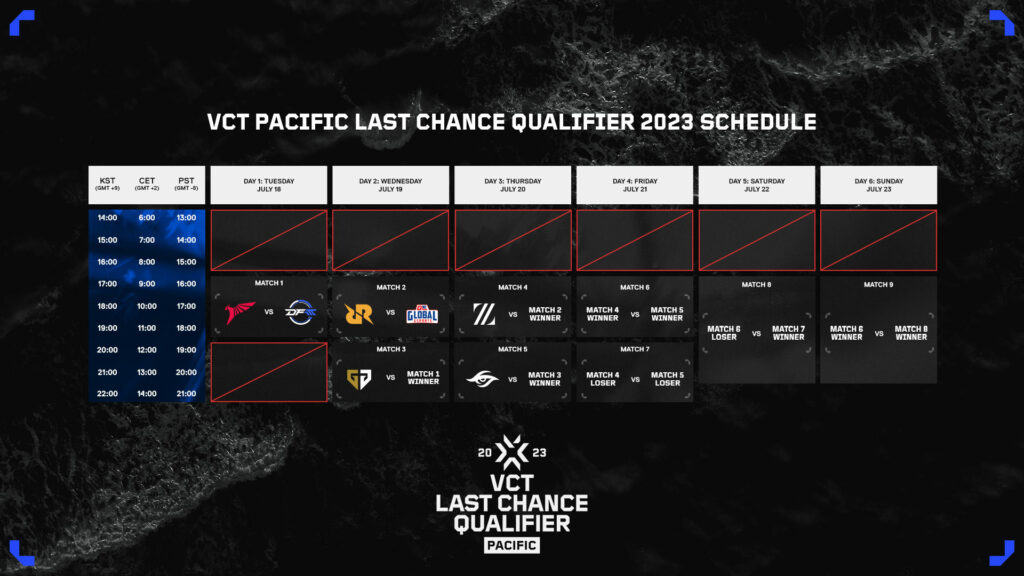 ---
For more insights on the Asian VALORANT scene and upcoming content like this, be sure to like and follow VALO2ASIA on Facebook, Twitter & Instagram.
---
Cover photo courtesy of VCT Pacific