One team will accompany X10 Saphire as Asian representatives in Berlin next month. 
VCT Game Changers East Asia is about to kick off, pitting eight of East Asia's best female teams for a chance to qualify for the VCT Game Changers Championship in Berlin, Germany, next month.
The inaugural season of the Game Changers circuit in East Asia has made progress toward Riot's goal of creating new opportunities and exposure for women and other marginalized genders within VALORANT esports. It received much attention from renowned organizations across Japan, South Korea, and China to enter the scene, including ZETA DIVISION, FENNEL, IGZIST, Sengoku Gaming, REIGNITE, NORTHEPTION, ShanXi Gaming, DRX, and more. 
ALSO READ: X10 Sapphire shut down Alter Ego Celeste to qualify for VCT Game Changers Championship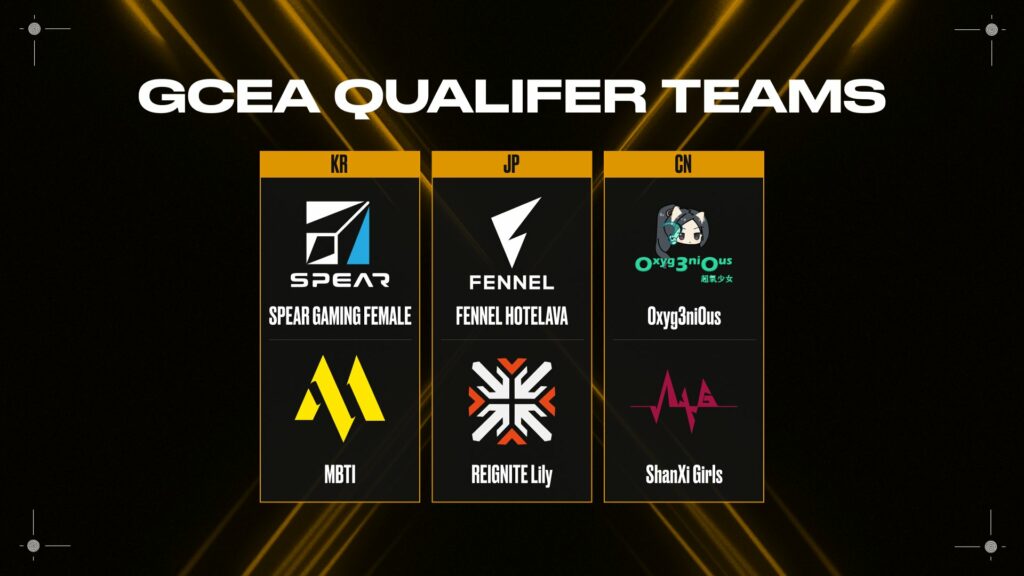 The tournament will start with a two-group best-of-three GSL stage during the first three days before transitioning to a single-elimination bracket with two best-of-three semi-finals and a best-of-five grand final. Below you can find the list of competitors in their respective groups: 
| | |
| --- | --- |
| Group A | Group B |
| 🇰🇷 MBTI | 🇰🇷 SPG Female |
| 🇹🇼 Oxyg3niOus | 🇨🇳 ShanXi Girls |
| 🇯🇵 REIGNITE Lily | 🇯🇵 FENNEL Fe |
The Group A opening match between Oxyg3niOus and MBTI will mark the start of the tournament, while the Group B opener will come soon thereafter, featuring Spear Gaming Female vs. ShanXi Gaming Girls. There are no clear favorites, though, as this will be the first time these teams meet in official settings. The full schedule is below (the starting times for each day have been pushed back by an hour):
📅 Wednesday, October 12
5 PM SGT – 🇹🇼 Oxyg3niOus vs. 🇰🇷 MBTI
8 PM – 🇰🇷 Spear Gaming Female vs. 🇨🇳 ShanXi Gaming Girls
📅 Thursday, October 13
5 PM – 🇰🇷 MBTI vs. 🇯🇵 REIGNITE Lily
8 PM – 🇰🇷 Spear Gaming Female vs. 🇯🇵 FENNEL Female
📅 Friday, October 14
5 PM – 🇹🇼 Oxyg3niOus vs. 🇯🇵 REIGNITE Lily
8 PM – 🇯🇵 FENNEL Female vs. 🇨🇳 ShanXi Gaming Girls
📅 Saturday, October 15
5 PM – Semi-final #1
8 PM – Semi-final #2
📅 Sunday, October 16
The opening matchups for VCT Game Changers East Asia can be found on our daily-updated match ticker
VALO2ASIA.com offers a real-time match ticker, updated daily across all major matches to watch. We categorize the match from one to five stars according to both teams' lineups, tournament rounds, and the tournament's prestige. You can always join the euphoria and watch your favorite team play by clicking on the match, and you will be directed to the live stream of the match. Just remember that we use Singaporean Time (UTC+8) for all of the schedules. Check it out right now on the right side of our website!
All matches will be broadcasted on VALORANT Esports' main Twitch channel as well as on secondary streams in Japanese, Korean, and Chinese languages. 
---
For more insights on the Asian VALORANT scene and upcoming content like this, be sure to like and follow VALO2ASIA on Facebook, Twitter & Instagram.
---
Cover photo courtesy of VALORANT Esports