The Sapphire squad did not drop a single series throughout their Elite stage run to secure their spot at the VCT Game Changers Championship. 
THAILAND – VCT Game Changers APAC Elite has drawn to a close, with X10 Sapphire reigning supreme to secure their place at the VCT Game Changers Championship. The Sarindhorn "JinNy" Wanothayarnchai-led side took down rivals Alter Ego Celeste 3-2 in the grand final of the APAC Elite stage (Breeze 13-4, Ascent 13-15, Fracture 8-13, Haven 13-5, Icebox 13-11).
Not only has the run itself been impressive, with X10S overcoming a number of heavy favorites, but the Thai side has successfully exacted revenge against the Indonesian side in the grand final series that they lost in last year's Game Changers Elite stage. It took them three tough matches to reach the finals against three favorites in Bren Esports Victress, Team SMG, and AEC en route to a rematch with the latter in the best-of-five grand finals. 
To start the grand final series, X10 Sapphire made light work of AEC on Breeze, a map they most often played. While AEC sorted out the pistol round well, X10S were in no mood to take pity on their opponents and immediately clicked into gear in their first gun round, putting an end to any chances of AEC stringing rounds together as the map came to a swift conclusion, 16-5 for the Sapphire.
AEC were not willing to let things get out of hand early with a hard-fought win on Ascent, the most contested map of this matchup, with Odella "enerii" Abraham putting in a server-high 269 ACS with Chamber to help her team overturn a 5-12 deficit to a 15-13 victory. The Celeste followed that up with another map win on Fracture 13-8 but were traded back on Haven 5-13, leaving the final map on Icebox to be played out.
Icebox started off looking like another close affair as the two teams regularly played on the map. X10 Sapphire were able to narrowly edge out the Indonesian squad despite Tiara "Alluka" Pleno and Nurul "Ayumiii" Aini providing AEC with a lifeline in the final few rounds before X10S took it all in Round 24, 13-11, 3-2.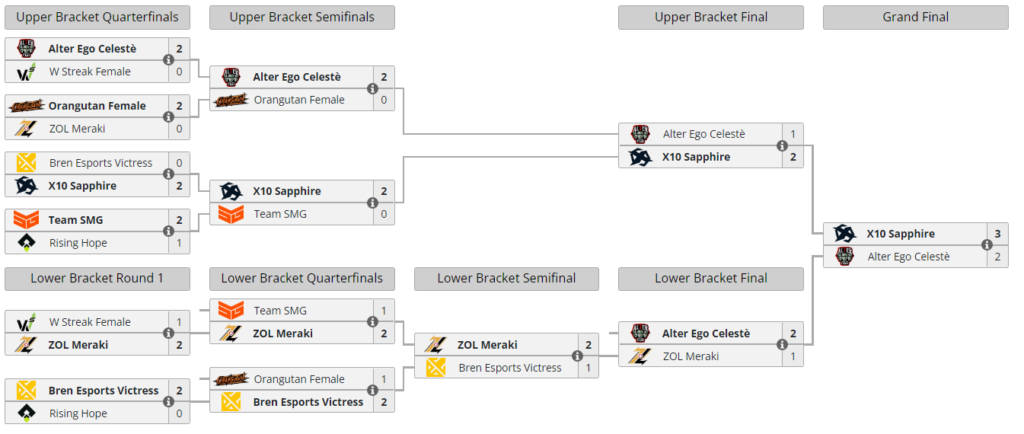 Chalita "Muffyn" Buathong led her team in the firepower department, posting an impressive 243 ACS for the grand final, but the entire squad also contributed with impact in other areas. 
X10 Sapphire will be joined by Michaela "mimi" Lintrup's G2 Gozen and Klaudia "klaudia" Beczkiewicz's Guild X in Berlin. Five more spots will be up for grabs for North America, Brazil, LATAM, and East Asia. Here is the current team list for the VCT Game Changers Championship, set to take place in Berlin, Germany on November 15-20: 
| | |
| --- | --- |
| EMEA – Guild X | APAC – X10 Sapphire |
| EMEA – G2 Gozen | NA – TBD |
| LATAM – TBD | NA – TBD |
| East Asia – TBD | BR – TBD |
VCT Game Changers APAC Elite final standings:
| | | |
| --- | --- | --- |
| Place | Team | Prize |
| 1st | 🇹🇭 X10 Sapphire | US$12,000 + GC Championship |
| 2nd | 🇮🇩 Alter Ego Celeste | US$7,000 |
| 3rd | 🇵🇭 ZOL Meraki | US$5,000 |
| 4th | 🇵🇭 Bren Esports Victress | US$4,000 |
| 5th-6th | 🇸🇬 Team SMG | US$2,500 |
| 5th-6th | 🌏 Orangutan Female | US$2,500 |
| 7th-8th | 🇹🇭 W Streak Esports Female | US$1,000 |
| 7th-8th | 🇵🇭 ex-Nigma Galaxy Female | US$1,000 |
---
For more insights on the Asian VALORANT scene and upcoming content like this, be sure to like and follow VALO2ASIA on Facebook, Twitter & Instagram.
---
Cover photo courtesy of VALORANT Esports/FSL